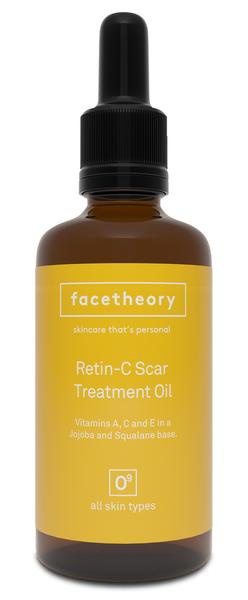 Retin-C Retinol Scar Treatment Oil
We've formulated an oil that's perfect for scar treatment of all kinds including acne scars and stretch marks. With 2% gentle retinoid retinyl palmitate and oil-soluble ethyl ascorbic acid (stable oil soluble vitamin c), this dry, non-comedogenic oil is perfect for all skin types.
Uploaded by: aprilt on
Highlights
Fragrance and Essential Oil Free
Key Ingredients
Face Theory Retin-C Retinol Scar Treatment Oil

Ingredients explained

It seems to us that squalane is in fashion and there is a reason for it. Chemically speaking, it is a saturated (no double bonds) hydrocarbon (a molecule consisting only of carbon and hydrogen), meaning that it's a nice and stable oily liquid with a long shelf life.

It occurs naturally in certain fish and plant oils (e.g. olive), and in the sebum (the oily stuff our skin produces) of the human skin. As f.c. puts it in his awesome blog post, squalane's main things are "emolliency, surface occlusion, and TEWL prevention all with extreme cosmetic elegance". In other words, it's a superb moisturizer that makes your skin nice and smooth, without being heavy or greasy.

Another advantage of squalane is that it is pretty much compatible with all skin types and skin conditions. It is excellent for acne-prone skin and safe to use even if you have fungi-related skin issues, like seborrhea or fungal acne.

The unsaturated (with double bonds) and hence less stable version of Squalane is Squalene, you can read about it here >>

Propanediol is a natural alternative for the often used and often bad-mouthed propylene glycol. It's produced sustainably from corn sugar and it's Ecocert approved.

It's quite a multi-tasker: can be used to improve skin moisturization, as a solvent, to boost preservative efficacy or to influence the sensory properties of the end formula.

Also-called:

Jojoba Oil

|

What-it-does:

emollient

|

Irritancy:

0

|

Comedogenicity:

0-2

Jojoba is a drought resistant evergreen shrub native to South-western North America. It's known and grown for jojoba oil, the golden yellow liquid coming from the seeds (about 50% of the weight of the seeds will be oil).

At first glance, it seems like your average emollient plant oil: it looks like an oil and it's nourishing and moisturizing to the skin but if we dig a bit deeper, it turns out that jojoba oil is really special and unique: technically - or rather chemically - it's not an oil but a wax ester (and calling it an oil is kind of sloppy).

So what the heck is a wax ester and why is that important anyway? Well, to understand what a wax ester is, you first have to know that oils are chemically triglycerides: one glycerin + three fatty acids attached to it. The fatty acids attached to the glycerin vary and thus we have many kinds of oils, but they are all triglycerides. Mother Nature created triglycerides to be easily hydrolyzed (be broken down to a glycerin + 3 fatty acid molecules) and oxidized (the fatty acid is broken down into small parts) - this happens basically when we eat fats or oils and our body generates energy from it.

Mother Nature also created wax esters but for a totally different purpose. Chemically, a wax ester is a fatty acid + a fatty alcohol, one long molecule. Wax esters are on the outer surface of several plant leaves to give them environmental protection. 25-30% of human sebum is also wax esters to give us people environmental protection.

So being a wax ester results in a couple of unique properties: First, jojoba oil is extremely stable. Like crazy stable. Even if you heat it to 370 C (698 F) for 96 hours, it does not budge. (Many plant oils tend to go off pretty quickly). If you have some pure jojoba oil at home, you should be fine using it for years.

Second, jojoba oil is the most similar to human sebum (both being wax esters), and the two are completely miscible. Acne.org has this not fully proven theory that thanks to this, jojoba might be able to "trick" the skin into thinking it has already produced enough sebum, so it might have "skin balancing" properties for oily skin.

Third, jojoba oil moisturizes the skin through a unique dual action: on the one hand, it mixes with sebum and forms a thin, non-greasy, semi-occlusive layer; on the other hand, it absorbs into the skin through pores and hair follicles then diffuses into the intercellular spaces of the outer layer of the skin to make it soft and supple.

On balance, the point is this: in contrast to real plant oils, wax esters were designed by Mother Nature to stay on the surface and form a protective, moisturizing barrier and jojoba oil being a wax ester is uniquely excellent at doing that.
We don't have description for this ingredient yet.
A very stable and promising form of the skincare superstar, Vitamin C. If you do not know why Vitamin C is such a big deal in skin care, you can catch up here. In short, Vitamin C has three proven magic abilities: antioxidant, collagen booster, and skin brightener. The problem, though, is that it's very unstable, turns brown and becomes ineffective in no time (after a few month) and the cosmetics industry is trying to come up with smart derivatives that are stable and have the magic properties of pure Vitamin C.
Ethyl Ascorbic Acid or EAC for short is an "etherified derivative of ascorbic acid" that consists of vitamin C and an ethyl group bound to the third carbon position. This makes Vitamin C very stable and soluble in both water and oil.
However, for a Vitamin C derivative to work it's not enough just to be stable, they also have to be absorbed into the skin and be converted there to pure Vitamin C. We have good news regarding the absorption: on top of manufacturer claims, there is some data (animal study) demonstrating in can get into the skin, and it seems to be better at it than Ascorbyl Glucoside, another vitamin C derivative.
Regarding conversion, we can cite only a manufacturers claim saying that EAC is metabolized in the skin into pure ascorbic acid (and the ascorbic acid content of EAC is very high - 86,4% - compared to the usual 50-60% Vitamin C content of other derivatives).
As for the three magic abilities of Vitamin C, we again mostly have only the manufacturer's claims, but at least those are very promising. EAC seems to have both an antioxidant and anti-inflammatory effect, and it's claimed to be able to boost the skin's collagen production. The strong point of EAC though is skin brightening. On top of manufacturer claims, there is also clinical in-vivo (tested on real people) data showing that 2% EAC can improve skin tone and whiten the skin.
Overall, Ethyl Ascorbic Acid is a very promising but not a fully proven Vitamin C derivative. It's worth a try, especially if you are after Vitamin C's skin-brightening effects.
It's an ester form of vitamin A (retinol + palmitic acid) that belongs to the "retinoid family". The retinoid family is pretty much the royal family of skincare, with the king being the FDA-approved anti-aging ingredient tretinoin. Retinol is also a very famous member of the family, but it's like Prince George, two steps away from the throne. Retinyl palmitate will be then Prince Charlotte (George's little sister), quite far (3 steps) away from the throne.
By steps, we mean metabolic steps. Tretinoin, aka retinoic acid, is the active ingredient our skin cells can understand and retinyl palmitate (RP) has to be converted by our metabolic machinery to actually do something. The conversion is a 3 step one and looks like this:
retinyl palmitate --> retinol -- > retinaldehyde --> all-trans-retinoic acid
As we wrote in our lengthy retinol description the problem is that the conversion is not terribly effective. The evidence that RP is still an effective anti-aging ingredient is not very strong, in fact, it's weak. Dr. Leslie Baumann in her fantastic Cosmetic Dermatology book writes that RP is topically ineffective.
What's more, the anti-aging effectiveness is not the only questionable thing about RP. It also exibits questionable behaviour in the presence of UV light and was the center of a debate between the non-profit group, EWG (whose intentions are no doubt good, but its credibility is often questioned by scientists) and a group of scientists and dermatologists lead by Steven Q. Wang, MD, director of dermatologic surgery at Memorial-Sloan Kettering Cancer Centre.
Dr. Leslie Baumann wrote a great review of the debate and summarized the research available about retinyl palmitate here. It seems that there is a study showing RP being photo protective against UVB rays but there is also a study showing RP causing DNA damage and cytotoxicity in association with UVA.
We think that the truth lies somewhere in the middle, and we agree with Dr. Baumann's conclusion: "sufficient evidence to establish a causal link between RP and skin cancer has not been produced. Nor, I'm afraid, are there any good reasons to recommend the use of RP". We would add especially during the day!
Bottom line: If you wanna get serious about retinoids, RP is not your ingredient (retinol or tretinoin is!). However, if you use a product that you like and it also contains RP, there is no reason to throw it away. If possible use it at night, just to be on the safe side.
Also-called:
Vitamin E
|
What-it-does:
antioxidant
|
Irritancy:
0-3
|
Comedogenicity:
0-3
Primary fat-soluble antioxidant in our skin
Significant photoprotection against UVB rays
Vit C + Vit E work in synergy and provide great photoprotection
Has emollient properties
Easy to formulate, stable and relatively inexpensive
Read all the geeky details about Tocopherol here >>
You may also want to take a look at...
An emollient and natural moisturizer that can be found also in the sebum (oily stuff our skin produces). It leaves a nice non-greasy, non-heavy feeling on the skin.
[more]
A natural corn sugar derived glycol. It can be used to improve skin moisturization, as a solvent, to boost preservative efficacy or to influence the sensory properties of the end formula.
[more]
what‑it‑does
emollient
irritancy, com.

0

,

0

-

2
Jojoba oil - a wax ester (chemically not a real oil), that's very similar to human sebum. It's uniquely excellent at helping the skin with its protective barrier and helping it to stay moisturized.
[more]
A stable form of Vitamin C, whose strong point is skin-brightening. It might also have antioxidant, anti-inflammatory and collagen boosting abilities.
[more]
An ester form of vitamin A (retinol + palmitic acid) that is pretty much the least effective member of the retinoid family. Its anti-aging effects are quite questionable as well as its behavior in the presence of UVA light. (Use it at night if possible!)
[more]
Pure Vitamin E. Great antioxidant that gives significant photoprotection against UVB rays. Works in synergy with Vitamin C.
[more]