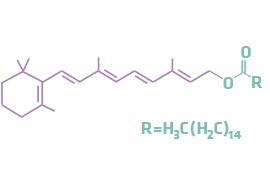 Retinyl Palmitate
Also-called-like-this:
Form of Retinoids
Details
It's an ester form of vitamin A (retinol + palmitic acid) that belongs to the "retinoid family". The retinoid family is pretty much the royal family of skincare, with the king being the FDA-approved anti-aging ingredient tretinoin. Retinol is also a very famous member of the family, but it's like Prince George, two steps away from the throne. Retinyl palmitate will be then Prince Charlotte (George's little sister), quite far (3 steps) away from the throne.
By steps, we mean metabolic steps. Tretinoin, aka retinoic acid, is the active ingredient our skin cells can understand and retinyl palmitate (RP) has to be converted by our metabolic machinery to actually do something. The conversion is a 3 step one and looks like this:
retinyl palmitate --> retinol -- > retinaldehyde --> all-trans-retinoic acid
As we wrote in our lengthy retinol description the problem is that the conversion is not terribly effective. The evidence that RP is still an effective anti-aging ingredient is not very strong, in fact, it's weak. Dr. Leslie Baumann in her fantastic Cosmetic Dermatology book writes that RP is topically ineffective.
What's more, the anti-aging effectiveness is not the only questionable thing about RP. It also exibits questionable behaviour in the presence of UV light and was the center of a debate between the non-profit group, EWG (whose intentions are no doubt good, but its credibility is often questioned by scientists) and a group of scientists and dermatologists lead by Steven Q. Wang, MD, director of dermatologic surgery at Memorial-Sloan Kettering Cancer Centre.
Dr. Leslie Baumann wrote a great review of the debate and summarized the research available about retinyl palmitate here. It seems that there is a study showing RP being photo protective against UVB rays but there is also a study showing RP causing DNA damage and cytotoxicity in association with UVA.
We think that the truth lies somewhere in the middle, and we agree with Dr. Baumann's conclusion: "sufficient evidence to establish a causal link between RP and skin cancer has not been produced. Nor, I'm afraid, are there any good reasons to recommend the use of RP". We would add especially during the day!
Bottom line: If you wanna get serious about retinoids, RP is not your ingredient (retinol or tretinoin is!). However, if you use a product that you like and it also contains RP, there is no reason to throw it away. If possible use it at night, just to be on the safe side.
Show me some proof
The Journal of investigative dermatology, 2003 Nov;121(5):1163-7., Vitamin A exerts a photoprotective action in skin by absorbing ultraviolet B radiation
Toxicology and industrial health, 2005 Sep;21(7-8):167-75., Photo-induced DNA damage and photocytotoxicity of retinyl palmitate and its photodecomposition products
Leslie Baumann, MD, Cosmetic Dermatology, 2nd edition, Retinoids, Chapter 30 - pages 256-262
Products with a known amount of Retinyl Palmitate
Other products with Retinyl Palmitate