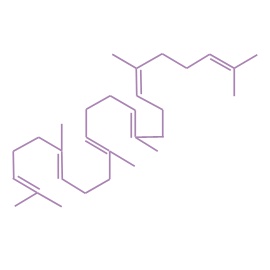 Details
Squalene is an oily liquid that originally comes from shark liver but luckily it can also be found in a couple of plant oils. Olive (0.6%), peanut (0.1%) and pumpkin (0.35%) oils contain it, though not in huge amounts.
What contains more of it, is the sebum (the oily stuff) that our skin produces. About 13% of human sebum is squalene, which means that it's an important skin-identical ingredient and NMF (natural moisturizing factor).
Chemically speaking, it is an unsaturated (has double bonds) hydrocarbon (contains only carbon and hydrogen) molecule, that can undergo oxidation. On the pro side, this means that squalene can act as an antioxidant (while its no-double-bond version sister, squalane cannot), but on the con side, squalene is less stable and has a shorter shelf life.
This is probably the main reason why its no-double bond and hence more stable sister, squalane shows up more often on ingredient lists. Read about squalane here >>
Show me some proof
European Journal of Lipid Science and Technology, Volume 111 (5) – May 1, 2009, Squalene: A natural antioxidant?
Advances in food and nutrition research., 2012;65:223-33., Biological importance and applications of squalene and squalane.
Products with Squalene