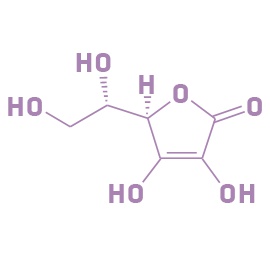 Also-called-like-this:
Vitamin C, L-ascorbic acid
Quick Facts
Works best between a concentration of 5-20%
Boosts the skin's own collagen production
Fades pigmentation and brown spots
If used under sunscreen it boosts its UV protection
Extremely unstable and oxidizes very easily in presence of light or air
Stable in solutions with water only if pH is less than 3.5 or in waterless formulations
Vit E + C work in synergy and provide superb photoprotection
Ferulic acid doubles the photoprotection effect of Vit C+E and helps to stabilize Vit C
Potent Vit. C serums might cause a slight tingling on sensitive skin
Geeky Details
If Vit C was a person it would be someone like Beyoncé, Jennifer Lopez or Mariah Carey. Serious performance, A-list superstar but at the same time shows some major divaish behaviour.
But before we dive into it let's just take a quick look where Vit C comes from. By the 18th century sailors noticed that if they eat plenty of citrus fruits that helps to prevent scurvy (an ugly disease that causes bleeding gums and other bad things - caused by Vit C deficiency). At that time they had no clue what it was inside citrus fruits that helped. Scientists managed to figure out only in the 1930s what Vitamin C is.
Since then it's been a much researched, lovely vitamin that has turned out to have tremendous health benefits not only for our body but also for our skin. It's the primary water-soluble antioxidant in our tissue and plays a big role in the complicated process where our skin creates some nice new skin-firming collagen.
So it's really good to have plenty of Vit C in our body and in our skin but the trick is that our body cannot make it for itself (fun fact: some animals, like mice can!). We have to take it entirely from outside sources. Citrus fruits, black currants, red pepper or guava are for example awesome Vit C rich foods that you should eat regularly.
And here is an another trick: eating Vit C does not help our skin to have high levels of it. And of course when the sun shines upon us or when we face environmental pollution that is also not good for the Vit C levels in our skin.
But here is good news: putting some lovely Vit C cream or serum on our skin actually helps. So how does it help exactly? Let's see:
Great antioxidant and UV protection booster
Multiple studies showed that animal skin treated with topical ascorbic acid have less skin reddening (it's called erythema), fewer sunburn cells, and decreased tumor formation after UV exposure.
What this means is that it' a great idea to use your Vit C serum in the morning under your sunscreen (not instead of it!). For even better protection choose a serum that contains Vit E as well as it doubles the photoprotection properties of Vit C. And wait, it gets even better: Ferulic acid further doubles the photoprotection of Vit C + E.
So this trio, Vit C + E + Ferulic acid is really effective. If you are into protecting your skin from UV rays (and you should be if you want lovely skin for a long time) you should try a serum containing the magic trio. (BTW, this was discovered by American researcher, Sheldon Pinnell in 2005 and Skinceuticals CE Ferulic Serum was the first one on the market containing all three actives.)
Helps skin to make nice collagen
Collagen is complicated but the most important thing to know about it is that it's like tent pole. It helps to keep our skin firm and wrinkle free. Throwing poles on a ramshackle tent does not help. The poles do not go magically to the right place to make the tent nice and firm again. It's the same with collagen - in a skincare product it does not really help (to be fair it has some hydrating properties, but not wrinkle erasing magic properties).
Boosting the collagen production of your skin helps. And Vit C can do that. In a study from 1999 a 10% Vit C serum (Cellex-C) was shown to decrease wrinkles when applied for a 3 month period. A few years later another study using a 5% Vit C cream for a 6 month period showed statistically significant improvement in skin hydration, wrinkles, glare, brown spots and skin density.
Helping your skin to make extra collagen is always nice and Vit C is one of the very very few ingredients that is proved to do so in peer reviewed studies. A-list superstar, right?
Fades brown spots
Brown spots or hyperpigmentation is just not nice and frankly it is very difficult to fade them just with skincare. But Vit C can help. For brown spots to form the body needs an enzyme (stuffs that help chemical reactions in our body) called tyrosinase. Vit C works by inhibiting this enzyme so brown spots cannot form that effectively.

That is all nice and lovely, and an A-list superstar performance. But we have started our description saying that Vit C is such a diva. So what about that? Well, here are its major diva demands:
Extremely unstable, oxidizes very easily
If you ever tried a pure Vit C serum and you have not used it up in a month or two then you must have noticed that it changed its color and started to become brownish. Yes, that was the Vit C going wrong in the product.
There are some tips and tricks that help to stabilize Vit C. Low pH (below 3.5pH) or waterless formulation helps. Also some other ingredients help, like ferulic acid, glutathione, citric acid or sodium metabisulfite. These are all shown in research studies to help with the stability issues. Also protecting the formula from air and light is super important. The best is a totally airless packaging when it comes to Vit C formulas.
But even with all these tricks employed a potent Vit C serum can be used usually only three month after opening it. Diva, see?
Does not penetrate skin easily
It is water soluble and skin is just not attracted to water soluble things but rather to oil soluble things. So this makes it a little tricky for Vit C to actually get into your skin. But good news: low pH (again below 3.5pH) solves the problem, so look out for water based Vit C serums that state that they have the right pH or waterless formulas can work too.
High amount of Vit C can irritate sensitive skin
Slight tingling is quite normal but if your skin is super sensitive, rosacea prone than a very potent (above 10%) Vit C serum might not be for you. You know, if there are some big advantages there will always be some disadvantages too. That's just how it is. Still Vit C is so awesome that you should try it at least once and see how your skin reacts. It's always individual so you never know for sure until you try it.
If you are still here, congrats! You are now a true "Vitamin C and the skin" expert. :)
Show me some proof
Journal of Cosmetic Dermatology, Volume 11 (4) – Dec 1, 2012, Stability, transdermal penetration, and cutaneous effects of ascorbic acid and its derivatives
Journal of Cosmetic Dermatology, Volume 4 (1) – Jan 1, 2005, Relevance of vitamins C and E in cutaneous photoprotection
Dermatologic Surgery, Volume 27 (2) – Feb 1, 2001, Topical L‐Ascorbic Acid: Percutaneous Absorption Studies
The Journal of investigative dermatology., 2005 Oct;125(4):826-32., Ferulic acid stabilizes a solution of vitamins C and E and doubles its photoprotection of skin.
Arch Otolaryngol Head Neck Surg. 1999;125(10):1091-1098., Use of Topical Ascorbic Acid and Its Effects on Photodamaged Skin Topography
Exp Dermatol. 2003 Jun;12(3):237-44.,Topical ascorbic acid on photoaged skin.
International Journal of Pharmaceutics, Volume 133 (1)– May 14, 1996, Glutathione stabilizes ascorbic acid in aqueous solution
International Journal of Pharmaceutics, Sep 28, 2006, , Volume 322 (1) – Influence of sodium metabisulfite and glutathione on the stability of vitamin C in O/W emulsion and extemporaneous aqueous gel
Leslie Baumann, MD, Cosmetic Dermatology, 2nd edition, Vitamin C - pages 297-298
Products with a known amount of Ascorbic Acid
Other products with Ascorbic Acid