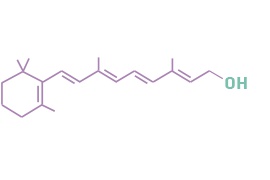 Also-called-like-this:
Vitamin A, Form of Retinoids
Quick Facts
Retinol (pure Vitamin A) is probably the most proven anti-aging ingredient available OTC
It has to be converted in the skin to retinoic acid to work its magic
Once converted, it has the same effect as all-trans-retinoic acid, aka tretinoin
A generally accepted ballpark number is that retinol is 10-to-20 times less potent than retinoic acid
It makes skin less wrinkled, smoother, firmer and tighter
It might also be helpful for acne prone skin as it normalizes keratinization and makes the pores produce less sebum
Possible side effects and irritation are also much less than with retinoic acid
Do not use whilst pregnant
Geeky Details
If you like to read about skincare (and if you are here, it seems that you do :)), we are sure that you have already read a lot about retinol. It is the ingredient everyone keeps talking about and there is a reason for that: it is the most proven anti-aging superstar available over the counter.
If you want to dig a bit deeper and really understand retinol, you have to start with tretinoin. We have written a nice geeky description about it, so click here, and read all about it.
So now you know that tretinoin, or retinoic acid, as it's often called, is the real, proven, FDA-approved anti-aging magic ingredient and tretinoin and retinol are both retinoids. They are not exactly the same, but they belong to the same family. With that in mind, we will focus here on the differences, and on how the anti-aging effect of retinol measures up against the anti-aging effect of tretinoin.
Retinol vs tretinoin: the big difference
Tretinoin is so damn effective because our skin cells have so-called retinoid receptors that interact directly with tretinoin but they cannot interact with retinol. Retinol itself is not active, and it has to be converted to retinoic acid to actually do something.
In theory, our skin has metabolic machinery to do the conversion which is a two-step process: retinol -- > retinaldehyde --> retinoic acid.
Once the conversion is complete, retinol becomes tretinoin and can do the same thing as we have detailed in our tretinoin description BUT this two-step conversion process is not very effective and the effectiveness varies from person to person. This means that retinol is much weaker than tretinoin, and it's also possible that retinol doesn't do much for you, because your skin is a lazy converter, while tretinoin still happily works.
Retinol vs tretinoin effectiveness
So retinol (in theory) becomes retinoic acid in the skin and from there it can work it's tretinoin-magic. There are several studies proving that retinol does exhibit biological activity and causes similar changes to the skin than tretinoin (0.1% retinol concentration gives already nice results) but the question is more the extent of the effects. Luckily there are a few studies to give us an idea.
A study from 1997 compared the penetration and the effectiveness of retinol and retinoic acid and found that retinol penetrates better and "retinol at 0.25% may be a useful retinoid for application without occlusion because it does not irritate but does induce cellular and molecular changes similar to those observed with application of 0.025% retinoic acid."
Another 2015 study confirms the ballpark number that retinol is about 10 times less potent than tretinoin. It compared 0.25%, 0.5%, and 1.0% retinol with the commonly available tretinoin concentrations (0.025%, 0.05%, and 0.1%). The authors of the study concluded that "results from this comparison study suggest that this sustained-release retinol complex containing multiple agents for optimal irritation control provides comparable improvements to tretinoin in the appearance of photo damage."
A third study that we think is interesting and worth mentioning is one that did not try to determine what concentration of retinol is similar to what concentration of retinoic acid, but went the other way and compared the effects of equal concentrations (0.1%) of retinol and retinoic acid. The result of this study was that "topical retinol treatment induces similar changes in skin histology and skin related gene and protein expression as seen with retinoic acid application, and the magnitude is more than half of that from retinoic acid treatment".
Of course, not only the anti-aging effects but the side effects (like irritation, skin flaking, dryness, redness) are also milder with retinol. A mild retinol product (around 0.1%) is still proven effective and very tolerable. You have to be more careful (introduce it gradually!) with stronger versions (around 1% retinol) where both the effects and the side effects can come close to that of tretinoin.
Bottom line: Retinol is not the same as retinoic acid or tretinoin. It's less potent but still works great. If you are into anti-aging and like the tried and true (and are not pregnant), a good retinol (or retinoid) product should be in your skincare routine.
Show me some proof
Journal of Cosmetic Dermatology, Mar 1, 2016, A comparative study of the effects of retinol and retinoic acid on histological, molecular, and clinical properties of human skin
Journal of Drugs in Dermatology : JDD [2015, 14(3):271-280], One-year topical stabilized retinol treatment improves photodamaged skin in a double-blind, vehicle-controlled trial.
Journal of drugs in dermatology : JDD., 2015 Jan;14(1):24-30., A randomized, double-blind, split-face study comparing the efficacy and tolerability of three retinol-based products vs. three tretinoin-based products in subjects with moderate to severe facial photodamage.
Levin, Jacquelyn, and Saira B. Momin. "How much do we really know about our favorite cosmeceutical ingredients?." The Journal of clinical and aesthetic dermatology 3.2 (2010): 22.
Mukherjee, Siddharth, et al. "Retinoids in the treatment of skin aging: an overview of clinical efficacy and safety." Clinical interventions in aging 1.4 (2006): 327.
Journal of Investigative Dermatology, September 1997, Pages 301-305, Unoccluded Retinol Penetrates Human Skin In Vivo More Effectively Than Unoccluded Retinyl Palmitate or Retinoic Acid
Leslie Baumann, MD, Cosmetic Dermatology, 2nd edition, Retinoids, Chapter 30 - pages 256-262
Products with a known amount of Retinol
Other products with Retinol