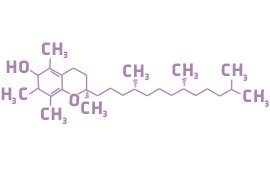 Also-called-like-this:
Vitamin E
Quick Facts
Primary fat-soluble antioxidant in our skin
Significant photoprotection against UVB rays
Vit C + Vit E work in synergy and provide great photoprotection
Has emollient properties
Easy to formulate, stable and relatively inexpensive
Geeky Details
Vitamin E is the major fat-soluble antioxidant in our skin. As a strong antioxidant it's an A-player in protecting the skin cells from the nasty little things called free-radicals that want to destroy the lovely collagen that makes our skin nice and firm.
Because it's fat soluble our skin just loves to absorb it (as opposed to water soluble things where we have to trick our skin to absorb them).
Vit E can be found in many foods: vegetables, oils, seeds, nuts, corn, soy, whole wheat flour, margarine and even some meats and dairy products. The natural form is denoted by a 'd' in the beginning of the name and 'dl' denotes the synthetic form. While this is absolutely not always true, in this case research shows that the natural form is more active and is better absorbed.
The name tocopherol actually refers to a whole group of stuff and it has four subtypes: alpha, beta, gamma and delta. The subtypes are quite different: alpha-tocopherol is the nicest and most active one, while delta-tocopherol seems to be the lazy guy and does not even have antioxidant properties. In cosmetic products mixed tocopherol (containing all subtypes) or alpha-tocopherol is the best choice.
There are lots of studies showing that Vit E has some nice photoprotection properties, meaning it can protect the skin from UV (and in case of Vit E it's mainly UVB) rays. If you put it on your skin, it lowers the production of sunburn cells, reduces the damage caused by UVB rays and inhibits photocarcinogenesis.
What it does not do is helping agains UVA caused skin issues like sagging. But if you combine it with Vit C (especially in high amount like 15%), the two together work in synergy, give broad spectrum protection and double each other's effectiveness.
There is also this urban legend that Vit E helps in wound healing. Well, that just seems to be a legend. Several studies were made to prove this point but so far none of them managed to do so. In some cases it made things even worse. :( So if you have some surgical scars do not put Vit E containing stuff on it. It's an urban legend, no proof.
Show me some proof
Leslie Baumann, MD, Cosmetic Dermatology, 2nd edition, Vitamin E - pages 293-294
Journal of the American Academy of Dermatology., 2003 Jun;48(6):866-74., UV photoprotection by combination topical antioxidants vitamin C and vitamin E.
Products with a known amount of Tocopherol
Other products with Tocopherol