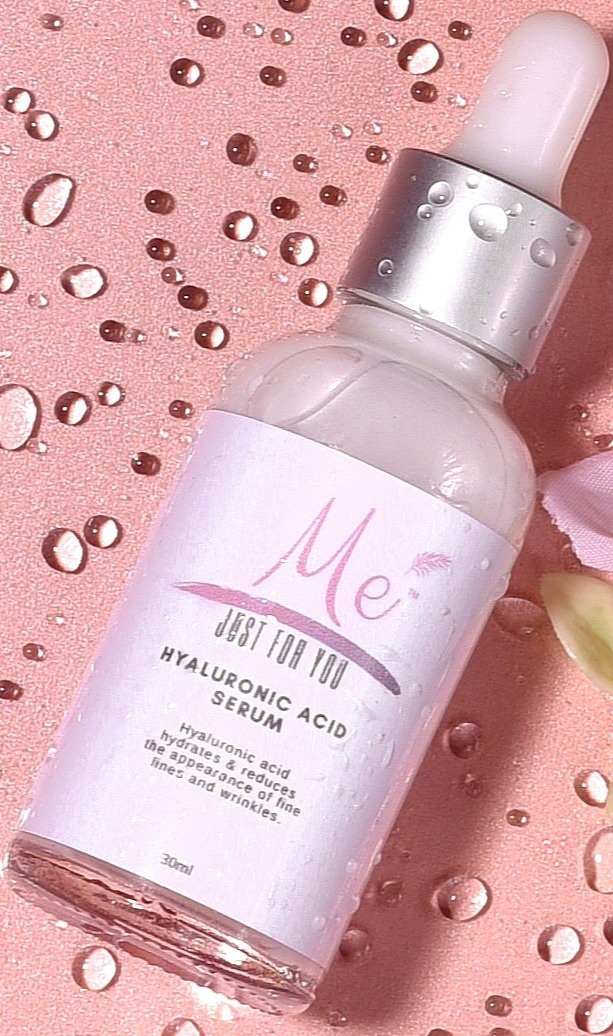 Hyaluronic acid helps reduce the visibility of fine lines and wrinkles. It retains moisture to the skin, creating a plumping effect.
Uploaded by: mjfu on
Highlights
Fragrance and Essential Oil Free
Key Ingredients
Me-Just For You Hyaluronic Acid Serum

Ingredients explained

Also-called:

Water

|

What-it-does:

solvent

Good old water, aka H2O. The most common skincare ingredient of all. You can usually find it right in the very first spot of the ingredient list, meaning it's the biggest thing out of all the stuff that makes up the product.

It's mainly a solvent for ingredients that do not like to dissolve in oils but rather in water.

Once inside the skin, it hydrates, but not from the outside - putting pure water on the skin (hello long baths!) is drying.

One more thing: the water used in cosmetics is purified and deionized (it means that almost all of the mineral ions inside it is removed). Like this, the products can stay more stable over time.
It's naturally in our skin and behaves there like a sponge
It can bind up to 1000 times its own weight in water
It is a big molecule from repeated subunits (polymer) so different molecular weight versions exist (unfortunately there is no way to determine MW from INCI list only)
High-molecular-weight-HA (>500 kDa) is an excellent surface hydrator, skin protectant and can act as an osmotic pump helping water-soluble actives to penetrate deeper into the skin
Low-molecular-weight-HA (< 500 kDa) can hydrate the skin somewhat deeper though it is still a big molecule and works mainly in the epidermis (outer layer of the skin)
Low-molecular-weight-HA might also help the skin to repair itself by increasing its self-defense (~ 200kDa used in the study)
Ultra-low-molecular-weight-HA (<50kDa) is a controversial ingredient and might work as a pro-inflammatory signal molecule
Read all the geeky details about Hyaluronic Acid here >>
It seems to us that squalane is in fashion and there is a reason for it. Chemically speaking, it is a saturated (no double bonds) hydrocarbon (a molecule consisting only of carbon and hydrogen), meaning that it's a nice and stable oily liquid with a long shelf life.
It occurs naturally in certain fish and plant oils (e.g. olive), and in the sebum (the oily stuff our skin produces) of the human skin. As f.c. puts it in his awesome blog post, squalane's main things are "emolliency, surface occlusion, and TEWL prevention all with extreme cosmetic elegance". In other words, it's a superb moisturizer that makes your skin nice and smooth, without being heavy or greasy.
Another advantage of squalane is that it is pretty much compatible with all skin types and skin conditions. It is excellent for acne-prone skin and safe to use even if you have fungi-related skin issues, like seborrhea or fungal acne.
The unsaturated (with double bonds) and hence less stable version of Squalane is Squalene, you can read about it here >>
Also-called:
Vitamin E Acetate;Tocopheryl Acetate
|
What-it-does:
antioxidant
|
Irritancy:
0
|
Comedogenicity:
0
It's the most commonly used version of pure vitamin E in cosmetics. You can read all about the pure form here. This one is the so-called esterified version.
According to famous dermatologist, Leslie Baumann while tocopheryl acetate is more stable and has a longer shelf life, it's also more poorly absorbed by the skin and may not have the same awesome photoprotective effects as pure Vit E.
A form of skincare superstar, Vitamin C. If you do not know, what the big deal about Vitamin C is, click here and read all about it, we will wait here for you.
So now you know that pure vitamin C (aka ascorbic acid, AA) is really unstable and hard to formulate so the cosmetics industry is coming up with a bunch of derivatives to solve the problem and Magnesium Ascorbyl Phosphate (or MAP) is one of them.
MAP does solve the stability problem: it's stable up to pH 7, so far so good. What is not so good is that, as the great review study about vitamin C derivatives in the Journal of Cosmetic Dermatology writes, MAP is "at very best, poorly absorbed in comparison to AA."
Moreover, derivatives not only have to be absorbed into the skin, they also have to be converted into pure AA. The good news is that in-vitro data shows that MAP does convert, but the bad news is we do not really know if the same is true on real, living human skin. Even if it does, we don't know how good the conversion rate is (but to be fair the same is true for all other derivatives).
Regarding the three magic abilities of pure vitamin C (antioxidant, collagen booster, skin brightener), there is no published data about MAP's antioxidant or photoprotection capabilities. We have better news about the other two things: in-vitro data shows that MAP can boost collagen synthesis similar to AA (though in the case of AA it's proven in-vivo) and even better, MAP is proven to work as a skin brightener in-vivo (on real people).
Bottom line: when it comes to vitamin C derivatives, MAP is definitely an option. We especially recommend it if you are after skin brightening as this seems to be the strongest point of MAP.
Also-called:
Jojoba Oil
|
What-it-does:
emollient
|
Irritancy:
0
|
Comedogenicity:
0-2
Jojoba is a drought resistant evergreen shrub native to South-western North America. It's known and grown for jojoba oil, the golden yellow liquid coming from the seeds (about 50% of the weight of the seeds will be oil).
At first glance, it seems like your average emollient plant oil: it looks like an oil and it's nourishing and moisturizing to the skin but if we dig a bit deeper, it turns out that jojoba oil is really special and unique: technically - or rather chemically - it's not an oil but a wax ester (and calling it an oil is kind of sloppy).
So what the heck is a wax ester and why is that important anyway? Well, to understand what a wax ester is, you first have to know that oils are chemically triglycerides: one glycerin + three fatty acids attached to it. The fatty acids attached to the glycerin vary and thus we have many kinds of oils, but they are all triglycerides. Mother Nature created triglycerides to be easily hydrolyzed (be broken down to a glycerin + 3 fatty acid molecules) and oxidized (the fatty acid is broken down into small parts) - this happens basically when we eat fats or oils and our body generates energy from it.
Mother Nature also created wax esters but for a totally different purpose. Chemically, a wax ester is a fatty acid + a fatty alcohol, one long molecule. Wax esters are on the outer surface of several plant leaves to give them environmental protection. 25-30% of human sebum is also wax esters to give us people environmental protection.
So being a wax ester results in a couple of unique properties: First, jojoba oil is extremely stable. Like crazy stable. Even if you heat it to 370 C (698 F) for 96 hours, it does not budge. (Many plant oils tend to go off pretty quickly). If you have some pure jojoba oil at home, you should be fine using it for years.
Second, jojoba oil is the most similar to human sebum (both being wax esters), and the two are completely miscible. Acne.org has this not fully proven theory that thanks to this, jojoba might be able to "trick" the skin into thinking it has already produced enough sebum, so it might have "skin balancing" properties for oily skin.
Third, jojoba oil moisturizes the skin through a unique dual action: on the one hand, it mixes with sebum and forms a thin, non-greasy, semi-occlusive layer; on the other hand, it absorbs into the skin through pores and hair follicles then diffuses into the intercellular spaces of the outer layer of the skin to make it soft and supple.
On balance, the point is this: in contrast to real plant oils, wax esters were designed by Mother Nature to stay on the surface and form a protective, moisturizing barrier and jojoba oil being a wax ester is uniquely excellent at doing that.
It's the - sodium form - cousin of the famous NMF, hyaluronic acid (HA). If HA does not tell you anything we have a super detailed, geeky explanation about it here. The TL; DR version of HA is that it's a huge polymer (big molecule from repeated subunits) found in the skin that acts as a sponge helping the skin to hold onto water, being plump and elastic. HA is famous for its crazy water holding capacity as it can bind up to 1000 times its own weight in water.
As far as skincare goes, sodium hyaluronate and hyaluronic acid are pretty much the same and the two names are used interchangeably. As cosmetic chemist kindofstephen writes on reddit "sodium hyaluronate disassociates into hyaluronic acid molecule and a sodium atom in solution".
In spite of this, if you search for "hyaluronic acid vs sodium hyaluronate" you will find on multiple places that sodium hyaluronate is smaller and can penetrate the skin better. Chemically, this is definitely not true, as the two forms are almost the same, both are polymers and the subunits can be repeated in both forms as much as you like. (We also checked Prospector for sodium hyaluronate versions actually used in cosmetic products and found that the most common molecular weight was 1.5-1.8 million Da that absolutely counts as high molecular weight).
What seems to be a true difference, though, is that the salt form is more stable, easier to formulate and cheaper so it pops up more often on the ingredient lists.
If you wanna become a real HA-and-the-skin expert you can read way more about the topic at hyaluronic acid (including penetration-questions, differences between high and low molecular weight versions and a bunch of references to scientific literature).
It's one of the most commonly used thickeners and emulsion stabilizers. If the product is too runny, a little xanthan gum will make it more gel-like. Used alone, it can make the formula sticky and it is a good team player so it is usually combined with other thickeners and so-called rheology modifiers (helper ingredients that adjust the flow and thus the feel of the formula). The typical use level of Xantha Gum is below 1%, it is usually in the 0.1-0.5% range.
Btw, Xanthan gum is all natural, a chain of sugar molecules (polysaccharide) produced from individual sugar molecules (glucose and sucrose) via fermentation. It's approved by Ecocert and also used in the food industry (E415).
If you have spotted ethylhexylglycerin on the ingredient list, most probably you will see there also the current IT-preservative, phenoxyethanol. They are good friends because ethylhexylglycerin can boost the effectiveness of phenoxyethanol (and other preservatives) and as an added bonus it feels nice on the skin too.
Also, it's an effective deodorant and a medium spreading emollient.
It's pretty much the current IT-preservative. It's safe and gentle, but even more importantly, it's not a feared-by-everyone-mostly-without-scientific-reason paraben.
It's not something new: it was introduced around 1950 and today it can be used up to 1% worldwide. It can be found in nature - in green tea - but the version used in cosmetics is synthetic.
Other than having a good safety profile and being quite gentle to the skin it has some other advantages too. It can be used in many types of formulations as it has great thermal stability (can be heated up to 85°C) and works on a wide range of pH levels (ph 3-10).
It's often used together with ethylhexylglycerin as it nicely improves the preservative activity of phenoxyethanol.
You may also want to take a look at...
Normal (well kind of - it's purified and deionized) water. Usually the main solvent in cosmetic products.
[more]
A famous natural moisturizing factor that can bind up to 1000 times its own weight in water. Works as an excellent surface hydrator in skincare.
[more]
An emollient and natural moisturizer that can be found also in the sebum (oily stuff our skin produces). It leaves a nice non-greasy, non-heavy feeling on the skin.
[more]
A form of vitamin E that works as an antioxidant. Compared to the pure form it's more stable, has longer shelf life, but it's also more poorly absorbed by the skin.
[more]
A form of skincare superstar, Vitamin C - it has proven skin-brightening abilities (in-vivo) and it might be able to boost collagen production as well (in-vitro).
[more]
what‑it‑does
emollient
irritancy, com.

0

,

0

-

2
Jojoba oil - a wax ester (chemically not a real oil), that's very similar to human sebum. It's uniquely excellent at helping the skin with its protective barrier and helping it to stay moisturized.
[more]
It's the salt form of famous humectant and natural moisturizing factor, hyaluronic acid. It can bind huge amounts of water and it's pretty much the current IT-moisturizer.
[more]
A super commonly used thickener and emulsion stabilizer.
[more]
It can boost the effectiveness of phenoxyethanol (and other preservatives) and as an added bonus it feels nice on the skin too.
[more]
Pretty much the current IT-preservative. It's safe and gentle, and can be used up to 1% worldwide.
[more]