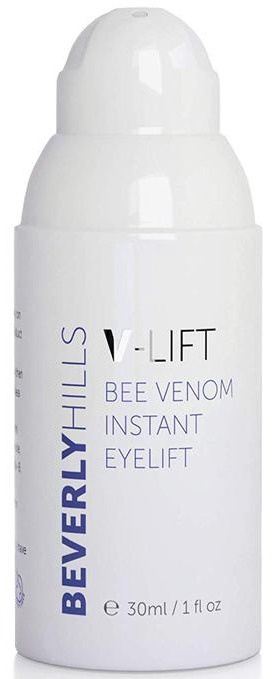 Instant Eye Lift Bee Venom
Beverly hills v-lift instant eye lift by md3 harnesses the plumping benefits of bee venom to reduce visible wrinkles and soften the skin along with removing dark circles & puffy eyes without the costly procedure.
Uploaded by: erika.eliana on
Highlights
Fragrance and Essential Oil Free
Key Ingredients
Beverly Hills MD Instant Eye Lift Bee Venom

Ingredients explained

Also-called:

Aqua

|

What-it-does:

solvent

Good old water, aka H2O. The most common skincare ingredient of all. You can usually find it right in the very first spot of the ingredient list, meaning it's the biggest thing out of all the stuff that makes up the product.

It's mainly a solvent for ingredients that do not like to dissolve in oils but rather in water.

Once inside the skin, it hydrates, but not from the outside - putting pure water on the skin (hello long baths!) is drying.

One more thing: the water used in cosmetics is purified and deionized (it means that almost all of the mineral ions inside it is removed). Like this, the products can stay more stable over time.
We don't have description for this ingredient yet.
A type of clay mineral that works as a nice helper ingredient to thicken and stabilize formulas. As a clay, it consists of platelets that have a negative charge on the surface (face) and a positive on the edge. So the face of one platelet attracts the edge of the other and this builds a so-called "house of card" structure meaning that Magnesium Aluminum Silicate (MAS) thickens up products and helps to suspend non-soluble particles such as color pigments or inorganic sunscreens (zinc oxide and titanium dioxide).
As the "house of card" structure takes some time to form but collapses quickly if the formula is stirred, products thickened with MAS can be thick in the jar but become easily spreadable upon application (called thixotropy). MAS also gives nice sensory properties, it is not tacky or sticky and gives a rich, creamy skin feel. Also a good team player and works in synergy with other thickeners such as Cellulose Gum or Xanthan Gum.
A natural moisturizer that's also in our skin
A super common, safe, effective and cheap molecule used for more than 50 years
Not only a simple moisturizer but knows much more: keeps the skin lipids between our skin cells in a healthy (liquid crystal) state, protects against irritation, helps to restore barrier
Effective from as low as 3% with even more benefits for dry skin at higher concentrations up to 20-40%
High-glycerin moisturizers are awesome for treating severely dry skin
Read all the geeky details about Glycerin here >>
It's the - sodium form - cousin of the famous NMF, hyaluronic acid (HA). If HA does not tell you anything we have a super detailed, geeky explanation about it here. The TL; DR version of HA is that it's a huge polymer (big molecule from repeated subunits) found in the skin that acts as a sponge helping the skin to hold onto water, being plump and elastic. HA is famous for its crazy water holding capacity as it can bind up to 1000 times its own weight in water.
As far as skincare goes, sodium hyaluronate and hyaluronic acid are pretty much the same and the two names are used interchangeably. As cosmetic chemist kindofstephen writes on reddit "sodium hyaluronate disassociates into hyaluronic acid molecule and a sodium atom in solution".
In spite of this, if you search for "hyaluronic acid vs sodium hyaluronate" you will find on multiple places that sodium hyaluronate is smaller and can penetrate the skin better. Chemically, this is definitely not true, as the two forms are almost the same, both are polymers and the subunits can be repeated in both forms as much as you like. (We also checked Prospector for sodium hyaluronate versions actually used in cosmetic products and found that the most common molecular weight was 1.5-1.8 million Da that absolutely counts as high molecular weight).
What seems to be a true difference, though, is that the salt form is more stable, easier to formulate and cheaper so it pops up more often on the ingredient lists.
If you wanna become a real HA-and-the-skin expert you can read way more about the topic at hyaluronic acid (including penetration-questions, differences between high and low molecular weight versions and a bunch of references to scientific literature).
We don't have description for this ingredient yet.
If you see a cosmetic product that claims that it has "Botox-like effect" then two things are almost certain: one, the product overpromises and two, it contains Argireline.
So this one is the famous peptide that's marketed by its manufacturer as the "Botox in a jar". The basis for this claim is that it targets the same wrinkle forming mechanism (wrinkles caused by facial muscle movement) as Botox, but the way it works is very different. In addition, the extent to which it can prevent muscles from contracting (and to smooth wrinkles) is very different (otherwise why would anyone use still Botox?).
The manufacturer did several studies to prove that Argireline really works and it does (just not as well as Botox). In-vivo (made on real people) tests showed that using 10% Argireline solution around the eyes for 15 days decreased wrinkles depth by 17%, while a 5% Argireline formula applied for 28 days did almost the same with a decrease in wrinkle depth by 16.26%. A Spanish University also did some research and found that Argireline increased the level of skin moisturization and decreased both the depth and width of wrinkles "significantly".
This means, Acetyl Hexapeptide-8 does have some ability to smooth wrinkles (but not as well as Botox - sorry, if we sound like a broken record). Also, we have to agree with TruthInAging, that it's not a collagen builder and not a preventer of structural aging (think vitamin C, AHAs or retinol); it's just a quick fix. If you are looking for one, this could be your thing. If you are more of a "let's treat this aging thing properly" type, then it's probably not your thing.
If you have spotted ethylhexylglycerin on the ingredient list, most probably you will see there also the current IT-preservative, phenoxyethanol. They are good friends because ethylhexylglycerin can boost the effectiveness of phenoxyethanol (and other preservatives) and as an added bonus it feels nice on the skin too.
Also, it's an effective deodorant and a medium spreading emollient.
It's one of those things that help your cosmetics not to go wrong too soon, aka a preservative. It's not a strong one and doesn't really work against bacteria, but more against mold and yeast. To do that it has to break down to its active form, sorbic acid. For that to happen, there has to be water in the product and the right pH value (pH 3-4).
But even if everything is right, it's not enough on its own. If you see potassium sorbate you should see some other preservative next to it too.
BTW, it's also a food preservative and even has an E number, E202.
Titanium Dioxide is one of the two members of the elite sunscreen group called physical sunscreens (or inorganic sunscreens if you're a science geek and want to be precise).
Traditionally, UV-filters are categorized as either chemical or physical. The big difference is supposed to be that chemical agents absorb UV-light while physical agents reflect it like a bunch of mini umbrellas on top of the skin. While this categorization is easy and logical it turns out it's not true. A recent, 2016 study shows that inorganic sunscreens work mostly by absorption, just like chemical filters, and only a little bit by reflection (they do reflect the light in the visible spectrum, but mostly absorb in the UV spectrum).
Anyway, it doesn't matter if it reflects or absorbs, Titanium Dioxide is a pretty awesome sunscreen agent for two main reasons: it gives a nice broad spectrum coverage and it's highly stable. Its protection is very good between 290 - 350 nm (UVB and UVA II range), and less good at 350-400 nm (UVA I) range. Regular sized Titanium Dioxide also has a great safety profile, it's non-irritating and is pretty much free from any health concerns (like estrogenic effect worries with some chemical filters).
The disadvantage of Titanium Dioxide is that it's not cosmetically elegant, meaning it's a white, "unspreadable" mess. Sunscreens containing Titanium Dioxide are often hard to spread on the skin and they leave a disturbing whitish tint. The cosmetic industry is, of course, really trying to solve this problem and the best solution so far is using nanoparticles. The itsy-bitsy Nano-sized particles improve both spreadability and reduce the whitish tint a lot, but unfortunately, it also introduces new health concerns.
The main concern with nanoparticles is that they are so tiny that they are absorbed into the skin more than we want them (ideally sunscreen should remain on the surface of the skin). Once absorbed they might form unwanted complexes with proteins and they might promote the formation of evil free radicals. But do not panic, these are concerns under investigation. A 2009 review article about the safety of nanoparticles summarizes this, "to date, in-vivo and in-vitro studies have not demonstrated percutaneous penetration of nanosized particles in titanium dioxide and zinc oxide sunscreens". The English translation is, so far it looks like sunscreens with nanoparticles do stay on the surface of the skin where they should be.
All in all, Titanium Dioxide is a famous sunscreen agent and for good reason, it gives broad spectrum UV protection (best at UVB and UVA II), it's highly stable, and it has a good safety profile. It's definitely one of the best UV-filter agents we have today, especially in the US where new-generation Tinosorb filters are not (yet) approved.
Also-called:
CI 77019
|
What-it-does:
colorant
A super versatile and common mineral powder that comes in different particle sizes. It is a multi-tasker used to improve skin feel, increase product slip, give the product light-reflecting properties, enhance skin adhesion or serve as an anti-caking agent.
It is also the most commonly used "base" material for layered composite pigments such as pearl-effect pigments. In this case, mica is coated with one or more metal oxides (most commonly titanium dioxide) to achieve pearl effect via the physical phenomenon known as interference.
It's one of the most commonly used thickeners and emulsion stabilizers. If the product is too runny, a little xanthan gum will make it more gel-like. Used alone, it can make the formula sticky and it is a good team player so it is usually combined with other thickeners and so-called rheology modifiers (helper ingredients that adjust the flow and thus the feel of the formula). The typical use level of Xantha Gum is below 1%, it is usually in the 0.1-0.5% range.
Btw, Xanthan gum is all natural, a chain of sugar molecules (polysaccharide) produced from individual sugar molecules (glucose and sucrose) via fermentation. It's approved by Ecocert and also used in the food industry (E415).
Also-called:
Ci 77491/77492/77499
|
What-it-does:
colorant
|
Irritancy:
0
|
Comedogenicity:
0
A bit of a sloppy ingredient name as it covers not one but three pigments: red, yellow and black iron oxide.
The trio is invaluable for "skin-colored" makeup products (think your foundation and pressed powder) as blending these three shades carefully can produce almost any shade of natural-looking flesh tones.
You may also want to take a look at...
Normal (well kind of - it's purified and deionized) water. Usually the main solvent in cosmetic products.
[more]
A type of clay mineral that works as a nice helper ingredient to thicken and stabilize formulas. As a clay, it consists of platelets that have a negative charge on the surface (face) and a positive on the edge.
[more]
A real oldie but a goodie. Great natural moisturizer and skin-identical ingredient that plays an important role in skin hydration and general skin health.
[more]
It's the salt form of famous humectant and natural moisturizing factor, hyaluronic acid. It can bind huge amounts of water and it's pretty much the current IT-moisturizer.
[more]
Argireline - famous peptide that's often referred to as "Botox in a jar". In reality, it's nowhere near that powerful, but it can smooth wrinkles to some extent by preventing facial muscles from contracting.
[more]
It can boost the effectiveness of phenoxyethanol (and other preservatives) and as an added bonus it feels nice on the skin too.
[more]
A not so strong preservative that doesn't really work against bacteria, but more against mold and yeast.
[more]
A physical/inorganic sunscreen with pretty broad spectrum (UVB and UVA II, less good at UVA I) protection and good stability. Might leave some whitish tint on the skin, though.
[more]
A mineral powder used to improve skin feel, increase product slip, give the product some light-reflecting properties, enhance skin adhesion or serve as an anti-caking agent. A real multi-tasker.
[more]
A super commonly used thickener and emulsion stabilizer.
[more]
what‑it‑does
colorant
irritancy, com.

0

,

0
A mix of red, yellow and black iron oxide.
[more]