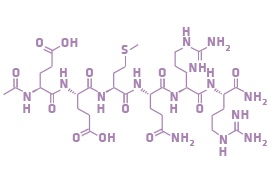 Acetyl Hexapeptide-8
goodie
Also-called-like-this:
Argireline, Acetyl Hexapeptide-3
Details
If you see a cosmetic product that claims that it has "Botox-like effect" then two things are almost certain: one, the product overpromises and two, it contains Argireline.
So this one is the famous peptide that's marketed by its manufacturer as the "Botox in a jar". The basis for this claim is that it targets the same wrinkle forming mechanism (wrinkles caused by facial muscle movement) as Botox, but the way it works is very different. In addition, the extent to which it can prevent muscles from contracting (and to smooth wrinkles) is very different (otherwise why would anyone use still Botox?).
The manufacturer did several studies to prove that Argireline really works and it does (just not as well as Botox). In-vivo (made on real people) tests showed that using 10% Argireline solution around the eyes for 15 days decreased wrinkles depth by 17%, while a 5% Argireline formula applied for 28 days did almost the same with a decrease in wrinkle depth by 16.26%. A Spanish University also did some research and found that Argireline increased the level of skin moisturization and decreased both the depth and width of wrinkles "significantly".
This means, Acetyl Hexapeptide-8 does have some ability to smooth wrinkles (but not as well as Botox - sorry, if we sound like a broken record). Also, we have to agree with TruthInAging, that it's not a collagen builder and not a preventer of structural aging (think vitamin C, AHAs or retinol); it's just a quick fix. If you are looking for one, this could be your thing. If you are more of a "let's treat this aging thing properly" type, then it's probably not your thing.
Show me some proof
Ruiz, M. A., et al. "Evaluation of the anti-wrinkle efficacy of cosmetic formulations with an anti-aging peptide (Argireline®)." Ars pharm 50.4 (2010): 168-176.
Wang, Yuan, et al. "The Anti-Wrinkle Efficacy of Argireline, a Synthetic Hexapeptide, in Chinese Subjects." American journal of clinical dermatology 14.2 (2013): 147-153.
Products with Acetyl Hexapeptide-8