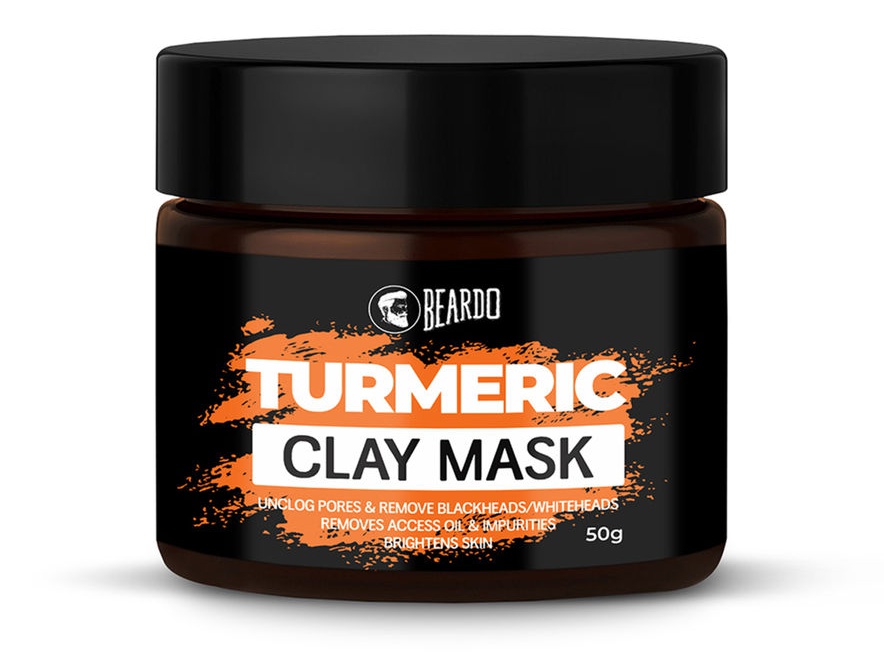 Beardo Turmeric Clay Mask has a fine balance of minerals and antioxidants which makes it ideal for all skin types. Using this mask regularly along with a proper regime using Beardo Turmeric Scrub and Gel will tone your skin and revive its natural glow.
Uploaded by: simran23 on
Skim through
Ingredient name
what-it-does

irr.

,

com.

ID-Rating
Aqua
solvent
Xanthan Gum
viscosity controlling
Glycerin
skin-identical ingredient, moisturizer/​humectant

0

,

0

superstar

Bentonite Clay
viscosity controlling

0

,

0

goodie

Kaolin
colorant, abrasive/​scrub

0

,

0

goodie

Isopropyl Myristate
emollient, perfuming

3

,

3

-

5

Castor Oil
emollient, perfuming

0

,

0

-

1

Turmeric Extract
antioxidant, soothing, skin brightening, perfuming

goodie

Aloe Vera Extract
soothing, emollient, moisturizer/​humectant

goodie

Dmdm Hydantoin
preservative

icky

Methylchloroisothiazolinone
preservative

icky

Methylisothiazolinone
preservative

icky

Ci 19140
colorant
Ci 15985
colorant
Perfume
perfuming

icky
Beardo Turmeric Clay Mask

Ingredients explained

Also-called:

Water

|

What-it-does:

solvent

Good old water, aka H2O. The most common skincare ingredient of all. You can usually find it right in the very first spot of the ingredient list, meaning it's the biggest thing out of all the stuff that makes up the product.

It's mainly a solvent for ingredients that do not like to dissolve in oils but rather in water.

Once inside the skin, it hydrates, but not from the outside - putting pure water on the skin (hello long baths!) is drying.

One more thing: the water used in cosmetics is purified and deionized (it means that almost all of the mineral ions inside it is removed). Like this, the products can stay more stable over time.

It's one of the most commonly used thickeners and emulsion stabilizers. If the product is too runny, a little xanthan gum will make it more gel-like. Used alone, it can make the formula sticky and it is a good team player so it is usually combined with other thickeners and so-called rheology modifiers (helper ingredients that adjust the flow and thus the feel of the formula). The typical use level of Xantha Gum is below 1%, it is usually in the 0.1-0.5% range.

Btw, Xanthan gum is all natural, a chain of sugar molecules (polysaccharide) produced from individual sugar molecules (glucose and sucrose) via fermentation. It's approved by Ecocert and also used in the food industry (E415).
A natural moisturizer that's also in our skin
A super common, safe, effective and cheap molecule used for more than 50 years
Not only a simple moisturizer but knows much more: keeps the skin lipids between our skin cells in a healthy (liquid crystal) state, protects against irritation, helps to restore barrier
Effective from as low as 3% with even more benefits at higher concentrations up to 20-40% (around 10% is a good usability-effectiveness sweet spot)
High-glycerin moisturizers are awesome for treating severely dry skin
Read all the geeky details about Glycerin here >>
When it comes to oil-absorbing clay masks, bentonite will probably be one of the first ingredients on the INCI list. Technically bentonite clay is mostly montmorillonite + something else, and thanks to the something else bit, bentonite comes in different types and colors.
The color depends on the mineral content of the clay: white bentonite is rich in boron and fluoride, yellow is rich in manganese and zinc, green is rich in copper, zinc, and manganese and the pink clay is rich in boron.
No matter the color, bentonite is excellent at absorbing things: it can suck up the sebum and gunk from the skin and make it instantly smooth and matte. Not only that, but bentonite has a negative ionic charge and thus can attract things with a positive charge. Things with a positive charge include bad bacteria and toxins and bentonite clay masks can help to clear those out of the skin and pores (btw, bentonite is edible and has the same detoxifying effect internally).
Thanks to bentonite's effect against bad bacteria and pathogens, there is also some research showing that bentonite can help to calm skin infections, soothe skin allergies and might work for skin conditions like psoriasis and eczema.
On the other hand, the downside of bentonite being such a good absorbent is that it can suck up more than the excess sebum and used too often, it can easily dry out the skin. So use it for good measure, and never forget to moisturize afterwards.
Kaolin is a type of clay or to be precise, a naturally occurring hydrous aluminum silicate. When you hear clay, you probably think of a muddy greenish-black mess, but that one is bentonite, and this one is a fine, white powder. It is so white that it's also often used, in small amounts, as a helper ingredient to give opacity and whiteness to the cosmetic formulas.
As a clay, it's absorbent and can suck up excess sebum and gunk from your skin, but less so than the more aggressive bentonite. As it's less absorbent, it's also less drying and gentler on the skin, so it's ideal for dry and sensitive skin types.
A clear, colorless oil-like liquid that makes the skin feel smooth and nice (aka emollient) and it does so without it being greasy.
What's more, it can even reduce the heavy, greasy feel in products with high oil content. It's also fast-spreading meaning that it gives the formula a good, nice slip. It absorbs quickly into the skin and helps other ingredients to penetrate quicker and deeper.
Thanks to all this, it's one of the most commonly used emollients out there. There is just one little drawback: it has a high comedogenic index (5 out of 5...), so it might clog pores if you're prone to it.
Also-called:
Ricinus Communis Seed Oil
|
What-it-does:
emollient, perfuming
|
Irritancy:
0
|
Comedogenicity:
0-1
Castor oil is sourced from the castor bean plant native to tropical areas in Eastern Africa and the Mediterranean Basin. It is an age-old ingredient (it's over 4,000 years old!) with many uses including as a shoe polish, food additive and motor lubricant. You would be reasonable to think that putting shoe polish on your face wouldn't be the best idea, but it turns out castor oil has some unique properties that make it a stalwart in thick and gloss-giving formulas (think lipsticks and highlighters).
So what is so special about it? The answer is its main fatty acid, called ricinoleic acid (85-95%). Unlike other fatty acids, ricinoleic acid has an extra water-loving part (aka -OH group) on its fatty chain that gives Castor Oil several unique properties. First, it is thicker than other oils, then its solubility is different (e.g. dissolves in alcohol but not in mineral oil), and it allows all kinds of chemical modifications other oils do not, hence the lots of Castor oil-derived ingredients. It is also more glossy than other oils, in fact, it creates the highest gloss of all natural oils when applied to the skin. Other than that, it is a very effective emollient and occlusive that reduces skin moisture loss so it is quite common in smaller amounts in moisturizers.
While it is very unlikely (and this is true for pretty much every ingredient), cases of reactions to castor oil have been reported, so if your skin is sensitive, it never hurts to patch test.
Turmeric is the yellow spice you probably know from curry and Indian food. It's also a traditional herbal medicine used in Ayurveda for its bunch of anti-something magic abilities including being anti-inflammatory, antimicrobial, antioxidant and anticarcinogenic.
As for turmeric and skincare, we have good news: studies show that the root extract and its main biologically active component, curcumin can do multiple good things for the skin. Thanks to its anti-inflammatory and antimicrobial activity, it shows some promise for acne-prone skin and a small study from 2013 showed that it might be able to regulate sebum production.
It's also a potent antioxidant and skin-brightening agent so it often shows up in anti-aging and/or radiance-boosting products.
A controversial preservative that has formaldehyde-releasing properties. It works great against bacteria and also has mild fungicide abilities.
Cosmetic chemist, Colin wrote a great article about formaldehyde and DMDM Hydantoin. He writes that formaldehyde is the perfect example of "the dose makes the poison" principle. It's a natural stuff that can also be found in fresh fruits and vegetables, and eating it in tiny amounts is totally ok. However, in larger amounts (according to Wikipedia 30 mL of a solution containing 37% formaldehyde) it's deadly.
The amount of formaldehyde used in cosmetics either neat or through formaldehyde-releasing preservatives is tiny. Probably that is why the Cosmetic Ingredient Review Broad concluded both in 1988 and in 2008 that DMDM Hydantoin is "safe as used in cosmetics".
However, Colins argues that in the case of formaldehyde-releasing preservatives, formaldehyde is released slowly and the skin has probably not evolved to deal with that. The lingering formaldehyde might be toxic to the Langerhans Cells that are important for the skin's defense system. Another potential issue is that formaldehyde-releasers might also release other things while reacting with amino acids in the skin that is probably the explanation why some people are not allergic to formaldehyde but are allergic to formaldehyde-releasing preservatives. These are all theories, far from proven facts, but we feel that there are some justified reasons why formaldehyde-releasing preservatives and Dmdm Hydantoin count as controversial.
All in all, it's up to you to decide if you wanna avoid this preservative group or not. If so, there are other, less risky and more skin-friendly options out there.
This totally unpronounceable ingredient (let's take a shortcut: MCI) is a super effective preservative with both antibacterial and antifungal effects that works at very low concentrations.
The bad news with it though is that it can sensitize the skin easily (it's a so-called non-fragrance allergen). It's not permitted to be used alone, but only with its BFF, methylisothiazolinone (MI), another icky preservative. Together they have a broad spectrum antimicrobial effect but are permitted to be used only in rinse-off products (under 0.0015%).
As you may guess, if something is only recommended in products that you rinse off (cleansers and shampoos), then it's probably not the best ingredient for the skin.
Methylisothiazolinone (MI) is a preservative that' super efficient against bacteria at surprisingly low concentrations. The problem with it though is that it can also sensitize and irritate the skin quite easily when it comes in leave-on formulas.
Currently, some countries are considering to ban it entirely (like Denmark) and the permitted use level is very low (under 0.01%). Luckily there are plenty of products on the market with other preservative options so if you are a better safe than sorry type it's probably best to avoid it.
Also-called:
Tartrazine, Yellow 5
|
What-it-does:
colorant
Ci 19140 or Tartrazine is a super common colorant in skincare, makeup, medicine & food. It's a synthetic lemon yellow that's used alone or mixed with other colors for special shades.
FDA says it's possible, but rare, to have an allergic-type reaction to a color additive. As an example, it mentions that Ci 19140 may cause itching and hives in some people but the colorant is always labeled so that you can avoid it if you are sensitive.
Also-called:
Yellow 6
|
What-it-does:
colorant
We don't have description for this ingredient yet.
Also-called:
Fragrance, Parfum;Parfum/Fragrance
|
What-it-does:
perfuming
Exactly what it sounds: nice smelling stuff put into cosmetic products so that the end product also smells nice. Fragrance in the US and parfum in the EU is a generic term on the ingredient list that is made up of 30 to 50 chemicals on average (but it can have as much as 200 components!).
If you are someone who likes to know what you put on your face then fragrance is not your best friend - there's no way to know what's really in it.
Also, if your skin is sensitive, fragrance is again not your best friend. It's the number one cause of contact allergy to cosmetics. It's definitely a smart thing to avoid with sensitive skin (and fragrance of any type - natural is just as allergic as synthetic, if not worse!).
You may also want to take a look at...
Normal (well kind of - it's purified and deionized) water. Usually the main solvent in cosmetic products.
[more]
A super commonly used thickener and emulsion stabilizer.
[more]
A real oldie but a goodie. Great natural moisturizer and skin-identical ingredient that plays an important role in skin hydration and general skin health.
[more]
A highly absorbent clay that comes in different colors depending on its mineral content. It's excellent at absorbing things including sebum and gunk in the pores and it also has some skin soothing and "detoxifying" effect.
[more]
A type of clay that's a fine, white powder and is used for its oil-absorbing and opacifying properties. It's less absorbent and less drying than bentonite clay.
[more]
A clear, colorless oil-like liquid that's used as a fast-spreading, non-greasy emollient.
[more]
Castor oil is sourced from the castor bean plant native to tropical areas in Eastern Africa and the Mediterranean Basin. It is an age-old ingredient (it's over 4,000 years old!) with many uses including as a shoe polish, food additive and motor lubricant.
[more]
Turmeric Root Extract that has nice anti-inflammatory, antioxidant and skin-brightening properties.
[more]
The extract coming from the juice containing leaves of the Aloe vera plant with moisturizing, emollient and anti-inflammatory properties.
[more]
A controversial preservative that has formaldehyde-releasing properties. It works great against bacteria and also has mild fungicide abilities. 
[more]
Preservative with relatively high irritation risk. It's always used together with Methylisothiazolinone.
[more]
Preservative with relatively high irritation risk that is used mainly in rinse-off products.
[more]
A super common colorant with the color yellow.
[more]
The generic term for nice smelling stuff put into cosmetic products so that the end product also smells nice. It is made up of 30 to 50 chemicals on average.
[more]