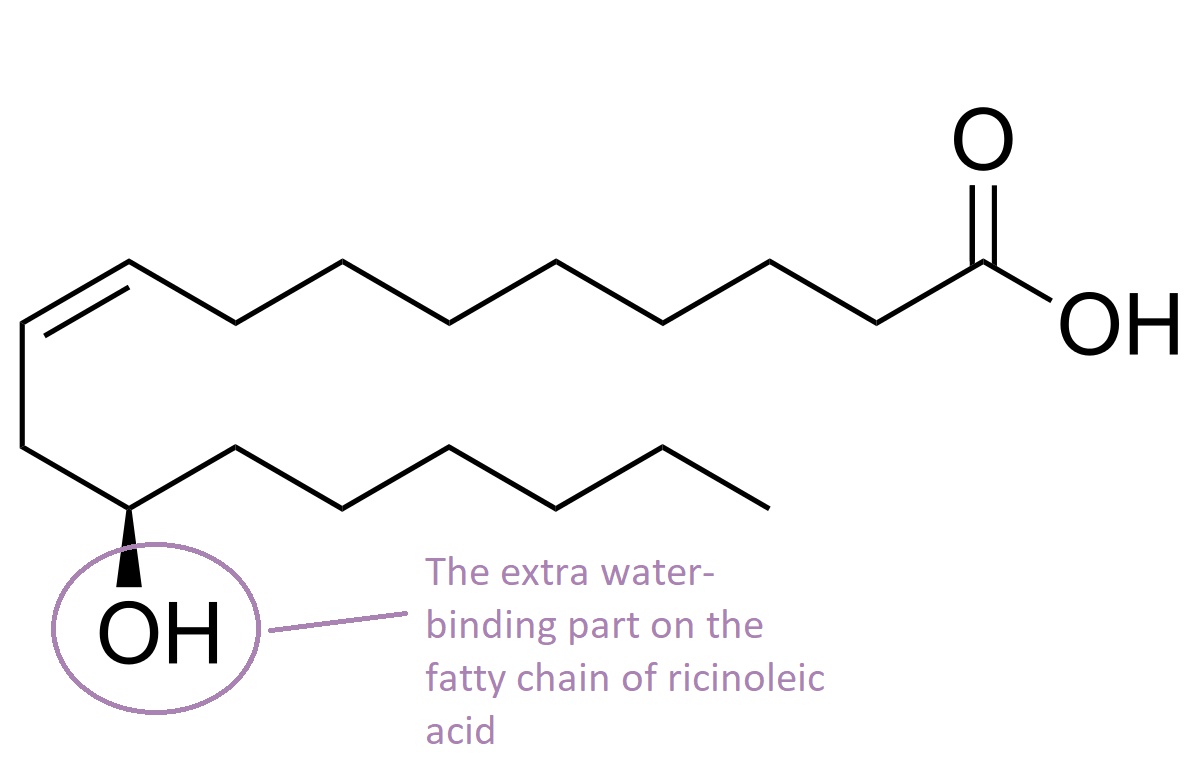 Details
Castor oil is sourced from the castor bean plant native to tropical areas in Eastern Africa and the Mediterranean Basin. It is an age-old ingredient (it's over 4,000 years old!) with many uses including as a shoe polish, food additive and motor lubricant. You would be reasonable to think that putting shoe polish on your face wouldn't be the best idea, but it turns out castor oil has some unique properties that make it a stalwart in thick and gloss-giving formulas (think lipsticks and highlighters).
So what is so special about it? The answer is its main fatty acid, called ricinoleic acid (85-95%). Unlike other fatty acids, ricinoleic acid has an extra water-loving part (aka -OH group) on its fatty chain that gives Castor Oil several unique properties. First, it is thicker than other oils, then its solubility is different (e.g. dissolves in alcohol but not in mineral oil), and it allows all kinds of chemical modifications other oils do not, hence the lots of Castor oil-derived ingredients. It is also more glossy than other oils, in fact, it creates the highest gloss of all natural oils when applied to the skin. Other than that, it is a very effective emollient and occlusive that reduces skin moisture loss so it is quite common in smaller amounts in moisturizers.
While it is very unlikely (and this is true for pretty much every ingredient), cases of reactions to castor oil have been reported, so if your skin is sensitive, it never hurts to patch test.
Show me some proof
A. Dweck, "Use of Botanicals in Cosmetics" in Harry's Cosmeticology, 8th ed., Ed. M.M. Rieger, Chemical Publishing: New York, NY, USA (2000).
"Final Report on the Safety Assessment of Ricinus Communis (Castor) Seed Oil, Hydrogenated Castor Oil, Glyceryl Ricinoleate, Glyceryl Ricinoleate SE, Ricinoleic Acid, Potassium Ricinoleate, Sodium Ricinoleate, Zinc Ricinoleate, Cetyl Ricinoleate, Ethyl Ricinoleate, Glycol Ricinoleate, Isopropyl Ricinoleate, Methyl Ricinoleate, and Octyldodecyl Ricinoleate." International Journal of Toxicology, vol. 26, no. 3_suppl, May 2007, pp. 31–77.
Pascoe, David, et al. "Emergent and Unusual Allergens in Cosmetics. [Review]." Dermatitis, vol. 21, no. 3, June 2010, pp. 127–37. Journals@Ovid
Products with Ricinus Communis Seed Oil