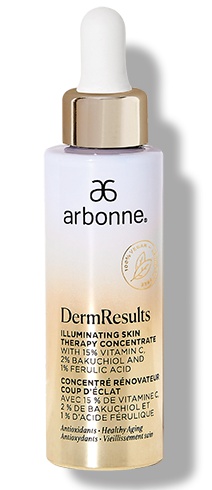 Dermresults Illuminating Skin Therapy Concentrate
With less than 10 ingredients, our vitamin c antioxidant face serum is a potent, vegan, skin-brightening booster that features 15% vitamin c, 2% bakuchiol, 1% ferulic acid and vitamin e.

With consistent use, the concentrate can reduce the appearance of environmental damage caused by pollution and ozone, and this potent antioxidant booster serum also helps improve the look of wrinkles and dark spots over time as it enhances the appearance of elasticity, firmness and texture by supporting the skin's barrier with hydration. Just a few drops of this face serum each morning is all it takes to combat visible signs of aging and reveal radiant, healthier-, youthful-looking skin. Dermatologist-tested.
Uploaded by: danipatarazzi on
Highlights
Fragrance and Essential Oil Free
Key Ingredients
Arbonne Dermresults Illuminating Skin Therapy Concentrate

Ingredients explained

An often used emollient with a light and silky feel. It's very mild to both skin and eyes and spreads nicely and easily. It's often used in sunscreens as it's also an excellent solvent for sunscreen agents.

Tetrahexyldecyl Ascorbate is a stable, oil-soluble form of skincare big shot Vitamin C. If you do not know, why Vitamin C is such a big deal in skincare, click here and read all about it. We are massive vitamin C fans and have written about it in excruciating detail.

So now, you know that Vitamin C is great and all, but it's really unstable and gives cosmetics companies many headaches. To solve this problem they came up with vitamin C derivatives, and one of them is Tetrahexyldecyl Ascorbate (let's call it THDA in short).

It's a really promising candidate (see below), but while reading all the goodness about it in a minute, do not forget that derivatives not only have to be absorbed into the skin but also have to be converted to pure vitamin C (ascorbic acid or AA) and the efficacy of the conversion is often unknown. In addition, vitamin C's three magic properties (antioxidant, collagen booster, skin brightener) are all properly proven in-vivo (on real people), but for the derivatives, it's mostly in-vitro studies or in the case of THDA, it's in-vitro and done by an ingredient supplier.

With this context in mind let's see what THDA might be able to do. First, it is stable (if pH < 5), easy to formulate, and a joy to work with for a cosmetic chemist.

Second, because it's oil-soluble, its skin penetration abilities seem to be great. So great in fact, that it surpasses the penetration of pure vitamin C threefold at the same concentration and it penetrates successfully into the deeper layers of the skin (that is usually important to do some anti-aging work). There is also in-vitro data showing that it converts to AA in the skin.

Third, THDA seems to have all three magic abilities of pure vitamin C: it gives antioxidant protection from both UVB and UVA rays, it increases collagen synthesis (even more than AA) and it has a skin brightening effect by reducing melanogenesis by more than 80% in human melanoma cell cultures.

So this all sounds really great, but these are only in-vitro results at this point. We could find Tetrahexyldecyl Ascorbate mentioned only in one published in-vivo study that examined the anti-aging properties of a silicone formula containing 10% AA and 7% THDA. The authors theorized that the 10% AA is released slowly from the silicon delivery system and probably stays in the upper layer of the skin to give antioxidant benefits, while THDA penetrates more rapidly and deeply and gives some wrinkle-reducing benefits. The study was a small (10 patients), double-blind experiment, and the formula did show some measurable anti-aging results. However, it is hard to know how much pure vitamin C or THDA can be thanked.

Bottom line: a really promising, but not well-proven vitamin C derivative that can be worth a try especially if you like experimenting (but if you like the tried and true, pure vitamin C will be your best bet).

At first glance, you could think that Bakuchiol is your average plant extract. It is derived from the seeds of Psoralea Corylifolia, aka Babchi, a plant important in Indian and Chinese medicine. The molecule was first isolated in 1973 and several anti-something properties are known about it: it has anti-inflammatory, antioxidant, anti-tumor, anti-bacterial and hepatoprotective magical abilities like plenty of other Ayurvedic plant extracts.

What makes Bakuchiol a special snowflake is the recent discovery that it behaves on the skin in a way very similar to well-known skincare superstar, retinol. While chemically, it has nothing to do with the vitamin-A family, aka retinoids, comparative gene expression profiling (a fancy way of saying that they compared how retinol and bakuchiol modify the way skin cells behave and produce important skin proteins such as collagen) shows that retinol and bakuchiol regulate skin cell behavior in a similar way.

To be more specific, both Bakuchiol and retinol upregulate collagen I, III and IV production and downregulate MMP, the evil collagen attacking enzyme in our skin. This means more collagen stays in our skin and we all know that more collagen equals firmer, more wrinkle-free skin. A 12-week clinical study using a 0.5% Bakuchiol formula with 17 people using it twice a day confirmed a significant improvement in lines and wrinkles, elasticity, firmness and an overall reduction in photo-damage. Also, the test formula was very well tolerated, without any retinol-like side effects.

What's more, a 2018 double-blind study with 44 people compared 0.5% Bakuchiol with 0.5% retinol cream and found that "bakuchiol is comparable to retinol in its ability to improve photoaging and is better tolerated than retinol". A super promising result after 12 weeks.

If you are not a daredevil-type who doesn't want to stop using a super well-proven retinol for a newbie like Bakuchiol, we have good news. The two also work very nicely together and Bakuchiol can actually help to stabilize the otherwise unstable and hard to formulate retinol.

And we are still not done, as Bakuchiol shows not only anti-aging properties but also nice anti-acne effects. 1% Bakuchiol seems to be very effective in itself (57% reduction in acne after 6 weeks treatment) and even better when combined with 2% salicylic acid (67% reduction in acne after 6 weeks). We like that Bakuchiol is such a good team player! The molecule works against acne in multiple ways: It downregulates 5α-reductase (a sebum-controlling enzyme), it is antibacterial (including P. acnes), anti-inflammatory and it inhibits lipid-peroxidation, an evil oxidative process that is recently thought to be a very early trigger in the acne process.

We feel that this description is becoming very long so we will just mention that Bakuchiol also seems to positively regulate hydration-related genes such as Aquaporin 3 and also shows some melanin-inhibiting properties.

Overall, we think Bakuchiol is an awesome molecule with lots of promise both for anti-aging and anti-acne. But the proof compared to the well-established superstars is far from solid, so in a skincare routine, we would rather add Bakuchiol next to retinol than straight up replace it. Unless you are a gimme-the-newest-shiny-thing-under-the-sun-type.

Also-called:

Vitamin E

|

What-it-does:

antioxidant

|

Irritancy:

0-3

|

Comedogenicity:

0-3
Primary fat-soluble antioxidant in our skin
Significant photoprotection against UVB rays
Vit C + Vit E work in synergy and provide great photoprotection
Has emollient properties
Easy to formulate, stable and relatively inexpensive
Read all the geeky details about Tocopherol here >>
We don't have description for this ingredient yet.
Also-called:
Sunflower Oil
|
What-it-does:
emollient
|
Irritancy:
0
|
Comedogenicity:
0
Sunflower does not need a big intro as you probably use it in the kitchen as cooking oil, or you munch on the seeds as a healthy snack or you adore its big, beautiful yellow flower during the summer - or you do all of these and probably even more. And by even more we mean putting it all over your face as sunflower oil is one of the most commonly used plant oils in skincare.
It's a real oldie: expressed directly from the seeds, the oil is used not for hundreds but thousands of years. According to The National Sunflower Association, there is evidence that both the plant and its oil were used by American Indians in the area of Arizona and New Mexico about 3000 BC. Do the math: it's more than 5000 years – definitely an oldie.
Our intro did get pretty big after all (sorry for that), so let's get to the point finally: sunflower oil - similar to other plant oils - is a great emollient that makes the skin smooth and nice and helps to keep it hydrated. It also protects the surface of the skin and enhances the damaged or irritated skin barrier. Leslie Bauman notes in Cosmetic Dermatology that one application of sunflower oil significantly speeds up the recovery of the skin barrier within an hour and sustains the results 5 hours after using it.
It's also loaded with fatty acids (mostly linoleic (50-74%) and oleic (14-35%)). The unrefined version (be sure to use that on your skin!) is especially high in linoleic acid that is great even for acne-prone skin. Its comedogen index is 0, meaning that it's pretty much an all skin-type oil.
Truth be told, there are many great plant oils and sunflower oil is definitely one of them.
Also-called:
Aqua;Water
|
What-it-does:
solvent
Good old water, aka H2O. The most common skincare ingredient of all. You can usually find it right in the very first spot of the ingredient list, meaning it's the biggest thing out of all the stuff that makes up the product.
It's mainly a solvent for ingredients that do not like to dissolve in oils but rather in water.
Once inside the skin, it hydrates, but not from the outside - putting pure water on the skin (hello long baths!) is drying.
One more thing: the water used in cosmetics is purified and deionized (it means that almost all of the mineral ions inside it is removed). Like this, the products can stay more stable over time.
You may also want to take a look at...
An often used emollient with a light and silky feel. It's very mild to both skin and eyes and spreads nicely and easily. It's often used in sunscreens as it's also an excellent solvent for sunscreen agents. 
A stable, oil-soluble form of Vitamin C, that might have (in-vitro results) all the magic abilities of pure vitamin C (antioxidant, collagen booster, skin brightener).
[more]
At first glance, you could think that Bakuchiol is your average plant extract. It is derived from the seeds of Psoralea Corylifolia, aka Babchi, a plant important in Indian and Chinese medicine.
[more]
Pure Vitamin E. Great antioxidant that gives significant photoprotection against UVB rays. Works in synergy with Vitamin C.
[more]
Sunflower Oil - it's a great emollient that protects & enhances the skin barrier.
[more]
Normal (well kind of - it's purified and deionized) water. Usually the main solvent in cosmetic products.
[more]