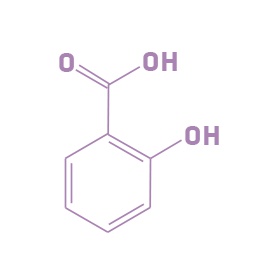 Also-called-like-this:
BHA
Quick Facts
It's one of the gold standard ingredients for treating problem skin
It can exfoliate skin both on the surface and in the pores
It's a potent anti-inflammatory agent
It's more effective for treating blackheads than acne
For acne combine it with antibacterial agents like benzoyl peroxide or azelaic acid
Geeky Details
If you have ever struggled with let's just call it "problem skin" (you know, acne, blackheads, whiteheads, large pores) then most probably you are familiar with salicylic acid (SA). Even if the name does not ring a bell, you have probably used it. Next to benzoyl peroxide, it's the gold standard ingredient for treating problem skin.

There are two reasons for this:
Reason #1: It can exfoliate skin both on the surface and in the pores
AHAs are very cool, but they are water soluble and cannot go into the pores. SA is lipid soluble and it can go right into the pores and shed the stuck, dead skin cells out from there. That's really good for treating blackheads as well as preventing acne formation.
This was confirmed also by a study that compared 8% AHA and 2% BHA for treating blackheads. AHA did not decrease the blackhead density statistically significantly, but BHA did.
Reason #2: SA is a potent anti-inflammatory
The chemical structure of SA is very similar to aspirin, and it does have similar anti-irritant and anti-inflammatory effect. That is helpful both for acne and rosacea.
So SA is definitely an ingredient to try if you have oily or problem skin, but all in all, it's more effective against blackheads than inflamed zits. For the latter one, it's only moderately effective, and benzoyl peroxide outperforms it by leaps and bounds. But they work in different ways, so a combination therapy is a great way to fight (and win) against acne. (In fact, it's a good idea to combine SA not only with BP, but with any other antibacterial agent such as azelaic acid or mandelic acid.)
What else to know?
For at home use 0.5-2% SA is effective and these products are usually gentle enough for daily use. In fact, in the EU 2% is the maximum strength allowed in at home products.
There are also professional BHA peels that go in the 20-30% range. Those can fade pigmentation, decrease surface roughness, reduce fine lines and of course, treat acne.
Regarding pH requirements for BHA, unlike for AHAs where an acidic pH is super important for efficacy, it might be less relevant for BHA.
Oh, and one more things: studies show that SA (at 2%) does not increase skin's sun sensitivity, but it has photoprotective effects. Not that we want to tell you not to use sunscreen, because please do!
Bottom line: SA is a great exfoliant and anti-inflammatory and you should definitely try it if you have oily skin, large pores, blackheads or whiteheads. If you have acne, it is a useful adjacent treatment combined with an antibacterial agent such as benzoyl peroxide or azelaic acid.
Show me some proof
Leslie Baumann, MD, Cosmeceuticals and Cosmetic Ingredients, 1st edition, Salicylic Acid, p301
Seminars in cutaneous medicine and surgery, 10/2008; 27(3):170-6., Effective Over-the-Counter Acne Treatments
Clin Cosmet Investig Dermatol. 2010; 3: 135–142., Applications of hydroxy acids: classification, mechanisms, and photoactivity
Nam, Gaewon. "Stratum Corneum Exfoliation Effect with Hydroxy Acid according pH." Journal of the Society of Cosmetic Scientists of Korea 42.4 (2016): 413-420.
Bashir, S. J., et al. "Cutaneous bioassay of salicylic acid as a keratolytic." International journal of pharmaceutics 292.1-2 (2005): 187-194.
Kornhauser, Andrija, et al. "The effects of topically applied glycolic acid and salicylic acid on ultraviolet radiation-induced erythema, DNA damage and sunburn cell formation in human skin." Journal of dermatological science 55.1 (2009): 10-17.
Products with a known amount of Salicylic Acid
Other products with Salicylic Acid