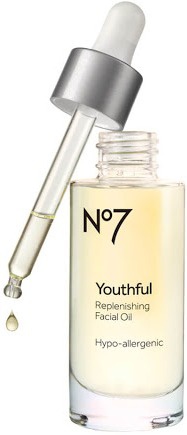 Youthful Replenishing Facial Oil
Say bye-bye to dry and dehydrated skin with No7's Replenishing Facial Oil, designed to give skin an intense surge of moisture and help keep moisture locked in. The light-weight and non-greasy

oil has been formulated with an active blend that mimics skin's natural oils so that it quickly gets to work to help restore lost moisture and hydration. The blend includes nature's nourishing gem, Jojoba oil, that works to keep moisture locked in and prevent future dryness.
Uploaded by: octaviab on
Skim through
Ingredient name
what-it-does

irr.

,

com.

ID-Rating
Caprylic/Capric Triglyceride
emollient
Simmondsia Chinensis (Jojoba) Seed Oil
emollient

0

,

0

-

2

goodie

Rosa Moschata Seed Oil
emollient
Isostearyl Isostearate
emollient

1

,

4

Alcohol Denat
antimicrobial/​antibacterial, solvent, viscosity controlling

icky

Tocopheryl Acetate
antioxidant

0

,

0

Parfum (Fragrance)
perfuming

icky

Isopropyl Myristate
emollient, perfuming

3

,

3

-

5

Retinyl Palmitate
cell-communicating ingredient

1

-

3

,

1

-

3

Ascorbyl Palmitate
antioxidant

0

,

2

icky

Salicyloyl Phytosphingosine
Tocopherol
antioxidant

0

-

3

,

0

-

3

goodie

Methyl Benzoate
perfuming, preservative, solvent
No7 Youthful Replenishing Facial Oil

Ingredients explained

A super common emollient that makes your skin feel nice and smooth. It comes from coconut oil and glycerin, it's light-textured, clear, odorless and non-greasy. It's a nice ingredient that just feels good on the skin, is super well tolerated by every skin type and easy to formulate with. No wonder it's popular.

Also-called:

Jojoba Oil

|

What-it-does:

emollient

|

Irritancy:

0

|

Comedogenicity:

0-2

Jojoba is a drought resistant evergreen shrub native to South-western North America. It's known and grown for jojoba oil, the golden yellow liquid coming from the seeds (about 50% of the weight of the seeds will be oil).

At first glance, it seems like your average emollient plant oil: it looks like an oil and it's nourishing and moisturizing to the skin but if we dig a bit deeper, it turns out that jojoba oil is really special and unique: technically - or rather chemically - it's not an oil but a wax ester (and calling it an oil is kind of sloppy).

So what the heck is a wax ester and why is that important anyway? Well, to understand what a wax ester is, you first have to know that oils are chemically triglycerides: one glycerin + three fatty acids attached to it. The fatty acids attached to the glycerin vary and thus we have many kinds of oils, but they are all triglycerides. Mother Nature created triglycerides to be easily hydrolyzed (be broken down to a glycerin + 3 fatty acid molecules) and oxidized (the fatty acid is broken down into small parts) - this happens basically when we eat fats or oils and our body generates energy from it.

Mother Nature also created wax esters but for a totally different purpose. Chemically, a wax ester is a fatty acid + a fatty alcohol, one long molecule. Wax esters are on the outer surface of several plant leaves to give them environmental protection. 25-30% of human sebum is also wax esters to give us people environmental protection.

So being a wax ester results in a couple of unique properties: First, jojoba oil is extremely stable. Like crazy stable. Even if you heat it to 370 C (698 F) for 96 hours, it does not budge. (Many plant oils tend to go off pretty quickly). If you have some pure jojoba oil at home, you should be fine using it for years.

Second, jojoba oil is the most similar to human sebum (both being wax esters), and the two are completely miscible. Acne.org has this not fully proven theory that thanks to this, jojoba might be able to "trick" the skin into thinking it has already produced enough sebum, so it might have "skin balancing" properties for oily skin.

Third, jojoba oil moisturizes the skin through a unique dual action: on the one hand, it mixes with sebum and forms a thin, non-greasy, semi-occlusive layer; on the other hand, it absorbs into the skin through pores and hair follicles then diffuses into the intercellular spaces of the outer layer of the skin to make it soft and supple.

On balance, the point is this: in contrast to real plant oils, wax esters were designed by Mother Nature to stay on the surface and form a protective, moisturizing barrier and jojoba oil being a wax ester is uniquely excellent at doing that.
We don't have description for this ingredient yet.
What-it-does:
emollient
|
Irritancy:
1
|
Comedogenicity:
4
An emollient ester (oily liquid from Isostearyl Alcohol + Isostearic Acid) that gives excellent slip, lubricity and luxurious softness on skin. It's also popular in makeup products to disperse pigments nicely and evenly.
It's a super common and super debated skincare ingredient
It has several benefits: great solvent, penetration enhancer, creates cosmetically elegant, light formulas, great astringent and antimicrobial
It can be very drying if it's in the first few ingredients on an ingredient list
Some experts even think that regular exposure to alcohol damages skin barrier and causes inflammation though it's a debated opinion (read more in geeky details tab)
Read all the geeky details about Alcohol Denat. here >>
Also-called:
Vitamin E Acetate
|
What-it-does:
antioxidant
|
Irritancy:
0
|
Comedogenicity:
0
It's the most commonly used version of pure vitamin E in cosmetics. You can read all about the pure form here. This one is the so-called esterified version.
According to famous dermatologist, Leslie Baumann while tocopheryl acetate is more stable and has a longer shelf life, it's also more poorly absorbed by the skin and may not have the same awesome photoprotective effects as pure Vit E.
Also-called:
Fragrance, Parfum;Parfum/Fragrance
|
What-it-does:
perfuming
Exactly what it sounds: nice smelling stuff put into cosmetic products so that the end product also smells nice. Fragrance in the US and parfum in the EU is a generic term on the ingredient list that is made up of 30 to 50 chemicals on average (but it can have as much as 200 components!).
If you are someone who likes to know what you put on your face then fragrance is not your best friend - there's no way to know what's really in it.
Also, if your skin is sensitive, fragrance is again not your best friend. It's the number one cause of contact allergy to cosmetics. It's definitely a smart thing to avoid with sensitive skin (and fragrance of any type - natural is just as allergic as synthetic, if not worse!).
A clear, colorless oil-like liquid that makes the skin feel smooth and nice (aka emollient) and it does so without it being greasy.
What's more, it can even reduce the heavy, greasy feel in products with high oil content. It's also fast-spreading meaning that it gives the formula a good, nice slip. It absorbs quickly into the skin and helps other ingredients to penetrate quicker and deeper.
Thanks to all this, it's one of the most commonly used emollients out there. There is just one little drawback: it has a high comedogenic index (5 out of 5...), so it might clog pores if you're prone to it.
It's an ester form of vitamin A (retinol + palmitic acid) that belongs to the "retinoid family". The retinoid family is pretty much the royal family of skincare, with the queen being the FDA-approved anti-aging ingredient tretinoin. Retinol is also a very famous member of the family, but it's like Prince William, two steps away from the throne. Retinyl palmitate will be then little Prince George, quite far (3 steps) away from the throne.
By steps, we mean metabolic steps. Tretinoin, aka retinoic acid, is the active ingredient our skin cells can understand and retinyl palmitate (RP) has to be converted by our metabolic machinery to actually do something. The conversion is a 3 step one and looks like this:
retinyl palmitate --> retinol -- > retinaldehyde --> all-trans-retinoic acid
As we wrote in our lengthy retinol description the problem is that the conversion is not terribly effective. The evidence that RP is still an effective anti-aging ingredient is not very strong, in fact, it's weak. Dr. Leslie Baumann in her fantastic Cosmetic Dermatology book writes that RP is topically ineffective.
What's more, the anti-aging effectiveness is not the only questionable thing about RP. It also exibits questionable behaviour in the presence of UV light and was the center of a debate between the non-profit group, EWG (whose intentions are no doubt good, but its credibility is often questioned by scientists) and a group of scientists and dermatologists lead by Steven Q. Wang, MD, director of dermatologic surgery at Memorial-Sloan Kettering Cancer Centre.
Dr. Leslie Baumann wrote a great review of the debate and summarized the research available about retinyl palmitate here. It seems that there is a study showing RP being photo protective against UVB rays but there is also a study showing RP causing DNA damage and cytotoxicity in association with UVA.
We think that the truth lies somewhere in the middle, and we agree with Dr. Baumann's conclusion: "sufficient evidence to establish a causal link between RP and skin cancer has not been produced. Nor, I'm afraid, are there any good reasons to recommend the use of RP". We would add especially during the day!
Bottom line: If you wanna get serious about retinoids, RP is not your ingredient (retinol or tretinoin is!). However, if you use a product that you like and it also contains RP, there is no reason to throw it away. If possible use it at night, just to be on the safe side.
Also-called:
Form of Vitamin C
|
What-it-does:
antioxidant
|
Irritancy:
0
|
Comedogenicity:
2
A form of skincare superstar, vitamin C. Even though we are massive vitamin C fans, Ascorbyl Palmitate (AP) is our least favorite. (Btw, if you do not know what the big deal with vitamin C is then you are missing out. You must go and read our geeky details about it.)
So, AP is one of the attempts by the cosmetics industry to solve the stability issues with vitamin C while preserving its benefits, but it seems to fall short on several things.
What's the problem?
Firstly, it's stability is only similar to that of pure ascorbic acid (AA), which means it is not really stable. A great study in the Journal of Cosmetic Dermatology compared a bunch of vitamin C derivatives and this derivative was the only one where the study said in terms of stability that it's "similar to AA". Not really that good.
Second, a study that examined the skin absorption of vitamin C found that ascorbyl palmitate did not increase the skin levels of AA. This does not mean that ascorbyl palmitate cannot penetrate the skin (because it can, it's oil soluble and the skin likes to absorb oil soluble things) but this means that it's questionable if ascorbyl palmitate can be converted into pure Vit C in the skin. Even if it can be converted, the palmitate part of the molecule is more than the half of it, so the efficacy will not be good and we have never seen a serum that contains a decent (and proudly disclosed) amount of AP. We are highly skeptical what effect a tiny amount of AP has in a formula.
Third, another study that wanted to examine the antioxidant properties of AP was surprised to find that even though AP does have nice antioxidant properties; following UVB radiation (the same one that comes from the sun) it also promotes lipid peroxidation and cytotoxicity. It was only an in-vitro study meaning that it was done on cell cultures and not on real people, but still, this also does not support the use of AP too much.
The only good thing we can write about Ascorbyl Palmitate is that there is an in-vitro (made in the lab, not on real people) study showing that it might be able to boost collagen production.
Regarding the skin-brightening properties of pure vitamin C, this is another magic property AP does not have, or at least there is no data, not even in-vitro, about it.
Overall, Ascorbyl Palmitate is our least favorite vitamin C derivative. It is there in lots of products in tiny amounts (honestly, we do not really understand why), however, we do not know about any vitamin C serum featuring AP in high amounts. That is probably no coincidence. If you are into vitamin C, you can take a look at more promising derivatives here.
We don't have description for this ingredient yet.
Also-called:
Vitamin E
|
What-it-does:
antioxidant
|
Irritancy:
0-3
|
Comedogenicity:
0-3
Primary fat-soluble antioxidant in our skin
Significant photoprotection against UVB rays
Vit C + Vit E work in synergy and provide great photoprotection
Has emollient properties
Easy to formulate, stable and relatively inexpensive
Read all the geeky details about Tocopherol here >>
We don't have description for this ingredient yet.
You may also want to take a look at...
A very common emollient that makes your skin feel nice and smooth. Comes from coconut oil and glycerin, it's light-textured, clear, odorless and non-greasy.
[more]
what‑it‑does
emollient
irritancy, com.

0

,

0

-

2
Jojoba oil - a wax ester (chemically not a real oil), that's very similar to human sebum. It's uniquely excellent at helping the skin with its protective barrier and helping it to stay moisturized.
[more]
An emollient ester that gives excellent slip and luxurious softness on skin.
[more]
Alcohol with some additives to make it unconsumable. It is great solvent, penetration enhancer, creates cosmetically elegant, light formulas, great astringent, and antimicrobial. In large amounts, it can be very drying to the skin.
[more]
A form of vitamin E that works as an antioxidant. Compared to the pure form it's more stable, has longer shelf life, but it's also more poorly absorbed by the skin.
[more]
The generic term for nice smelling stuff put into cosmetic products so that the end product also smells nice. It is made up of 30 to 50 chemicals on average.
[more]
A clear, colorless oil-like liquid that's used as a fast-spreading, non-greasy emollient.
[more]
An ester form of vitamin A (retinol + palmitic acid) that is pretty much the least effective member of the retinoid family. Its anti-aging effects are quite questionable as well as its behavior in the presence of UVA light. (Use it at night if possible!)
[more]
An oil soluble vitamin C derivative that has mixed data about its effectiveness.
[more]
Pure Vitamin E. Great antioxidant that gives significant photoprotection against UVB rays. Works in synergy with Vitamin C.
[more]