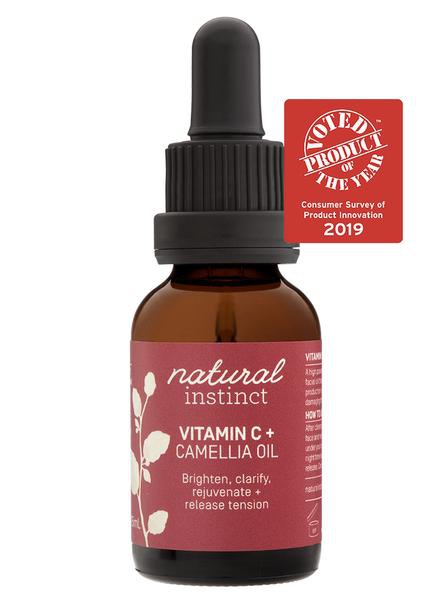 A high powered, lightweight anti-ageing facial oil that helps support collagen production and reduce the visible signs of damaging free radicals
Uploaded by: wiznards on
Highlights
Natural Instinct Vitamin C Camellia Oil

Ingredients explained

Also-called:

Tea Seed oil;Camellia Oleifera Seed Oil

|

What-it-does:

emollient

A beautiful golden-yellow oil coming from the Camellia tree. It's a 5 -10 meters high tree with spectacular white flowers native to Asia. It's pretty common there and also used as cooking oil or salad dressing. Sometimes Camellia oil is referred to as "the olive oil of Asia".

So what can it do for the skin? Similar to many other great non-fragrant plant oils, it's a great emollient and moisturising oil for dry skin. It's light in texture, absorbs fast into the skin and leaves it soft and supple.

Also-called:

Evening Primrose Oil, EPO;Oenothera Biennis Oil

|

What-it-does:

soothing, emollient

|

Irritancy:

2

|

Comedogenicity:

3

The oil coming from the seeds of the nice, little, yellow-flowered plant called Evening Primrose. Similar to other plant oils, it's loaded with nourishing and moisturizing fatty acids. It's a very rich source of linoleic acid (66-76%), and also contains the soothing and healing superstar fatty acid, gamma-linolenic acid (aka GLA, 7-12%) (Btw, the richest known source of GLA is the borage oil, but evening primrose still counts as a very good source of it). It also contains oleic acid, but not too much around 6-15%.

Since the 1980's, EPO is a well-known food supplement and there are quite a lot of studies examining what happens if you take it orally. It seems to be helpful with a bunch of things: atopic dermatitis, dry eyes, brittle nails, sunburn and even acne.

Also-called:

Form of Vitamin C, Ascorbyl Isotetrapalmitate, Ascorbyl Tetraisopalmitate, ATIP;Tetrahexyldecyl Ascorbate

|

What-it-does:

antioxidant, skin brightening

Tetrahexyldecyl Ascorbate is a stable, oil-soluble form of skincare big shot Vitamin C. If you do not know, why Vitamin C is such a big deal in skincare, click here and read all about it. We are massive vitamin C fans and have written about it in excruciating detail.

So now, you know that Vitamin C is great and all, but it's really unstable and gives cosmetics companies many headaches. To solve this problem they came up with vitamin C derivatives, and one of them is Tetrahexyldecyl Ascorbate (let's call it ATIP in short).

Also-called:

Sunflower Oil

|

What-it-does:

emollient

|

Irritancy:

0

|

Comedogenicity:

0

Sunflower does not need a big intro as you probably use it in the kitchen as cooking oil, or you munch on the seeds as a healthy snack or you adore its big, beautiful yellow flower during the summer - or you do all of these and probably even more. And by even more we mean putting it all over your face as sunflower oil is one of the most commonly used plant oils in skincare.

It's a real oldie: expressed directly from the seeds, the oil is used not for hundreds but thousands of years. According to The National Sunflower Association, there is evidence that both the plant and its oil were used by American Indians in the area of Arizona and New Mexico about 3000 BC. Do the math: it's more than 5000 years – definitely an oldie.

The extract coming from the lovely herb, rosemary. It contains lots of chemicals, including flavonoids, phenolic acids, and diterpenes. Its main active is rosmarinic acid, a potent antioxidant, and anti-inflammatory. It has also anti-bacterial, astringent and toning properties.

The leaves contain a small amount of essential oil (1-2%) with fragrant components, so if you are allergic to fragrance, it might be better to avoid it.

Also-called:

Rose Geranium Essential Oil;Pelargonium Graveolens Oil

|

What-it-does:

perfuming

The fragrant essential oil coming from the whole plant of Rose Geranium. It has a lovely scent with a mix of rose and citrus.

Like most essential oils, it contains antioxidant and antimicrobial components, but the main ones are fragrant constituents (like geraniol and citronellol). Be careful with it, if your skin is sensitive.

Also-called:

Orange Flower Absolute
We don't have description for this ingredient yet.
You may also want to take a look at...
A beautiful golden-yellow oil coming from the Camellia tree. It's a 5 -10 meters high tree with spectacular white flowers native to Asia. It's pretty common there and also used as cooking oil or salad dressing.
[more]
An emollient plant oil loaded with nourishing and moisturizing fatty acids. It's a very rich source of linoleic acid (66-76%), and also contains the soothing and healing superstar fatty acid, gamma-linoleic acid.
[more]
A stable, oil-soluble form of Vitamin C, that might have (in-vitro results) all the magic abilities of pure vitamin C (antioxidant, collagen booster, skin brightener).
[more]
Sunflower Oil - it's a great emollient that protects & enhances the skin barrier.
[more]
Rosemary leaf extract - Its main active is rosmarinic acid, a potent antioxidant, and anti-inflammatory. It has also anti-bacterial, astringent and toning properties.
[more]
The fragrant essential oil coming from the whole plant of Rose Geranium. It has a lovely scent with a mix of rose and citrus. Like most essential oils, it contains antioxidant and antimicrobial components, but the main ones are fragrant constituents (like geraniol and citronellol).
[more]