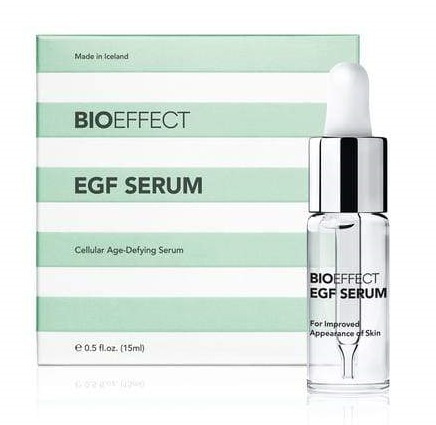 A potent age defying treatment that renews, revives, and restores your skin as it moisturizes, reduces age-related changes such as fine lines and wrinkles and maximizes radiance and tone.
Uploaded by: judit on
Highlights
Fragrance and Essential Oil Free
Key Ingredients
Bioeffect EGF Serum

Ingredients explained
A natural moisturizer that's also in our skin
A super common, safe, effective and cheap molecule used for more than 50 years
Not only a simple moisturizer but knows much more: keeps the skin lipids between our skin cells in a healthy (liquid crystal) state, protects against irritation, helps to restore barrier
Effective from as low as 3% with even more benefits for dry skin at higher concentrations up to 20-40%
High-glycerin moisturizers are awesome for treating severely dry skin
Read all the geeky details about Glycerin here >>
Also-called:
Aqua
|
What-it-does:
solvent
Good old water, aka H2O. The most common skincare ingredient of all. You can usually find it right in the very first spot of the ingredient list, meaning it's the biggest thing out of all the stuff that makes up the product.
It's mainly a solvent for ingredients that do not like to dissolve in oils but rather in water.
Once inside the skin, it hydrates, but not from the outside - putting pure water on the skin (hello long baths!) is drying.
One more thing: the water used in cosmetics is purified and deionized (it means that almost all of the mineral ions inside it is removed). Like this, the products can stay more stable over time.
It's the - sodium form - cousin of the famous NMF, hyaluronic acid (HA). If HA does not tell you anything we have a super detailed, geeky explanation about it here. The TL; DR version of HA is that it's a huge polymer (big molecule from repeated subunits) found in the skin that acts as a sponge helping the skin to hold onto water, being plump and elastic. HA is famous for its crazy water holding capacity as it can bind up to 1000 times its own weight in water.
As far as skincare goes, sodium hyaluronate and hyaluronic acid are pretty much the same and the two names are used interchangeably. As cosmetic chemist kindofstephen writes on reddit "sodium hyaluronate disassociates into hyaluronic acid molecule and a sodium atom in solution".
In spite of this, if you search for "hyaluronic acid vs sodium hyaluronate" you will find on multiple places that sodium hyaluronate is smaller and can penetrate the skin better. Chemically, this is definitely not true, as the two forms are almost the same, both are polymers and the subunits can be repeated in both forms as much as you like. (We also checked Prospector for sodium hyaluronate versions actually used in cosmetic products and found that the most common molecular weight was 1.5-1.8 million Da that absolutely counts as high molecular weight).
What seems to be a true difference, though, is that the salt form is more stable, easier to formulate and cheaper so it pops up more often on the ingredient lists.
If you wanna become a real HA-and-the-skin expert you can read way more about the topic at hyaluronic acid (including penetration-questions, differences between high and low molecular weight versions and a bunch of references to scientific literature).
It's a little helper ingredient that helps to set the pH of the products to be right. It has an alkaline pH and can neutralize acidic ingredients.
Sodium chloride is the fancy name of salt. Normal, everyday table salt.
If (similar to us) you are in the weird habit of reading the label on your shower gel while taking a shower, you might have noticed that sodium chloride is almost always on the ingredient list. The reason for this is that salt acts as a fantastic thickener in cleansing formulas created with ionic cleansing agents (aka surfactants) such as Sodium Laureth Sulfate. A couple of percents (typically 1-3%) turns a runny surfactant solution into a nice gel texture.
If you are into chemistry (if not, we understand, just skip this paragraph), the reason is that electrolytes (you know, the Na+ and Cl- ions) screen the electrostatic repulsion between the head groups of ionic surfactants and thus support the formation of long shaped micelles (instead of spherical ones) that entangle like spaghetti, and viola, a gel is formed. However, too much of it causes the phenomenon called "salting out", and the surfactant solution goes runny again.
Other than that, salt also works as an emulsion stabilizer in water-in-oil emulsions, that is when water droplets are dispersed in the outer oil (or silicone) phase. And last but not least, when salt is right at the first spot of the ingredient list (and is not dissolved), the product is usually a body scrub where salt is the physical exfoliating agent.
We don't have description for this ingredient yet.
Sh-Oligopeptide-1 is the famous molecule, which is also called Epidermal Growth Factor or EGF. Chemically speaking, Growth Factors are largish peptides or smallish proteins, or to put it in another way, medium-length amino acid sequences (EGF consists of 53 amino acids). Biologically speaking, Growth Factors are cellular signal molecules that can stimulate cell growth, proliferation, healing and/or differentiation.
There are lots of Growth Factors and EGF is just one of them. The topic of "Growth Factors and skincare" is a big, confusing and controversial one and we will try our best to summarize the story for you, including the pros and the cons.
EGF is a special snowflake when it comes to skincare as it was the first Growth Factor that made its way into cosmetic products and it is also the most common one. The American biochemist, Stanley Cohen discovered EGF and was awarded a Noble prize in 1986 for it. As the Noble prize may signify, the molecule is significant and powerful and directly stimulates the proliferation of epidermal cells.
When it comes to Sh-Oligopeptide-1 in a cosmetic product, it has pretty well-established wound healing and skin renewal properties. It might even do more than that. According to a 2012 study on a serum containing barley bioengineered epidermal growth factor, "clinical evaluations showed statistically significant improvement in the appearance of fine lines and rhytids, skin texture, pore size, and various dyschromatic conditions apparent within the first month of use, and continuing improvement trends for the duration of the study" (which was 3 months).
This all sounds amazing, "give me some EGF Serum", we can hear you say! But as we wrote in the intro, the topic is complex and controversial so here are some of the questions that keep coming up around slathering EGF all over our face.
The first and biggest concern is that if EGF is so good at stimulating cell proliferation, how does it relate to cancer? Is the definition of cancer not "cells proliferating out of control"? Most experts agree on this answer: EGF is mitogenic (= stimulates cell proliferation) but not mutagenic (= does not alter the cell to make it cancerous). If you do not have cancer, you will not get cancer from EGF. However, if you have cancerous cells, EGF will help them to spread, just like it helps healthy cells. So if you have a lot of moles, excessive UV exposure in the past, or if you have any of the skin cancer risk factors, we suggest you should think twice about using EGF products. The same is true if you have psoriasis, a skin disease related to the abnormal growth of epidermal skin cells. You do not want to add fuel to the fire with EGF.
Other (less serious) concerns are if EGF can properly penetrate the skin (as it is a medium-sized, polar molecule, so a special delivery system is probably needed), if it can affect collagen synthesis (or just works on the surface plumping up only the upmost layers of the skin) and if it has beneficial effects at all when used in isolation versus when used in a "conditioned media" that contains lots of growth factors resembling the synergistic balance found in the skin.
Overall, our impression is that EGF is definitely a potent molecule. Some EGF products have a cult-like following adding anecdotal evidence to the clinical studies showing EGF has a beneficial effect on the skin. If you like experimenting, by all means, go ahead (unless you have psoriasis or high skin cancer risk factors), but if you are a better safe than sorry type, stick to daily SPF + a good retinoid product. This duo is still the golden standard of anti-aging.
Are you interested in Growth Factors and skincare? We have some more here:
You may also want to take a look at...
A real oldie but a goodie. Great natural moisturizer and skin-identical ingredient that plays an important role in skin hydration and general skin health.
[more]
Normal (well kind of - it's purified and deionized) water. Usually the main solvent in cosmetic products.
[more]
It's the salt form of famous humectant and natural moisturizing factor, hyaluronic acid. It can bind huge amounts of water and it's pretty much the current IT-moisturizer.
[more]
It's a little helper ingredient that helps to set the pH of the products to be right. It has an alkaline pH and can neutralize acidic ingredients.
Sodium chloride is the fancy name of salt. Normal, everyday table salt. If (similar to us) you are in the weird habit of reading the label on your shower gel while taking a shower, you might have noticed that sodium chloride is almost always on the ingredient list.
[more]
Epidermal Growth Factor - a smallish protein that works as a potent cell signaling molecule. It stimulates cell proliferation, wound healing and skin renewal. Do not use if you have psoriasis or high skin cancer risk factors.
[more]