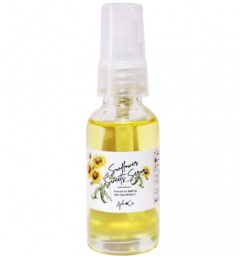 Unclog pores, reduce breakouts and even skin tone with this best-selling serum,made to leave skin baby smooth.
Uploaded by: hannahh on
Highlights
Fragrance and Essential Oil Free
Key Ingredients
Ayele & Co. Sunflower Sweets Serum

Ingredients explained
We don't have description for this ingredient yet.
Also-called:
Vitamin E;Tocopherol
|
What-it-does:
antioxidant
|
Irritancy:
0-3
|
Comedogenicity:
0-3
Primary fat-soluble antioxidant in our skin
Significant photoprotection against UVB rays
Vit C + Vit E work in synergy and provide great photoprotection
Has emollient properties
Easy to formulate, stable and relatively inexpensive
Read all the geeky details about Tocopherol here >>
Also-called:
Simmondsia Chinensis Seed Oil
|
What-it-does:
emollient
|
Irritancy:
0
|
Comedogenicity:
0-2
Jojoba is a drought resistant evergreen shrub native to South-western North America. It's known and grown for jojoba oil, the golden yellow liquid coming from the seeds (about 50% of the weight of the seeds will be oil).
At first glance, it seems like your average emollient plant oil: it looks like an oil and it's nourishing and moisturizing to the skin but if we dig a bit deeper, it turns out that jojoba oil is really special and unique: technically - or rather chemically - it's not an oil but a wax ester (and calling it an oil is kind of sloppy).
So what the heck is a wax ester and why is that important anyway? Well, to understand what a wax ester is, you first have to know that oils are chemically triglycerides: one glycerin + three fatty acids attached to it. The fatty acids attached to the glycerin vary and thus we have many kinds of oils, but they are all triglycerides. Mother Nature created triglycerides to be easily hydrolyzed (be broken down to a glycerin + 3 fatty acid molecules) and oxidized (the fatty acid is broken down into small parts) - this happens basically when we eat fats or oils and our body generates energy from it.
Mother Nature also created wax esters but for a totally different purpose. Chemically, a wax ester is a fatty acid + a fatty alcohol, one long molecule. Wax esters are on the outer surface of several plant leaves to give them environmental protection. 25-30% of human sebum is also wax esters to give us people environmental protection.
So being a wax ester results in a couple of unique properties: First, jojoba oil is extremely stable. Like crazy stable. Even if you heat it to 370 C (698 F) for 96 hours, it does not budge. (Many plant oils tend to go off pretty quickly). If you have some pure jojoba oil at home, you should be fine using it for years.
Second, jojoba oil is the most similar to human sebum (both being wax esters), and the two are completely miscible. Acne.org has this not fully proven theory that thanks to this, jojoba might be able to "trick" the skin into thinking it has already produced enough sebum, so it might have "skin balancing" properties for oily skin.
Third, jojoba oil moisturizes the skin through a unique dual action: on the one hand, it mixes with sebum and forms a thin, non-greasy, semi-occlusive layer; on the other hand, it absorbs into the skin through pores and hair follicles then diffuses into the intercellular spaces of the outer layer of the skin to make it soft and supple.
On balance, the point is this: in contrast to real plant oils, wax esters were designed by Mother Nature to stay on the surface and form a protective, moisturizing barrier and jojoba oil being a wax ester is uniquely excellent at doing that.
Turmeric is the yellow spice you probably know from curry and Indian food. It's also a traditional herbal medicine used in Ayurveda for its bunch of anti-something magic abilities including being anti-inflammatory, antimicrobial, antioxidant and anticarcinogenic.
As for turmeric and skincare, we have good news: studies show that the root extract and its main biologically active component, curcumin can do multiple good things for the skin. Thanks to its anti-inflammatory and antimicrobial activity, it shows some promise for acne-prone skin and a small study from 2013 showed that it might be able to regulate sebum production.
It's also a potent antioxidant and skin-brightening agent so it often shows up in anti-aging and/or radiance-boosting products.
Also-called:
Orange Fruit Extract
We have to start by writing that there are about 900 citrus species in the world, and plenty of them are used to make different kinds of extracts used in cosmetics. This particular one, Citrus Aurantium Dulcis Fruit Extract is a very common ingredient, however, the species "Citrus Aurantium Dulcis" seem to exist only on ingredient lists and the real world calls this guy Citrus Sinensis or, you know, orange.
To complicate matters further, there are lots of varieties and lots of extraction methods, so it is a bit hard to know what you are getting with this one, but we will try our best to summarize the possibilities.
A very common scenario is that Citrus Aurantium Dulcis Fruit Extract is on the ingredient list for its mild, natural exfoliant properties. It contains mainly citric acid and some malic acid, AHA exfoliants known for their skin renewing properties. If that's the case, it is usually combined with other AHA containing fruits such as bilberry, sugar cane, lemon, and sugar maple in a super popular ingredient mix trade named ACB Fruit Mix.
But orange fruit is loaded with lots of other active compounds with a wide variety of possible effects. A well-known one is the antioxidant vitamin C, aka ascorbic acid, but the dosage will vary based on the extraction method, and it's possible that some of the ascorbic acid content will degrade before extraction process even takes place. If you want vitamin C in your skincare, that is smart, but do not rely on orange fruit extract for it.
Flavonoids (hesperidin, naringin, luteolin, and ferulic acid) are also nice active compounds with possible antioxidant, anti-inflammatory, and vasoprotective effects. Some of them (namely hesperidin and luteolin) might even have skin brightening activity by inhibiting tyrosinase, the famous enzyme needed for melanin production.
The orange extract also contains carbohydrates, aka sugars (mostly glucose, fructose, and sucrose, but also some bigger polysaccharides such as pectin) giving the ingredient some moisturizing properties.
Some essential oil content is usually also present in citrus fruit extracts, which means a nice scent and antibacterial properties, but also some questionable compounds such as fragrance allergen limonene or phototoxic compound bergaptene. If the amount is big enough to worry about is questionable, probably not, however, the same question applies to all the nice beneficial compounds.
Overall, we think that the orange fruit extract is a very complex ingredient with lots of potentially good things in it, but we could not find proper in-vivo (made on real people) studies made with standardized extracts to validate what it really does or does not under real-world use cases.
An oil coming from cool places like Tahiti, Bora Bora, and the island of Polynesia. Similar to other more common plant oils, it's loaded with nourishing and moisturizing fatty acids (oleic acid: 40%, linoleic acid: 35%, palmitic acid: 15% and stearic acid: 11%).
Its unique thing is that it contains calophyllic acid that gives the oil extra healing and regenerating effects. A manufacturer even claims that tamanu oil can protect small capillary vessel and is recommended for redness and rosacea-prone skin.
You may also want to take a look at...
Pure Vitamin E. Great antioxidant that gives significant photoprotection against UVB rays. Works in synergy with Vitamin C.
[more]
what‑it‑does
emollient
irritancy, com.

0

,

0

-

2
Jojoba oil - a wax ester (chemically not a real oil), that's very similar to human sebum. It's uniquely excellent at helping the skin with its protective barrier and helping it to stay moisturized.
[more]
Turmeric Root Extract that has nice anti-inflammatory, antioxidant and skin-brightening properties.
[more]
We have to start by writing that there are about 900 citrus species in the world, and plenty of them are used to make different kinds of extracts used in cosmetics. This particular one, Citrus Aurantium Dulcis Fruit Extract is a very common ingredient, however, the species "Citrus Aurantium Dulcis"
[more]
Tamanu oil - a nourishing and moisturizing oil rich in fatty acids. Contains calophyllic acid that makes the oil extra healing and regenerating.
[more]