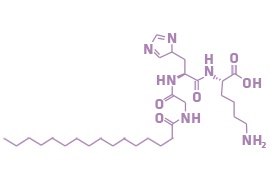 Palmitoyl Tripeptide-1
goodie
Also-called-like-this:
Part of Matrixyl 3000, Pal-GHK, Formerly also Palmitoyl Oligopeptide
Details
A really famous peptide that is part of Matrixyl 3000, the most sold peptide complex in the word. Before we go and find out what the big deal with Matrixyl 3000 is, let's just focus on Palmitoyl Tripeptide-1 itself for a bit.
It's a small three amino acid (they are the building blocks of all proteins) peptide with the amino sequence of glycine-histidine-lysine, or GHK. GHK is attached to palmitic acid (a fatty acid) to increase oil solubility and skin penetration.
The GHK part is the important one as it's a type I collagen fragment. When collagen naturally breaks down in the skin, the resulting peptide fragments signal to the skin that it should get to work and create some nice, new collagen. Adding in collagen fragment peptides, like GHK, might trick the skin into thinking that collagen has broken down and it's time to create some more.
Therefore, Palmitoyl Tripeptide-1 is believed to be able to stimulate collagen production in the skin, and more collagen means fewer wrinkles and younger looking skin.
In Matrixyl 3000, Palmitoyl Tripeptide-1 is coupled with Palmitoyl Tetrapeptide-7 and the duo works in synergy to reduce wrinkles and give younger looking skin. According to the manufacturer's in-vivo (made on real people) test, applying 3% Matrixyl 3000 twice a day for 2 months resulted in all of the following things:
39.4% reduction in surface occupied by deep wrinkles
32.9% reduction in main wrinkle density
19.9% reduction in main wrinkle average depth
16% improvement in roughness
16.2% in lifting effect
5.5% improvement in elasticity
15.5% improvement in skin tone
Manufacturer results, of course, always have to be taken with a pinch of salt, but if you like peptides, the Matryxil 3000 duo is one of the best-proven and most well-known ones and it's something that is worth trying.
Show me some proof
Pai, Varadraj Vasant, Prasana Bhandari, and Pankaj Shukla. "Topical peptides as cosmeceuticals." Indian Journal of Dermatology, Venereology, and Leprology 83.1 (2017): 9.
Schagen, Silke Karin. "Topical peptide treatments with effective anti-aging results." Cosmetics 4.2 (2017): 16.
Gorouhi, F., and H. I. Maibach. "Role of topical peptides in preventing or treating aged skin." International journal of cosmetic science 31.5 (2009): 327-345.
Products with Palmitoyl Tripeptide-1