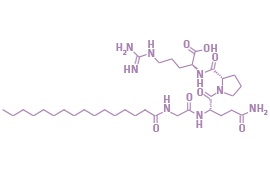 Palmitoyl Tetrapeptide-7
goodie
Also-called-like-this:
Part of Matrixyl 3000, Pal-GQPR, Previously Palmitoyl Tetrapeptide-3
Details
A four amino acid peptide with the amino sequence of glycine-glutamine-proline-arginine. It is attached to palmitic acid (a fatty acid) to increase oil solubility and skin penetration.
It works by reducing the production of the signal molecule, interleukin-6 (IL-6) which promotes inflammation in the skin and less inflammation means slower degradation of important things (like collagen) that results in younger looking skin for a longer time.
It works in synergy with its pal, Palmitoyl Tripeptide-1 in the famous Matrixyl 3000 complex. You can read some more about the famous duo here.
Products with Palmitoyl Tetrapeptide-7