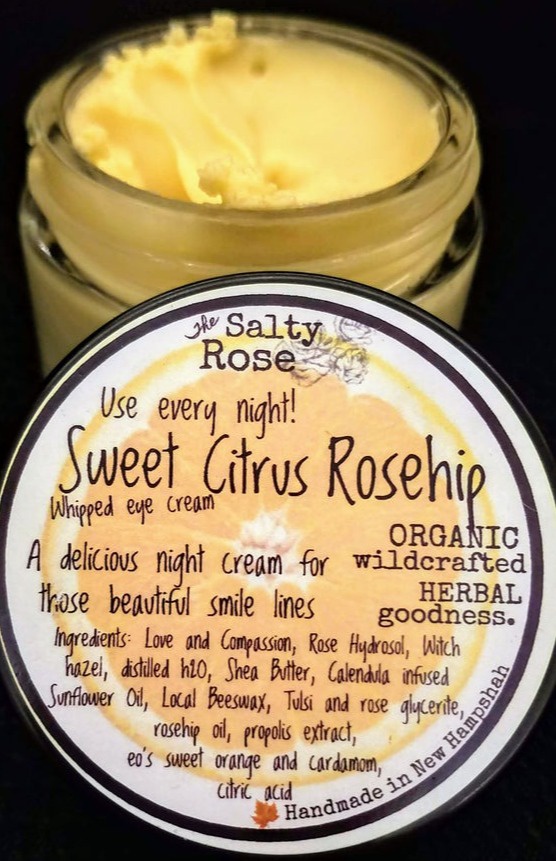 Sweet Citrus Rosehip Whipped Eyecream
Equipped with antioxidants, vitamins and minerals, this cream offers repair for skin.
Uploaded by: bkelleher27 on
Skim through
Ingredient name
what-it-does

irr.

,

com.

ID-Rating
Rose Hydrosol
Witch Hazel
soothing, antioxidant, antimicrobial/​antibacterial

goodie

Water
solvent
Shea Butter
emollient, viscosity controlling

goodie

Sunflower Oil
emollient

0

,

0

goodie

Calendula
soothing, antioxidant

goodie

Local Beeswax
emollient, viscosity controlling, emulsifying, perfuming

0

,

0

-

2

Tulsi Glycerite
Wild Rose Glycerite
Rosehip Oil
emollient

goodie

Propolis Extract
Sweet Orange Essential Oil
perfuming

icky

Elettaria Cardamomum Seed Oil
perfuming
Citric Acid
buffering
The Salty Rose Sweet Citrus Rosehip Whipped Eyecream

Ingredients explained

Also-called:

Damask Rose Flower Water, Rose Hydrosol;Rosa Damascena Flower Water

The flower water coming from the flowers of the Damask Rose. In general, flower waters (also called hydrosols) are diluted versions of essential oils coming from the same plant. They contain the same components but in much-reduced concentrations.

Similar to its big sister, rose oil, rose water also has a lovely, relaxing scent. It contains some antioxidant and antimicrobial compounds, as well as some fragrant components.

If your skin is super sensitive, it is a good idea to choose products without fragrant floral waters.

Witch hazel is a smallish tree (up to 5m) that's native to North-America, has nice yellow flowers and is similar to the hazelnut bush (hence the name).

As for skincare, it's loaded with active components that have a bunch of magic properties, like astringent, anti-inflammatory, antioxidant and anti-bacterial. It's also a well-known vasoconstrictor (it makes the blood vessels narrower) and promotes the healing of broken skin by tightening up the skin proteins and thus creating a protective covering.

The complication, however, is that different extracts and distillates can be made from different parts of the plant (bark, twigs, and leaves are typically used) and different extraction methods from different parts produce different results. So if you see only Witch Hazel Extract or Witch Hazel Water on the ingredient list, it's a bit hard to know what you're actually getting but we will try to summarize the possibilities to give an idea.

The main biologically active components in Witch Hazel are hamamelitannin (a potent astringent and antioxidant), catechins (anti-inflammatory and antioxidant) and gallic acid (antibacterial). The bark extract contains by far the most hamamelitannin and it has the most gallic acid and catechins. The twigs contain fewer catechins, less gallic acid, and much less hamamelitannin (4.77% vs 0.18%). The leaves contain hardly any tannins (0.04%) or catechins and contain a medium amount of gallic acid (compared to the bark and twigs).

Witch Hazel also contains tiny amounts of the essential oil and fragrance component eugenol, but the amount is so small that it's probably not significant for the skin.

Apart from the differences in active components in different parts of the Witch Hazel bush, the extraction methods also vary. Witch Hazel Distillate contains 14% added alcohol according to the USP specifications and alcohol is, at best drying, and at worst skin-damaging. Luckily, there are also alcohol-free distillates, so if you prefer no alcohol check the ingredient list carefully. Witch Hazel Extracts can also be made in different ways: browsing Ulprospector, we could find hydroglycolic, hydroalcoholic and glicerine/water based extracts.

Well-known skin care expert, Paula Begoun rates witch hazel as poor and says, "depending on the form of witch hazel, you're exposing your skin either to a sensitizing amount of alcohol or to tannins, or both." This might be the case if you are dealing with an alcoholic witch hazel bark water or extract, but looking at CosIng (the official INCI name listing of the EU), witch hazel bark water or witch hazel bark extract are not listed ingredients. Bark and leaf or bark and twig or all three are used together to create extracts, so the chance that there is too much hamamelitannin in the final cosmetic ingredient seems small. Also alcohol-free extracts and distillates exist; actually, the majority seem to be alcohol-free nowadays. So all in all, we think "Hamamelis Virginiana Extract" on the ingredient list is nothing to worry about.

We even found a German study that compared the efficacy of Hamamelis ointment to panthenol ointment for soothing the skin in children (from 27 days to 11 years old). They observed 309 children and concluded that both ointments were similarly effective but the one with Hamamelis was even better tolerated (98.2% vs. 92.3% tolerated well the ointments in the two groups).

All in all, Witch Hazel Extract is a sloppy INCI name (btw, not in the CosIng listing), and you do not really know what you're getting. Most probably though, you are getting a goody with nice astringent, soothing, antibacterial, and even antioxidant properties.

Also-called:

Aqua

|

What-it-does:

solvent

Good old water, aka H2O. The most common skincare ingredient of all. You can usually find it right in the very first spot of the ingredient list, meaning it's the biggest thing out of all the stuff that makes up the product.

It's mainly a solvent for ingredients that do not like to dissolve in oils but rather in water.

Once inside the skin, it hydrates, but not from the outside - putting pure water on the skin (hello long baths!) is drying.

One more thing: the water used in cosmetics is purified and deionized (it means that almost all of the mineral ions inside it is removed). Like this, the products can stay more stable over time.

Unless you live under a rock you must have heard about shea butter. It's probably the most hyped up natural butter in skincare today. It comes from the seeds of African Shea or Karite Trees and used as a magic moisturizer and emollient.

But it's not only a simple emollient, it regenerates and soothes the skin, protects it from external factors (such as UV rays or wind) and is also rich in antioxidants (among others vitamin A, E, F, quercetin and epigallocatechin gallate). If you are looking for rich emollient benefits + more, shea is hard to beat.

Also-called:

Helianthus Annuus Seed Oil

|

What-it-does:

emollient

|

Irritancy:

0

|

Comedogenicity:

0

Sunflower does not need a big intro as you probably use it in the kitchen as cooking oil, or you munch on the seeds as a healthy snack or you adore its big, beautiful yellow flower during the summer - or you do all of these and probably even more. And by even more we mean putting it all over your face as sunflower oil is one of the most commonly used plant oils in skincare.

It's a real oldie: expressed directly from the seeds, the oil is used not for hundreds but thousands of years. According to The National Sunflower Association, there is evidence that both the plant and its oil were used by American Indians in the area of Arizona and New Mexico about 3000 BC. Do the math: it's more than 5000 years – definitely an oldie.

Our intro did get pretty big after all (sorry for that), so let's get to the point finally: sunflower oil - similar to other plant oils - is a great emollient that makes the skin smooth and nice and helps to keep it hydrated. It also protects the surface of the skin and enhances the damaged or irritated skin barrier. Leslie Bauman notes in Cosmetic Dermatology that one application of sunflower oil significantly speeds up the recovery of the skin barrier within an hour and sustains the results 5 hours after using it.

It's also loaded with fatty acids (mostly linoleic (50-74%) and oleic (14-35%)). The unrefined version (be sure to use that on your skin!) is especially high in linoleic acid that is great even for acne-prone skin. Its comedogen index is 0, meaning that it's pretty much an all skin-type oil.

Truth be told, there are many great plant oils and sunflower oil is definitely one of them.

Also-called:

Calendula Extract, Marigold Extract;Calendula Officinalis Extract

|

What-it-does:

soothing, antioxidant

The extract coming from the popular garden plant Calendula or Marigold. It's used traditionally as a skin-repairing and soothing plant extract.

Click here to read more at the calendula flower extract.

It's the yellow, solid stuff that you probably know from beeswax candles. It's a natural material produced by honey bees to build their honeycomb.

As for skincare, it's used as an emollient and thickening agent. It's super common in lip balms and lipsticks.

This ingredient name is not according to the INCI-standard. :( What, why?!

This ingredient name is not according to the INCI-standard. :( What, why?!

Also-called:

Dog-Rose Seed Oil, Rosehip Seed Oil;Rosa Canina Seed Oil

|

What-it-does:

emollient

The oil coming from the seeds of dog-rose, a wild rose species native to Europe, northwest Africa and western Asia. It's a nice emollient, moisturizing plant oil loaded with skin-nourishing fatty acids (linoleic acid - 51%, linolenic acid - 19% and oleic acid - 20%).

If you start to dig a bit deeper into the rosehip oil topic, you will soon see that there are lots of species of rose, and it's all a bit confusing to know what the differences and similarities between the oils of the different roses are. As far as our research can tell, here is the gist.

In skincare two major types of rosehip oil are used:

1. Rosa Rubiginosa that is a synonym for Rosa Eglanteria and for Rosa Mosqueta. We will call it RR from now on.

2. Rosa Canina, or RC

The oil content and composition of RR and RC is similar, but there are some differences: RR contains 8% of oil, while RC contains a bit more, 10%. However, the quality of RR oil seems to be a bit better: it contains 78% essential unsaturated fatty acids while RC contains only 71%. Also, the linoleic-oleic ratio of RR is better (3.3 vs 2.5) that might be important if your skin is acne-prone (as linoleic acid is good for acne and oleic is not).

There is one more important thing to mention: RR oil is famous for containing the miracle active, tretinoin. Though Wikipedia puts RR and RC oil under the same article called as Rose hip seed oil, the referenced research about tretinoin content examines only Rosa Rubiginosa. We looked for a research paper explicitly stating that Rosa Canina also contains tretinoin, but could not find one, so we can neither deny nor confirm it. What we could find is a paper mentioning the tocopherols (vitamin E) and carotenoids (pro-vitamin A) content of Rosa Canina oil that gives it some nice antioxidant properties.

All in all, it is a great emollient plant oil with great fatty acids beneficial for any skin type.
We don't have description for this ingredient yet.
Also-called:
Sweet Orange Peel Oil, Citrus Sinensis Oil;Citrus Aurantium Dulcis Peel Oil
|
What-it-does:
perfuming
The essential oil coming from the rind of the orange (the sweet one). In general, the main component of citrus peel oils is limonene (83-97% for sweet orange peel), a super common fragrant ingredient that makes everything smell nice (but counts as a frequent skin sensitizer).
Other than that, citrus peel also contains the problematic compound called furanocoumarin that makes them mildly phototoxic. Orange peel contains less of it than some other citruses (like bergamot or lime), but still, be careful with it especially if it is in a product for daytime use.
We don't have description for this ingredient yet.
Citric acid comes from citrus fruits and is an AHA. If these magic three letters don't tell you anything, click here and read our detailed description on glycolic acid, the most famous AHA.
So citric acid is an exfoliant, that can - just like other AHAs - gently lift off the dead skin cells of your skin and make it more smooth and fresh.
There is also some research showing that citric acid with regular use (think three months and 20% concentration) can help sun-damaged skin, increase skin thickness and some nice hydrating things called glycosaminoglycans in the skin.
But according to a comparative study done in 1995, citric acid has less skin improving magic properties than glycolic or lactic acid. Probably that's why citric acid is usually not used as an exfoliant but more as a helper ingredient in small amounts to adjust the pH of a formulation.
You may also want to take a look at...
Rose flower water that has a lovely relaxing scent. Contains some antioxidant and antimicrobial compounds, as well as some fragrant components. 
[more]
With Hazel - loaded with active components (hamamelitannin, catechins, gallic acid) that have astringent, anti-inflammatory, antioxidant or anti-bacterial properties. Also well-known vasoconstrictor and promotes skin healing.
[more]
Normal (well kind of - it's purified and deionized) water. Usually the main solvent in cosmetic products.
[more]
Shea butter that's considered to be a magic moisturizer and emollient. It is also soothing and rich in antioxidants.
[more]
Sunflower Oil - it's a great emollient that protects & enhances the skin barrier.
[more]
Marigold extract - used traditionally as a skin-repairing and soothing plant extract. 
[more]
The yellow solid stuff produced by honey bees to build their honeycomb. As for skincare, it's used as an emollient and thickening agent.
[more]
The oil coming from dog-rose. A nice emollient, moisturizing plant oil loaded with skin-nourishing fatty acids (linoleic acid - 51%, linolenic acid - 19% and oleic acid - 20%).
[more]
The essential oil coming from the rind of the orange. Its main component (83-97%) is limonene, the super common fragrant ingredient.
[more]
An AHA that comes from citrus fruits. It is usually used as a helper ingredient to adjust the pH of the formula.
[more]