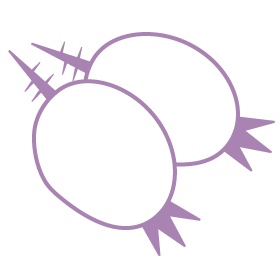 Rosa Rubiginosa Seed Oil
goodie
Also-called-like-this:
Rosehip Seed Oil, Rosa Mosqueta Seed Oil, Rosa Eglanteria Seed Oil
Details
The oil coming from the seeds of the wild rose bush most common in the southern Andes in Chile (btw, Rosa Rubiginosa, Rosa Eglanteria and Rosa Mosqueta all refer to the same oil, however, the more commonly used Rosa Canina is a bit different). Similar to many other great plant oils, it is a nice nourishing and moisturizing oil loaded with fatty acids (linoleic acid - 44%, linolenic acid - 34% and oleic acid - 14%).
What makes rosehip oil a special snowflake among all the plant oils out there is that it also contains the miracle active, trans-retinoic acid, aka tretinoin. It is the main bioactive component of the oil and has all kinds of magic abilities including restoring and regenerating tissues (the oil is great for scars and burns), decreasing wrinkles, helping acne and even normalizing pore size.
Just one more note: a study found that the tretinoin content of rosehip seed oil greatly depends on the extraction method. The oil coming from cold pressing contained seven times more tretinoin (0.357 ml/l) than the oil from organic solvent extraction. Always go for the cold-pressed version!
Show me some proof
Bioresource Technology, Volume 98 (18) – Dec 1, 2007, Processing of Rosa rubiginosa : Extraction of oil and antioxidant substances
Journal of the American Oil Chemists' Society, Volume 83 (9) – Sep 1, 2006, Effect of rosehip extraction process on oil and defatted meal physicochemical properties
Products with Rosa Rubiginosa Seed Oil