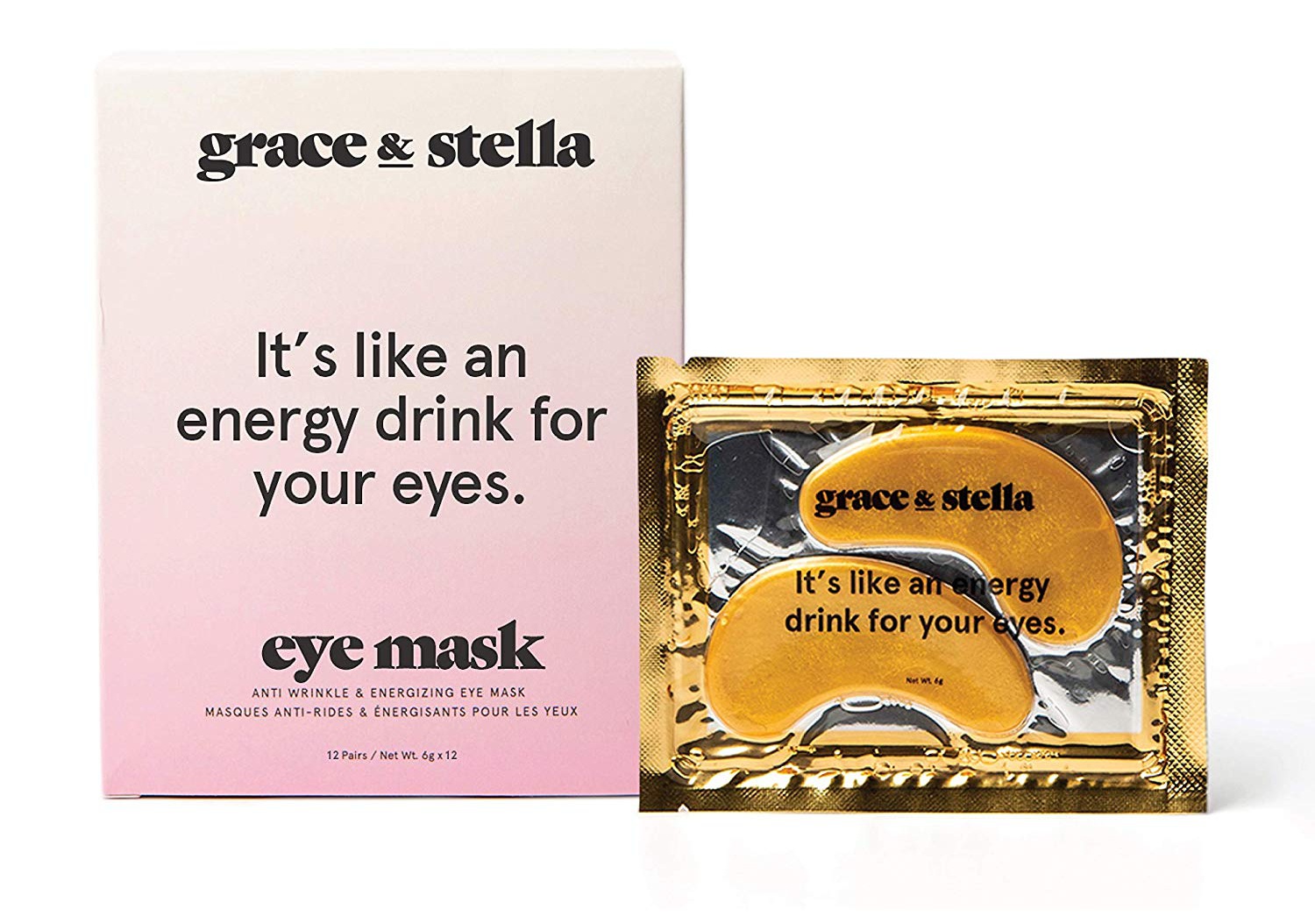 Gold Powder Collagen Eye Mask
For when you need it most, Grace & Stella Co.'s Eye Masks will refresh and waken up the delicate skin around your eyes, making you feel and look less tired!
Uploaded by: laurynsausage on
grace & stella Gold Powder Collagen Eye Mask

Ingredients explained

Also-called:

Aqua

|

What-it-does:

solvent

Good old water, aka H2O. The most common skincare ingredient of all. You can usually find it right in the very first spot of the ingredient list, meaning it's the biggest thing out of all the stuff that makes up the product.

It's mainly a solvent for ingredients that do not like to dissolve in oils but rather in water.

Once inside the skin, it hydrates, but not from the outside - putting pure water on the skin (hello long baths!) is drying.

One more thing: the water used in cosmetics is purified and deionized (it means that almost all of the mineral ions inside it is removed). Like this, the products can stay more stable over time.
A natural moisturizer that's also in our skin
A super common, safe, effective and cheap molecule used for more than 50 years
Not only a simple moisturizer but knows much more: keeps the skin lipids between our skin cells in a healthy (liquid crystal) state, protects against irritation, helps to restore barrier
Effective from as low as 3% with even more benefits for dry skin at higher concentrations up to 20-40%
High-glycerin moisturizers are awesome for treating severely dry skin
Read all the geeky details about Glycerin here >>
It's one of the most commonly used thickeners and emulsion stabilizers. If the product is too runny, a little xanthan gum will make it more gel-like. Used alone, it can make the formula sticky and it is a good team player so it is usually combined with other thickeners and so-called rheology modifiers (helper ingredients that adjust the flow and thus the feel of the formula). The typical use level of Xantha Gum is below 1%, it is usually in the 0.1-0.5% range.
Btw, Xanthan gum is all natural, a chain of sugar molecules (polysaccharide) produced from individual sugar molecules (glucose and sucrose) via fermentation. It's approved by Ecocert and also used in the food industry (E415).
Also-called:
Ci 77480
|
What-it-does:
colorant
We don't have description for this ingredient yet.
We don't have description for this ingredient yet.
Works best between a concentration of 5-20%
Boosts the skin's own collagen production
Fades pigmentation and brown spots
If used under sunscreen it boosts its UV protection
Extremely unstable and oxidizes very easily in presence of light or air
Stable in solutions with water only if pH is less than 3.5 or in waterless formulations
Vit E + C work in synergy and provide superb photoprotection
Ferulic acid doubles the photoprotection effect of Vit C+E and helps to stabilize Vit C
Potent Vit. C serums might cause a slight tingling on sensitive skin
Read all the geeky details about Ascorbic Acid here >>
You might know licorice as a sweet treat from your childhood, but it's actually a legume that grows around the Mediterranean Sea, the Middle East, central and southern Russia. It's sweet and yellow and not only used for licorice all sorts but it's also a skincare superstar thanks to two magic properties:
Nr. 1 magic property is that it has skin-lightening or to say it another way depigmenting properties. The most active part is called glabridin. The topical application (meaning when you put it on your face) of 0.5% glabridin was shown to inhibit UVB caused pigmentation of guinea pigs. Another study even suggested that licorice is more effective than the gold standard skin-lightening agent hydroquinone. All in all, licorice is considered to be one of the safest skin lightening agents with the fewest side effects.
There is just one catch regarding glabridin and licorice: the amount of glabridin in commercial licorice extracts can vary a lot. We have seen extracts with only 4% glabridin as well as 40% glabridin. The latter one is a very-very expensive ingredient, so if you are after the depigmenting properties try to choose a product that boasts its high-quality licorice extract.
Nr. 2 magic property is that licorice is a potent anti-inflammatory. Glabridin has also some soothing properties but the main active anti-inflammatory component is glycyrrhizin. It's used to treat several skin diseases that are connected to inflammation including atopic dermatitis, rosacea or eczema.
Oh, and one more thing: glabridin seems to be also an antioxidant, which is just one more reason to be happy about licorice root extract on an ingredient list.
Bottom line: Licorice is a great skincare ingredient with significant depigmenting, anti-inflammatory and even some antioxidant properties. Be happy if it's on the ingredient list. :)
We don't have description for this ingredient yet.
We don't have description for this ingredient yet.
It's naturally in our skin and behaves there like a sponge
It can bind up to 1000 times its own weight in water
It is a big molecule from repeated subunits (polymer) so different molecular weight versions exist (unfortunately there is no way to determine MW from INCI list only)
High-molecular-weight-HA (>500 kDa) is an excellent surface hydrator, skin protectant and can act as an osmotic pump helping water-soluble actives to penetrate deeper into the skin
Low-molecular-weight-HA (< 500 kDa) can hydrate the skin somewhat deeper though it is still a big molecule and works mainly in the epidermis (outer layer of the skin)
Low-molecular-weight-HA might also help the skin to repair itself by increasing its self-defense (~ 200kDa used in the study)
Ultra-low-molecular-weight-HA (<50kDa) is a controversial ingredient and might work as a pro-inflammatory signal molecule
Read all the geeky details about Hyaluronic Acid here >>
We are big fans of all kinds of roses as ornamental plants but when it comes to skincare, it is a mixed bag. Before we list out the good and the not so good, here is an interesting thing.
The oil content in rose is very, very low so distilling rose essential oil requires huge amounts of rose flowers. It has such a wonderful scent that there are no comparable synthetic alternatives. You can probably guess that this means rose essential oil is expensive.... very very expensive.
So the good things: thanks to its wonderful scent the high-end perfume industry loves rose oil. Also, we (humans :)) love rose oil. We love its scent so much that it can heal headaches, depression, stress, and even grief.
Rose oil contains more than 95 compounds, among them flavonoids, anthocyanins, vitamin C, and quercetin that are all known for their medicinal properties and great antioxidant effects. Similar to many other essential oils, it has antimicrobial properties too.
Now, the not-so-good thing? Out of the 95 compounds, the major ones are citronellol and geraniol, fragrant components that might irritate sensitive skin.
We don't have description for this ingredient yet.
You may also want to take a look at...
Normal (well kind of - it's purified and deionized) water. Usually the main solvent in cosmetic products.
[more]
A real oldie but a goodie. Great natural moisturizer and skin-identical ingredient that plays an important role in skin hydration and general skin health.
[more]
A super commonly used thickener and emulsion stabilizer.
[more]
Pure Vitamin C. A skincare superstar that is clinically proven to boost collagen production (in 5-20% concentration), fade hyperpigmentation and boost UV protection under sunscreen. Also, it's extremely unstable and hard to formulate.
[more]
You might know licorice as a sweet treat from your childhood, but it's actually a legume that grows around the Mediterranean Sea, the Middle East, central and southern Russia.
[more]
A famous natural moisturizing factor that can bind up to 1000 times its own weight in water. Works as an excellent surface hydrator in skincare.
[more]
Rose essential oil - a super expensive oil with a lovely scent. Has also antioxidant and antimicrobial properties. Contains fragrant components that might irritate sensitive skin.
[more]