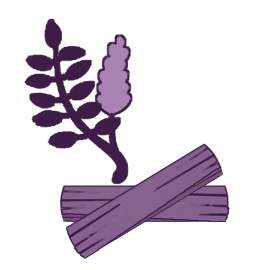 Glycyrrhiza Glabra Root Extract
superstar
Also-called-like-this:
Licorice Root
Details
You might know licorice as a sweet treat from your childhood, but it's actually a legume that grows around the Mediterranean Sea, the Middle East, central and southern Russia. It's sweet and yellow and not only used for licorice all sorts but it's also a skincare superstar thanks to two magic properties:
Nr. 1 magic property is that it has skin-lightening or to say it another way depigmenting properties. The most active part is called glabridin. The topical application (meaning when you put it on your face) of 0.5% glabridin was shown to inhibit UVB caused pigmentation of guinea pigs. Another study even suggested that licorice is more effective than the gold standard skin-lightening agent hydroquinone. All in all, licorice is considered to be one of the safest skin lightening agents with the fewest side effects.
There is just one catch regarding glabridin and licorice: the amount of glabridin in commercial licorice extracts can vary a lot. We have seen extracts with only 4% glabridin as well as 40% glabridin. The latter one is a very-very expensive ingredient, so if you are after the depigmenting properties try to choose a product that boasts its high-quality licorice extract.
Nr. 2 magic property is that licorice is a potent anti-inflammatory. Glabridin has also some soothing properties but the main active anti-inflammatory component is glycyrrhizin. It's used to treat several skin diseases that are connected to inflammation including atopic dermatitis, rosacea or eczema.
Oh, and one more thing: glabridin seems to be also an antioxidant, which is just one more reason to be happy about licorice root extract on an ingredient list.
Bottom line: Licorice is a great skincare ingredient with significant depigmenting, anti-inflammatory and even some antioxidant properties. Be happy if it's on the ingredient list. :)
Show me some proof
Leslie Baumann, MD, Cosmetic Dermatology, 2nd edition, Licorice Extract - pages 281, 318-319
Journal of the European Academy of Dermatology & Venereology, Volume 25 (10) - Oct 1, 2011, Natural options for the management of hyperpigmentation
Journal of Cosmetic Dermatology, Volume 9 (3)–Sep 1, 2010, Original Contribution: Top 10 botanical ingredients in 2010 anti‐aging creams
Products with Glycyrrhiza Glabra Root Extract