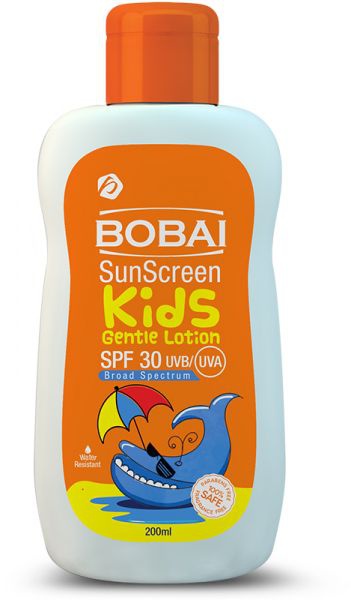 Sunscreen Kids Gentle Lotion SPF30 Broad Spectrum
A broad spectrum spf that is gentle on kids' skin
Uploaded by: sal_alaa on
Highlights
Fragrance and Essential Oil Free
Key Ingredients
Bobai Sunscreen Kids Gentle Lotion SPF30 Broad Spectrum

Ingredients explained

Also-called:

Water

|

What-it-does:

solvent

Good old water, aka H2O. The most common skincare ingredient of all. You can usually find it right in the very first spot of the ingredient list, meaning it's the biggest thing out of all the stuff that makes up the product.

It's mainly a solvent for ingredients that do not like to dissolve in oils but rather in water.

Once inside the skin, it hydrates, but not from the outside - putting pure water on the skin (hello long baths!) is drying.

One more thing: the water used in cosmetics is purified and deionized (it means that almost all of the mineral ions inside it is removed). Like this, the products can stay more stable over time.
We don't have description for this ingredient yet.
Titanium Dioxide is one of the two members of the elite sunscreen group called physical sunscreens (or inorganic sunscreens if you're a science geek and want to be precise).
Traditionally, UV-filters are categorized as either chemical or physical. The big difference is supposed to be that chemical agents absorb UV-light while physical agents reflect it like a bunch of mini umbrellas on top of the skin. While this categorization is easy and logical it turns out it's not true. A recent, 2016 study shows that inorganic sunscreens work mostly by absorption, just like chemical filters, and only a little bit by reflection (they do reflect the light in the visible spectrum, but mostly absorb in the UV spectrum).
Anyway, it doesn't matter if it reflects or absorbs, Titanium Dioxide is a pretty awesome sunscreen agent for two main reasons: it gives a nice broad spectrum coverage and it's highly stable. Its protection is very good between 290 - 350 nm (UVB and UVA II range), and less good at 350-400 nm (UVA I) range. Regular sized Titanium Dioxide also has a great safety profile, it's non-irritating and is pretty much free from any health concerns (like estrogenic effect worries with some chemical filters).
The disadvantage of Titanium Dioxide is that it's not cosmetically elegant, meaning it's a white, "unspreadable" mess. Sunscreens containing Titanium Dioxide are often hard to spread on the skin and they leave a disturbing whitish tint. The cosmetic industry is, of course, really trying to solve this problem and the best solution so far is using nanoparticles. The itsy-bitsy Nano-sized particles improve both spreadability and reduce the whitish tint a lot, but unfortunately, it also introduces new health concerns.
The main concern with nanoparticles is that they are so tiny that they are absorbed into the skin more than we want them (ideally sunscreen should remain on the surface of the skin). Once absorbed they might form unwanted complexes with proteins and they might promote the formation of evil free radicals. But do not panic, these are concerns under investigation. A 2009 review article about the safety of nanoparticles summarizes this, "to date, in-vivo and in-vitro studies have not demonstrated percutaneous penetration of nanosized particles in titanium dioxide and zinc oxide sunscreens". The English translation is, so far it looks like sunscreens with nanoparticles do stay on the surface of the skin where they should be.
All in all, Titanium Dioxide is a famous sunscreen agent and for good reason, it gives broad spectrum UV protection (best at UVB and UVA II), it's highly stable, and it has a good safety profile. It's definitely one of the best UV-filter agents we have today, especially in the US where new-generation Tinosorb filters are not (yet) approved.
Also-called:
Octinoxate, Octyl Methoxycinnamate
|
What-it-does:
sunscreen
|
Irritancy:
0
|
Comedogenicity:
0
A clear, oil-soluble, "cosmetically-elegant" liquid that is the most commonly used chemical sunscreen. It absorbs UVB radiation (at wavelengths: 280-320 nm) with a peak protection at 310nm.
It only protects against UVB and not UVA rays (the 320-400 nm range) – so always choose products that contain other sunscreens too. It is not very stable either, when exposed to sunlight, it kind of breaks down and loses its effectiveness (not instantly, but over time - it loses 10% of its SPF protection ability within 35 mins). To make it more stable it can be - and should be - combined with other sunscreen agents to give stable and broad-spectrum protection (the new generation sunscreen agent, Tinosorb S is a particularly good one for that).
Regarding safety, there are also some concerns around Octinoxate. In vitro (made in the lab not on real people) and animal studies have shown that it may produce hormonal (estrogen-like) effects. Do not panic, the studies were not conducted under real life conditions on real human people, so it is probably over-cautious to avoid Octinoxate altogether. However, if you are pregnant or a small child (under 2 yrs. old), choose a physical (zinc oxide/titanium dioxide) or new-generation Tinosorb based sunscreen, just to be on the super-safe side. :)
Overall, Ethylhexyl Methoxycinnamate is an old-school chemical sunscreen agent. There are plenty of better options for sun protection today, but it is considered "safe as used" (and sunscreens are pretty well regulated) and it is available worldwide (can be used up to 10% in the EU and up to 7.5% in the US).
Also-called:
Vitamin E Acetate
|
What-it-does:
antioxidant
|
Irritancy:
0
|
Comedogenicity:
0
It's the most commonly used version of pure vitamin E in cosmetics. You can read all about the pure form here. This one is the so-called esterified version.
According to famous dermatologist, Leslie Baumann while tocopheryl acetate is more stable and has a longer shelf life, it's also more poorly absorbed by the skin and may not have the same awesome photoprotective effects as pure Vit E.
A natural moisturizer that's also in our skin
A super common, safe, effective and cheap molecule used for more than 50 years
Not only a simple moisturizer but knows much more: keeps the skin lipids between our skin cells in a healthy (liquid crystal) state, protects against irritation, helps to restore barrier
Effective from as low as 3% with even more benefits at higher concentrations up to 20-40% (around 10% is a good usability-effectiveness sweet spot)
High-glycerin moisturizers are awesome for treating severely dry skin
Read all the geeky details about Glycerin here >>
What-it-does:
sunscreen
|
Irritancy:
0
|
Comedogenicity:
1
When it comes to sunscreen agents, Zinc Oxide is pretty much in a league of its own. It's a physical (or inorganic) sunscreen that has a lot in common with fellow inorganic sunscreen Titanium Dioxide (TiO2) but a couple of things make it superior even to TiO2.
If physical sunscreens don't tell you anything, go ahead and read about the basics here. Most of what we wrote about Titanium Dioxide is also true for Zinc Oxide so we will focus here on the differences.
The first main difference is that while TiO2 gives a nice broad spectrum protection, Zinc Oxide has an even nicer and even broader spectrum protection. It protects against UVB, UVA II, and UVA I almost uniformly, and is considered to be the broadest range sunscreen available today.
It's also highly stable and non-irritating. So much so that Zinc Oxide also counts as a skin protectant and anti-irritant. It's also often used to treat skin irritations such as diaper rash.
As for the disadvantages, Zinc Oxide is also not cosmetically elegant. It leaves a disturbing whitish tint on the skin, although, according to a 2000 research paper by Dr. Pinnell, it's slightly less white than TiO2. Still, it's white and disturbing enough to use Zinc Oxide nanoparticles more and more often.
We wrote more about nanoparticles and the concerns around them here, but the gist is that if nanoparticles were absorbed into the skin that would be a reason for legitimate health concerns. But luckily, so far research shows that sunscreen nanoparticles are not absorbed but remain on the surface of the skin or in the uppermost (dead) layer of the skin. This seems to be true even if the skin is damaged, for example, sunburnt.
All in all, if you've found a Zinc Oxide sunscreen that you are happy to use every single day, that's fantastic and we suggest you stick with it. It's definitely one of the best, or probably even the best option out there for sun protection available worldwide.
You may also want to take a look at...
Normal (well kind of - it's purified and deionized) water. Usually the main solvent in cosmetic products.
[more]
A physical/inorganic sunscreen with pretty broad spectrum (UVB and UVA II, less good at UVA I) protection and good stability. Might leave some whitish tint on the skin, though.
[more]
Octinoxate - an old-school chemical sunscreen that absorbs UVB radiation (wavelengths: 280-320 nm). Not photostable and does not protect against UVA.
[more]
A form of vitamin E that works as an antioxidant. Compared to the pure form it's more stable, has longer shelf life, but it's also more poorly absorbed by the skin.
[more]
A real oldie but a goodie. Great natural moisturizer and skin-identical ingredient that plays an important role in skin hydration and general skin health.
[more]
A physical/inorganic sunscreen with the broadest spectrum (UVB and UVA II, less good at UVA I) protection available today. It also has good stability and also works as a skin protectant, anti-irritant. Might leave some whitish tint on the skin, though.
[more]