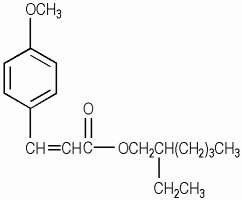 Ethylhexyl Methoxycinnamate
Also-called-like-this:
Octinoxate, Octyl Methoxycinnamate
Details
A clear, oil-soluble, "cosmetically-elegant" liquid that is the most commonly used chemical sunscreen. It absorbs UVB radiation (at wavelengths: 280-320 nm) with a peak protection at 310nm.
It only protects against UVB and not UVA rays (the 320-400 nm range) – so always choose products that contain other sunscreens too. It is not very stable either, when exposed to sunlight, it kind of breaks down and loses its effectiveness (not instantly, but over time - it loses 10% of its SPF protection ability within 35 mins). To make it more stable it can be - and should be - combined with other sunscreen agents to give stable and broad-spectrum protection (the new generation sunscreen agent, Tinosorb S is a particularly good one for that).
Regarding safety, there are also some concerns around Octinoxate. In vitro (made in the lab not on real people) and animal studies have shown that it may produce hormonal (estrogen-like) effects. Do not panic, the studies were not conducted under real life conditions on real human people, so it is probably over-cautious to avoid Octinoxate altogether. However, if you are pregnant or a small child (under 2 yrs. old), choose a physical (zinc oxide/titanium dioxide) or new-generation Tinosorb based sunscreen, just to be on the super-safe side. :)
Overall, Ethylhexyl Methoxycinnamate is an old-school chemical sunscreen agent. There are plenty of better options for sun protection today, but it is considered "safe as used" (and sunscreens are pretty well regulated) and it is available worldwide (can be used up to 10% in the EU and up to 7.5% in the US).
Show me some proof
Couteau, C., et al. "Study of the efficacy of 18 sun filters authorized in European Union tested in vitro." Die Pharmazie-An International Journal of Pharmaceutical Sciences 62.6 (2007): 449-452.
Couteau, Céline, et al. "Study of the photostability of 18 sunscreens in creams by measuring the SPF in vitro." Journal of pharmaceutical and biomedical analysis 44.1 (2007): 270-273.
Chatelain, Eric, and Bernard Gabard. "Photostabilization of Butyl methoxydibenzoylmethane (Avobenzone) and Ethylhexyl methoxycinnamate by Bis-ethylhexyloxyphenol methoxyphenyl triazine (Tinosorb S), a New UV Broadband Filter." Photochemistry and Photobiology 74.3 (2001): 401-406.
Janjua, Nadeem Rezaq, et al. "Systemic absorption of the sunscreens benzophenone-3, octyl-methoxycinnamate, and 3-(4-methyl-benzylidene) camphor after whole-body topical application and reproductive hormone levels in humans." Journal of Investigative Dermatology 123.1 (2004): 57-61.
Schlumpf, Margret, et al. "In vitro and in vivo estrogenicity of UV screens." Environmental health perspectives 109.3 (2001): 239.
Products with a known amount of Ethylhexyl Methoxycinnamate
Other products with Ethylhexyl Methoxycinnamate