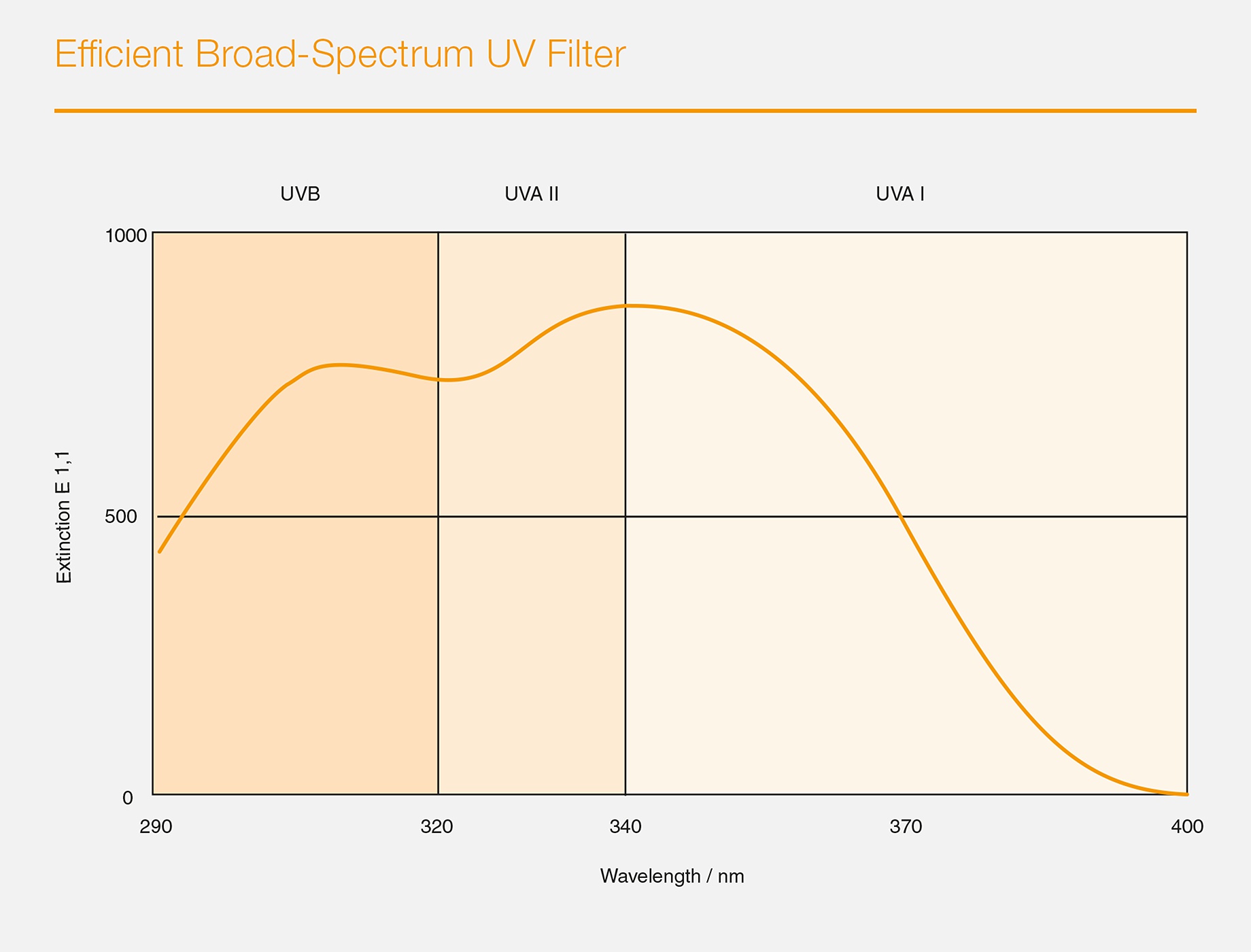 Bis-Ethylhexyloxyphenol Methoxyphenyl Triazine
goodie
Also-called-like-this:
Tinosorb S, Bemotrizinol
Details
Its INCI name is a bit of a mouthful, but Bis-Ethylhexyloxyphenol Methoxyphenyl Triazine is worth recognizing it as it is one of the best sunscreen agents known today. Unfortunately, it's not FDA-approved so you will not find it in sunscreens coming from the US (not because it's not good, but because US regulations make it impossible for newer sunscreen agents to get approved), but it is widely available in other parts of the world like Europe, Australia or Asia.
It is a broad-spectrum (covers the whole UVB and UVA range, 280-400 nm) chemical sunscreen agent with peak protections at about 310 and 345 nm and unlike older UV filters, it's very photostable. It hardly deteriorates in the presence of UV light and it's also useful in stabilizing other less stable sunscreen agents, like the famous UVA protector, avobenzone.
It's a new generation sunscreen agent that was specifically designed for high SPF and good UVA protection and based on a 2007 study that compared 18 sunscreen agents available in the EU it really had the best SPF protection (they used the highest concentration allowed by EU regulations from each 18 sunscreens and Trinosorb S gave an SPF 20 all by itself).
It is an oil-soluble, slightly yellowish powder that is not absorbed into the skin too much. This is good news for a sunscreen agent as it needs to be on the surface of the skin to do its job properly. Regarding Bis-Ethylhexyloxyphenol Methoxyphenyl Triazine side effects, we have good news here as well: it has a great safety profile and unlike a couple of other chemical sunscreens, Trinosorb S (and M) does not show estrogenic activity.
Overall, we think Trinosorb S is one of the best sunscreen options available today.
Are you into sunscreen agents? We have shiny explanations (along with product lists) about others as well:
Show me some proof
Pharmazie 62: 449–452 (2007), Study of the efficacy of 18 sun filters authorized in European Union tested in vitro
Regulatory Toxicology and Pharmacology 34, 287–291 (2001), Lack of Binding to Isolated Estrogen or Androgen Receptors, and Inactivity in the Immature Rat Uterotrophic Assay, of the Ultraviolet Sunscreen Filters Tinosorb M-Active and Tinosorb S
Chatelain, Eric, and Bernard Gabard. "Photostabilization of Butyl methoxydibenzoylmethane (Avobenzone) and Ethylhexyl methoxycinnamate by Bis‐ethylhexyloxyphenol methoxyphenyl triazine (Tinosorb S), a New UV Broadband Filter¶." Photochemistry and Photobiology 74.3 (2001): 401-406.
Products with a known amount of Bis-Ethylhexyloxyphenol Methoxyphenyl Triazine
Other products with Bis-Ethylhexyloxyphenol Methoxyphenyl Triazine