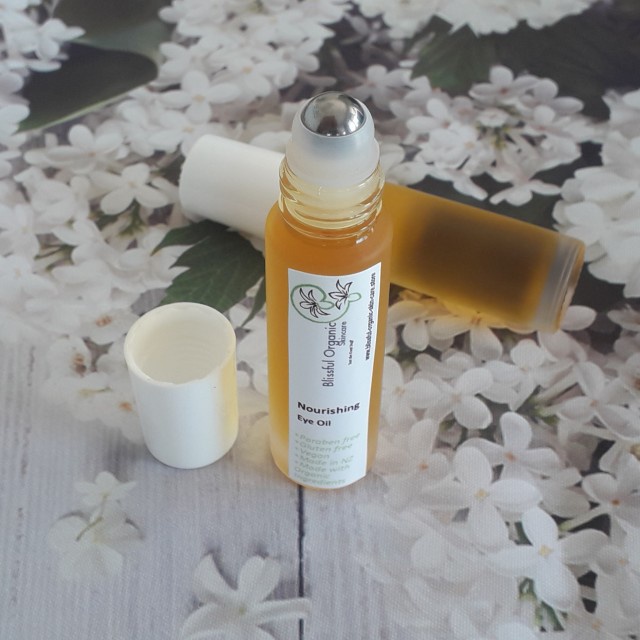 Targets those fine lines and under eye puffiness with its regenerative and collagen promoting properties, lightening pigmentation and producing smooth, hydrated skin the natural way
Uploaded by: chattacheeztaffy on
Highlights
Fragrance and Essential Oil Free
Key Ingredients
Blissful Organic Skincare Nourishing Eye Oil

Ingredients explained

Also-called:

Jojoba Oil;Simmondsia Chinensis Seed Oil

|

What-it-does:

emollient

|

Irritancy:

0

|

Comedogenicity:

0-2

Jojoba is a drought resistant evergreen shrub native to South-western North America. It's known and grown for jojoba oil, the golden yellow liquid coming from the seeds (about 50% of the weight of the seeds will be oil).

At first glance, it seems like your average emollient plant oil: it looks like an oil and it's nourishing and moisturizing to the skin but if we dig a bit deeper, it turns out that jojoba oil is really special and unique: technically - or rather chemically - it's not an oil but a wax ester (and calling it an oil is kind of sloppy).

So what the heck is a wax ester and why is that important anyway? Well, to understand what a wax ester is, you first have to know that oils are chemically triglycerides: one glycerin + three fatty acids attached to it. The fatty acids attached to the glycerin vary and thus we have many kinds of oils, but they are all triglycerides. Mother Nature created triglycerides to be easily hydrolyzed (be broken down to a glycerin + 3 fatty acid molecules) and oxidized (the fatty acid is broken down into small parts) - this happens basically when we eat fats or oils and our body generates energy from it.

Mother Nature also created wax esters but for a totally different purpose. Chemically, a wax ester is a fatty acid + a fatty alcohol, one long molecule. Wax esters are on the outer surface of several plant leaves to give them environmental protection. 25-30% of human sebum is also wax esters to give us people environmental protection.

So being a wax ester results in a couple of unique properties: First, jojoba oil is extremely stable. Like crazy stable. Even if you heat it to 370 C (698 F) for 96 hours, it does not budge. (Many plant oils tend to go off pretty quickly). If you have some pure jojoba oil at home, you should be fine using it for years.

Second, jojoba oil is the most similar to human sebum (both being wax esters), and the two are completely miscible. Acne.org has this not fully proven theory that thanks to this, jojoba might be able to "trick" the skin into thinking it has already produced enough sebum, so it might have "skin balancing" properties for oily skin.

Third, jojoba oil moisturizes the skin through a unique dual action: on the one hand, it mixes with sebum and forms a thin, non-greasy, semi-occlusive layer; on the other hand, it absorbs into the skin through pores and hair follicles then diffuses into the intercellular spaces of the outer layer of the skin to make it soft and supple.

On balance, the point is this: in contrast to real plant oils, wax esters were designed by Mother Nature to stay on the surface and form a protective, moisturizing barrier and jojoba oil being a wax ester is uniquely excellent at doing that.

Also-called:

Dog-Rose Seed Oil, Rosehip Seed Oil;Rosa Canina Seed Oil

|

What-it-does:

emollient

The oil coming from the seeds of dog-rose, a wild rose species native to Europe, northwest Africa and western Asia. It's a nice emollient, moisturizing plant oil loaded with skin-nourishing fatty acids (linoleic acid - 51%, linolenic acid - 19% and oleic acid - 20%).

If you start to dig a bit deeper into the rosehip oil topic, you will soon see that there are lots of species of rose, and it's all a bit confusing to know what the differences and similarities between the oils of the different roses are. As far as our research can tell, here is the gist.

In skincare two major types of rosehip oil are used:

1. Rosa Rubiginosa that is a synonym for Rosa Eglanteria and for Rosa Mosqueta. We will call it RR from now on.

2. Rosa Canina, or RC

The oil content and composition of RR and RC is similar, but there are some differences: RR contains 8% of oil, while RC contains a bit more, 10%. However, the quality of RR oil seems to be a bit better: it contains 78% essential unsaturated fatty acids while RC contains only 71%. Also, the linoleic-oleic ratio of RR is better (3.3 vs 2.5) that might be important if your skin is acne-prone (as linoleic acid is good for acne and oleic is not).

There is one more important thing to mention: RR oil is famous for containing the miracle active, tretinoin. Though Wikipedia puts RR and RC oil under the same article called as Rose hip seed oil, the referenced research about tretinoin content examines only Rosa Rubiginosa. We looked for a research paper explicitly stating that Rosa Canina also contains tretinoin, but could not find one, so we can neither deny nor confirm it. What we could find is a paper mentioning the tocopherols (vitamin E) and carotenoids (pro-vitamin A) content of Rosa Canina oil that gives it some nice antioxidant properties.

All in all, it is a great emollient plant oil with great fatty acids beneficial for any skin type.

Also-called:

Olive Fruit Oil;Olea Europaea Fruit Oil

|

What-it-does:

antioxidant, emollient

|

Irritancy:

0

|

Comedogenicity:

0-2

You probably know olive oil from the kitchen as a great and healthy option for salad dressing but it's also a great and healthy option to moisturize and nourish the skin, especially if it's on the dry side.

Similar to other emollient plant oils, it's loaded with nourishing fatty acids: oleic is the main component (55-83%), and also contains linoleic (3.5-20%) and palmitic acids (7-20%). It also contains antioxidant polyphenols, tocopherols (types of vitamin E) and carotenoids and it's one of the best plant sources of skin-identical emollient, Squalene.

Also-called:

Castor Oil;Ricinus Communis Seed Oil

|

What-it-does:

emollient, perfuming

|

Irritancy:

0

|

Comedogenicity:

0-1

Castor oil is sourced from the castor bean plant native to tropical areas in Eastern Africa and the Mediterranean Basin. It is an age-old ingredient (it's over 4,000 years old!) with many uses including as a shoe polish, food additive and motor lubricant. You would be reasonable to think that putting shoe polish on your face wouldn't be the best idea, but it turns out castor oil has some unique properties that make it a stalwart in thick and gloss-giving formulas (think lipsticks and highlighters).

So what is so special about it? The answer is its main fatty acid, called ricinoleic acid (85-95%). Unlike other fatty acids, ricinoleic acid has an extra water-loving part (aka -OH group) on its fatty chain that gives Castor Oil several unique properties. First, it is thicker than other oils, then its solubility is different (e.g. dissolves in alcohol but not in mineral oil), and it allows all kinds of chemical modifications other oils do not, hence the lots of Castor oil-derived ingredients. It is also more glossy than other oils, in fact, it creates the highest gloss of all natural oils when applied to the skin. Other than that, it is a very effective emollient and occlusive that reduces skin moisture loss so it is quite common in smaller amounts in moisturizers.

While it is very unlikely (and this is true for pretty much every ingredient), cases of reactions to castor oil have been reported, so if your skin is sensitive, it never hurts to patch test.

Also-called:

Tocopherol

|

What-it-does:

antioxidant

|

Irritancy:

0-3

|

Comedogenicity:

0-3
Primary fat-soluble antioxidant in our skin
Significant photoprotection against UVB rays
Vit C + Vit E work in synergy and provide great photoprotection
Has emollient properties
Easy to formulate, stable and relatively inexpensive
Read all the geeky details about Tocopherol here >>
You may also want to take a look at...
what‑it‑does
emollient
irritancy, com.

0

,

0

-

2
Jojoba oil - a wax ester (chemically not a real oil), that's very similar to human sebum. It's uniquely excellent at helping the skin with its protective barrier and helping it to stay moisturized.
[more]
The oil coming from dog-rose. A nice emollient, moisturizing plant oil loaded with skin-nourishing fatty acids (linoleic acid - 51%, linolenic acid - 19% and oleic acid - 20%).
[more]
Olive oil - an oleic acid-rich (55-83%) emollient plant oil that can moisturize dry skin. Also, it contains antioxidant polyphenols and vitamin E.
[more]
Castor oil is sourced from the castor bean plant native to tropical areas in Eastern Africa and the Mediterranean Basin. It is an age-old ingredient (it's over 4,000 years old!) with many uses including as a shoe polish, food additive and motor lubricant.
[more]
Pure Vitamin E. Great antioxidant that gives significant photoprotection against UVB rays. Works in synergy with Vitamin C.
[more]