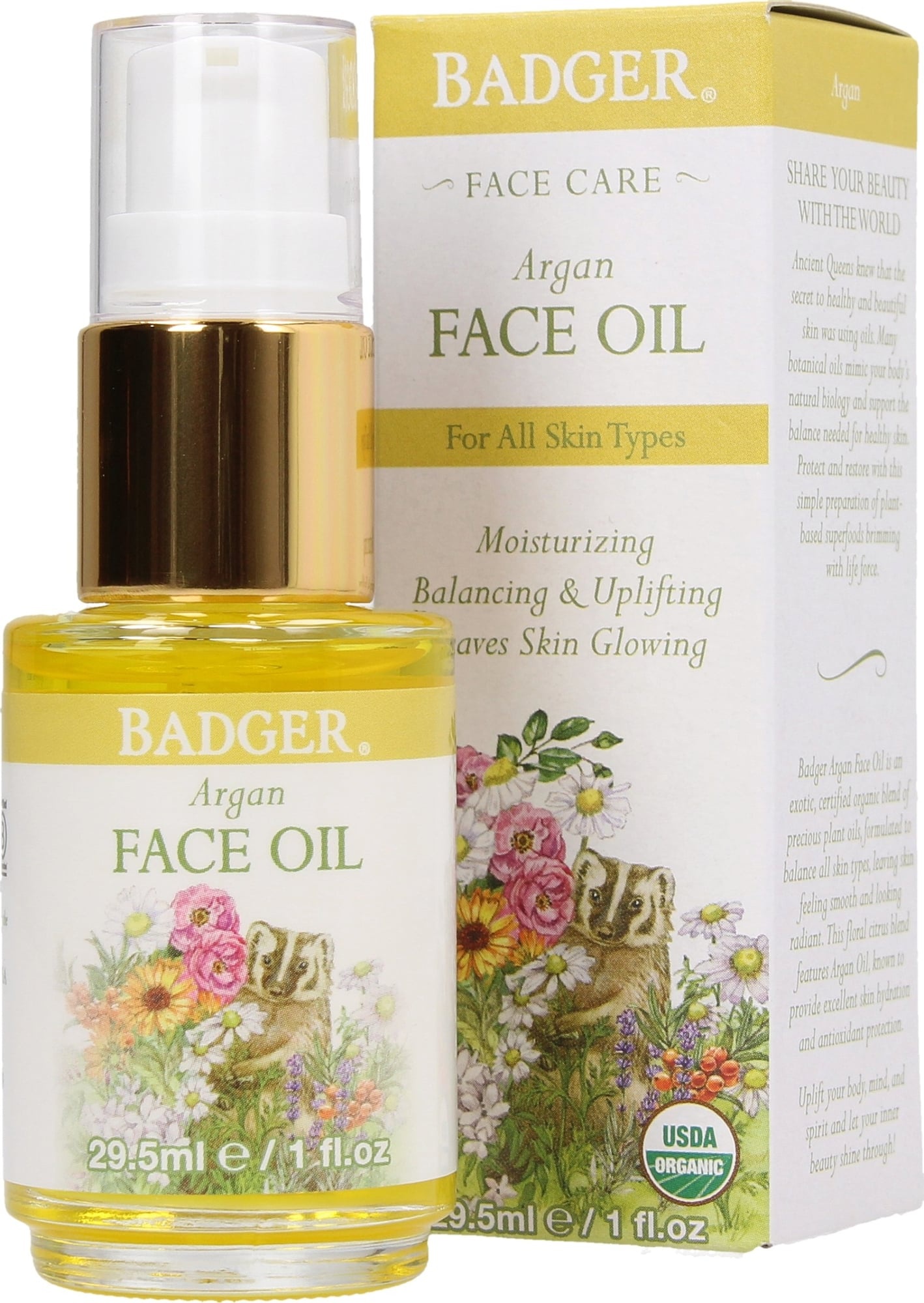 Argan Face Oil For All Skin Types
Badger argan face oil is an exotic blend of certified organic plant-based superfoods formulated to protect, moisturize, restore, and balance all skin types. A light floral and citrus aroma with

cooling mint uplifts the mind and senses. Featuring argan oil, known to provide excellent skin hydration and antioxidant protection! Clinically tested non-comedogenic.
Uploaded by: decembermagpie on
Badger Argan Face Oil For All Skin Types

Ingredients explained

Also-called:

Jojoba Oil

|

What-it-does:

emollient

|

Irritancy:

0

|

Comedogenicity:

0-2

Jojoba is a drought resistant evergreen shrub native to South-western North America. It's known and grown for jojoba oil, the golden yellow liquid coming from the seeds (about 50% of the weight of the seeds will be oil).

At first glance, it seems like your average emollient plant oil: it looks like an oil and it's nourishing and moisturizing to the skin but if we dig a bit deeper, it turns out that jojoba oil is really special and unique: technically - or rather chemically - it's not an oil but a wax ester (and calling it an oil is kind of sloppy).

Also-called:

Baobab Seed Oil;Adansonia Digitata Seed Oil

|

What-it-does:

emollient

Baobab is a really big, iconic tree native to Africa (here is a nice image of it). It's the largest succulent plant in the world and almost all parts of it have traditional medicinal uses in Africa.

The seed oil, similar to other plant oils, is loaded with things that are good-for-the-skin: it contains skin regenerating vitamin A, antioxidant vitamin E, and vitamin D3 that helps with calcium absorption. It's rich in nourishing fatty acids oleic (30-40%), linoleic (24-34%) and palmitic (18-30%).

When it comes to cosmetic oils and hype, argan oil is for sure leading the way. Dubbed as the "liquid gold of Morocco", we have to admit we have some trouble determining why this oil enjoys such a special miracle status. Not that it's not good, it is good, even great but reading the research about argan and a bunch of other plant oils we just do not see the big, unique differentiating factor (though that might be our fault not reading enough, obvs.)

So, argan oil comes from the kernel of the argan fruit that comes from the argan tree that grows only in Morocco. The tree is slow growing and getting the oil is a hard job. The traditional process is that the ripe argan fruits fall from the tree, then goats eat them up and poop out the seeds. The seeds are collected and smashed with a stone to get the kernels inside. This part is the hard one as the seeds have extremely hard shells. Once the kernels are obtained, the oil is pressed out from them (the kernels contain about 50% oil).

The emollient plant oil coming from the seeds of Pomegranate. The red fruit has lots of seeds (100-200 per fruit), but 7 kg of them are needed for 1 kg of oil. Among the many similar plant oils, Pomegranate oil is a really unique one, as its main fatty acid (60%) is a rare one called punic acid, a so-called conjugated fatty acid with three double bonds. It also contains the common linoleic (2-10%) and oleic acids (3-12%), but only in small amounts.

Punic acid is thought to be a biologically active compound, a powerful anti-inflammatory, and antioxidant agent. The oil itself is also claimed to have strong antioxidant properties as well as having excellent nourishing and moisturizing abilities. On top of that, we also found a research that examined Pomegranate as a cosmeceutical source and it concluded that the seed oil can nicely promote the regeneration of the epidermis (the top layer of the skin).

Also-called:

Sweet Orange Peel Oil, Citrus Sinensis Oil;Citrus Aurantium Dulcis Peel Oil

|

What-it-does:

perfuming

The essential oil coming from the rind of the orange (the sweet one). In general, the main component of citrus peel oils is limonene (83-97% for sweet orange peel), a super common fragrant ingredient that makes everything smell nice (but counts as a frequent skin sensitizer).

Other than that, citrus peel also contains the problematic compound called furanocoumarin that makes them mildly phototoxic. Orange peel contains less of it than some other citruses (like bergamot or lime), but still, be careful with it especially if it is in a product for daytime use.

Also-called:

Bergamot Essential Oil;Citrus Aurantium Bergamia Peel Oil

|

What-it-does:

perfuming

The essential oil coming from the peel of the bergamot orange. It's a common top note in perfumes and contains (among others) fragrant compounds limonene (37%), linalyl acetate (30%) and linalool (8.8%).

Fragrant compounds smell nice but are common allergens and can be a problem for sensitive skin types. The bigger problem with bergamot oil though, is that it also contains furanocoumarins (more specifically, bergapten and bergamottin) that have well-documented phototoxic effects. A phototoxic reaction is a not nice one causing red, edematous lesions on the affected area. We think it is a good idea to avoid bergamot oil but if you have a product that you love, make sure to use it at night only.

Also-called:

Sandalwood Oil;Santalum Album Oil
We don't have description for this ingredient yet.
Also-called:
Vitamin E
|
What-it-does:
antioxidant
|
Irritancy:
0-3
|
Comedogenicity:
0-3
Primary fat-soluble antioxidant in our skin
Significant photoprotection against UVB rays
Vit C + Vit E work in synergy and provide great photoprotection
Has emollient properties
Easy to formulate, stable and relatively inexpensive
Read all the geeky details about Tocopherol here >>
Also-called:
Ylang Ylang Essential Oil;Cananga Odorata Flower Oil
|
What-it-does:
perfuming
Sweet, exotic and floral, it' no surprise that Ylang Ylang is a popular essential oil. It is coming from the yellow, fragrant flowers of the Cananga tree native to tropical Asia and, similar to other essential oils, it is a chemically complex mixture with several pros and cons.
Unfortunately, these are a bit tricky to pin down as the composition varies largely depending on where it is sourced, how the oil is extracted and the grade of it that is used in the product, but we'll do our best!
You may also want to take a look at...
what‑it‑does
emollient
irritancy, com.

0

,

0

-

2
Jojoba oil - a wax ester (chemically not a real oil), that's very similar to human sebum. It's uniquely excellent at helping the skin with its protective barrier and helping it to stay moisturized.
[more]
A nourishing and moisturizing plant oil coming from the big, iconic Baobab tree. It's loaded with vitamin A, E, and D, as well as fatty acids (oleic 30-40%, linoleic 24-34%).
[more]
Argan oil - the "liquid gold of Morocco" that contains 80% unsaturated fatty acids (oleic and linoleic mainly), and antioxidant vitamin E and phenols. It's highly nourishing and moisturizing both for skin and hair.
[more]
The emollient plant oil coming from the seeds of Pomegranate. The red fruit has lots of seeds (100-200 per fruit), but 7 kg of them are needed for 1 kg of oil.
[more]
The essential oil coming from the rind of the orange. Its main component (83-97%) is limonene, the super common fragrant ingredient.
[more]
The essential oil from the bergamot fruit. It contains nice smelling fragrant components and also phototoxic compounds.
[more]
Pure Vitamin E. Great antioxidant that gives significant photoprotection against UVB rays. Works in synergy with Vitamin C.
[more]
Sweet, exotic and floral, it' no surprise that Ylang Ylang is a popular essential oil. It is coming from the yellow, fragrant flowers of the Cananga tree native to tropical Asia and, similar to other essential oils, it is a chemically complex mixture with several pros and cons. Unfortunately, these are a bit tricky to pin down as the composition varies largely depending on where it is so
[more]