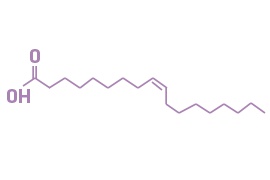 Oleic Acid
Also-called-like-this:
Omega-9 fatty acid
Details
A common fatty acid that can be found in lots of plant oils. Its name, "oleic", means derived from olive oil, a plant oil rich in oleic acid, but avocado, macadamia and marula oils, just to name a few, are also oleic rich.
Its chemical structure is monounsaturated, meaning it has one double bond (cis-9) that makes it less kinky than polyunsaturated fatty acids with multiple double bonds. Less kinkiness means that oleic acid and OA-rich oils are a bit thicker and heavier than their LA-rich siblings.
Maybe this thickness is the reason that Oleic acid is considered comedogenic, and if you have acne-prone skin avoid OA-rich plant oils, and choose linoleic acid-rich versions instead.
The thickness of OA also means that OA-rich oils are considered more nourishing and moisturizing than their LA-rich counterparts, and are generally considered to be more suitable for dry, mature skin types.
As for oleic acid in its free form (and by free we mean that it is not bound up in a triglyceride structure like it is in oils), it mostly serves as an emulsifier or emulsion stabilizer in small amounts in regular cosmetic products. It is also quite well researched and is used in the pharmaceutical industry as a penetration enhancer.
Show me some proof
Naik, Aarti, et al. "Mechanism of oleic acid-induced skin penetration enhancement in vivo in humans." Journal of controlled release 37.3 (1995): 299-306.
Motoyoshi, K. "Enhanced comedo formation in rabbit ear skin by squalene and oleic acid peroxides." British Journal of Dermatology 109.2 (1983): 191-198.
Cardoso, C. R., et al. "Oleic acid modulation of the immune response in wound healing: a new approach for skin repair." Immunobiology 216.3 (2011): 409-415.
Mack Correa, Mary Catherine, et al. "Molecular interactions of plant oil components with stratum corneum lipids correlate with clinical measures of skin barrier function." Experimental dermatology 23.1 (2014): 39-44.
Products with Oleic Acid