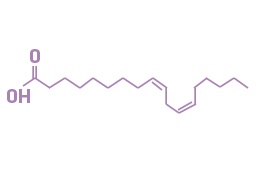 Also-called-like-this:
LA, omega-6 fatty acid, 18:2 cis-9,12, Form of Vitamin F
Details
The famous omega-6 fatty acid, the mother of all ω-6 fatty acids in our body. It is a so-called polyunsaturated fatty acid meaning it has more than one (in this case two) double bonds and a somewhat kinky structure that makes LA and LA-rich oils a thin liquid.
It is also an essential fatty acid meaning our body cannot synthesize it and has to take it from food. This is not hard at all as plenty of nuts (such as flax, poppy or sesame seeds) and vegetable oils (such as sunflower or safflower) are rich in LA. The hard thing seems to be eating enough omega-3-s, more specifically eating a healthy ratio of omega-6 to omega-3, but that is a topic for a what-is-good-to-eat-site and not for us.
As for linoleic acid and the skin, LA is a really important little guy found naturally in our skin. It is the most abundant fatty acid in the epidermis and it serves as a structural precursor for important skin lipids called ceramides. Knowing this, it will not come as a surprise that Linoleic acid has a central role in the structure and function of stratum corneum permeability, aka healthy skin barrier. LA deficiency leads to an impaired more permeable skin barrier and the topical application of LA-rich sunflower oil can fix this issue rapidly (while oleic-rich olive oil did not have the same barrier repairing effect).
LA is not only important for dry, barrier damaged skin types but also for acne-prone skin. Research shows that problem skin has lower levels of linoleic acid (and higher levels of oleic acid) than normal skin. So LA-deficiency in the skin seems to be connected not only to an impaired skin barrier but also to acne and smearing LA all over your face might help with your problem skin. A double-blind study using a 2.5% LA gel for 4 weeks found a 25% reduction in the size of microcomedones, the tiny blocked pores that can later lead to acne.
If that was not enough, we have one more thing to report about LA. It lightens hyperpigmentation (aka UVB caused sun spots) both by blocking the melanin production of melanocytes (the skin cells that make the pigment melanin) and by enhancing the desquamation of melanin pigment from the upper layers of the skin.
Overall, linoleic acid is a multi-functional skin goodie with barrier repairing, acne-reducing, and skin-lightening magic abilities. It's a nice one to spot on the ingredient list pretty much for any skin type.
Show me some proof
McCusker, Meagen M., and Jane M. Grant-Kels. "Healing fats of the skin: the structural and immunologic roles of the ω-6 and ω-3 fatty acids." Clinics in Dermatology 28.4 (2010): 440-451.
Prottey, C., et al. "The repair of impaired epidermal barrier function in rats by the cutaneous application of linoleic acid." British Journal of Dermatology 94.1 (1976): 13-21.
Downing, Donald T., et al. "Essential fatty acids and acne." Journal of the American Academy of Dermatology 14.2 (1986): 221-225.
Letawe, C., M. Boone, and G. E. Pierard. "Digital image analysis of the effect of topically applied linoleic acid on acne microcomedones." Clinical and experimental dermatology 23.2 (1998): 56-58.
Elias, Peter M., Barbara E. Brown, and Vincent A. Ziboh. "The permeability barrier in essential fatty acid deficiency: evidence for a direct role for linoleic acid in barrier function." Journal of Investigative Dermatology 74.4 (1980): 230-233.
Ando, Hideya, et al. "Linoleic acid and α-linolenic acid lightens ultraviolet-induced hyperpigmentation of the skin." Archives of dermatological research 290.7 (1998): 375-381.
Products with Linoleic Acid