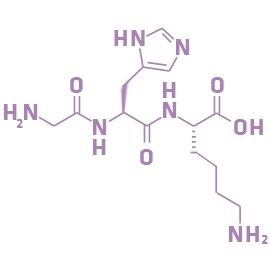 Copper Tripeptide-1
goodie
Also-called-like-this:
GHK-Cu, Copper Peptide
Quick Facts
GHK-Cu is a copper-peptide complex found naturally in yucky bodily fluids (plasma, saliva, and urine)
It has unique wound healing properties by stimulating the breakdown of unhealthy, too large collagen in scar tissue and stimulating nice and healthy collagen production afterwards
It stimulates the production of several important skin-identical ingredients (e.g. collagen, elastin, and glycosaminoglycans)
It has significant anti-inflammatory and antioxidant effect
There are a few promising studies showing GHK-Cu can improve skin elasticity, clarity, firmness and reduce lines and wrinkles
It can improve hair growth by enlarging hair follicles (and bigger follicles produce longer, thicker hair)
There are some urban legends about possible overdosing or facial hair problems (read more in geeky details)
Geeky Details
Compared to A-list skincare superstars (think vitamin C, glycolic or retinol), copper-tripeptide seems to be the new and exciting thing, but in fact, it has been around for a long time, since 1973 to be exact.
Before we dive in, let's just quickly see what the heck copper-tripeptide-1 is, or GHK-Cu? The GHK part is a three amino acid peptide of glycine-histidine-lysine that can be found naturally in yucky bodily fluids (if you are wondering in plasma, saliva, and urine). The Cu part is the copper, an essential trace element in the human body (and in all living things). It turns out GHK and Cu love each other, and if they meet, they form a complex that is called copper-tripeptide.
Wound healing and anti-inflammatory properties
The guy who discovered GHK-Cu is called Dr. Pickart and in the first 15 years of his GHK-Cu studies, he found out that it helps wound healing and has anti-inflammatory properties. His work resulted in the FDA-approved Iamin hydrating gel to treat acute and chronic wounds.
Helping wound healing does not seem like a big deal. If you read around INCIDecoder you can read the same about plenty of other ingredients, but GHK-Cu does have a special feature; it can stimulate the breakdown of unhealthy, too large collagen in scar tissue and can help stimulate nice and healthy normal collagen production. And less bad collagen and more good collagen results in smoother, nicer skin.
Helps good collagen production
Helping collagen production is a big deal in anti-aging skincare and there are very few ingredients that are really proven to do so. Copper-tripeptide is only half-way proven at this point but there are definitely promising results about it. Dr. Pickart himself made a successful in-vitro (made in test tubes, not on real people) study in 1988 showing that CHK-Cu can stimulate collagen synthesis.
There is an even more promising study from 1998 that was done on people and compared vitamin C, tretinoin, and copper-tripeptide. Do you know which one won? Copper tripeptide. After one month, it increased collagen production in 70% of people, while vitamin C only in 50% and tretinoin only in 40%.
More anti-aging magic properties
If the above isn't enough, there is more. GHK-Cu seems to have a complex role in skin health and tissue repair. It does not only help collagen synthesis but also the synthesis of other important skin-identical ingredients like elastin, proteoglycans, and glycosaminoglycans. It also has an antioxidant effect by stimulating the antioxidant enzyme superoxide dismutase and preventing the release of oxidation-promoting iron.
There are also a couple of facial studies showing that GHK-Cu containing creams can do pretty much everything you need for younger looking skin. It can tighten loose skin and improve elasticity, density, and firmness. It can reduce fine lines as well as deeper wrinkles. It can improve skin clarity and even reduce hyperpigmentation.
Improving Hair Growth
While studying the wound healing properties of GHK-Cu, Dr. Pickart also noticed that after treating skin wounds there was an enlargement of the hair follicles of the skin at the wound edge. This led him to discover that skin remodelling copper peptides (SRCPs) can also stimulate hair growth. It works by stimulating follicular cell proliferation that results in larger hair follicles that produce longer and thicker hair. SRCPs also keep the hair follicles longer in the active, anagen phase and shorter in the inactive, dormant phase.
So what's the catch?
Well, most studies done on copper-tripeptide are in-vitro (meaning in the lab and not on real people) or on animals. Results may or may not be the same on us, people. There are some facial studies that are promising, but they are quite small and not designed to the strictest standards (by which we mean double blind, placebo controlled.)
Another catch is that when it comes to facial anti-aging skin care stimulating hair growth is not really a good thing (unless of course, more facial hair is ok for you). Dr. Pickart himself tells this about the issue: "The SRCPs increase the size of hair follicles but do not convert the small vellus hair follicles that produce fine, nearly invisible hair (98% of body hair) into terminal follicles (2% of body hair) that produce thick, long hair. The enlarged hair follicles produce the stem cells needed to rebuild skin. Many women have used our facial products for 5 years without problems." Reading around on skincare forums, some did see slightly more facial hair some not. This is again something that you have to try and see.
Last but not least there is an "urban legend" about the possibility to overdose on copper peptide resulting not in younger but older looking skin. We could not find any study or research paper about this but Dr. Todorov on smartskincare writes this: "..excessive use can have an opposite effect by increasing the levels of free copper and/or by triggering excessive production of metalloproteinases. Free copper promotes free radical damage and collagen breakdown leading to accelerated skin aging. Metalloproteinases can digest collagen and elastin, weakening the skin and causing sag. These problems do not seem to occur among the majority of copper peptide users. However, there are anecdotal reports indicating that such side-effects might happen with overuse, incorrect use, or even normal use in sensitive individuals. Ideally, a sufficiently large study is needed to better quantify these risk."
There you have it! If you are still here, congrats, you just became a GHK-Cu expert. :) It is definitely a very interesting and promising ingredient, so if you are into anti-aging and like to experiment this is something for you. If you prefer the "tried and true", stick to your retinol treatment.
Show me some proof
BioMed Research International, Volume 2015 – Jan 1, 2015, GHK Peptide as a Natural Modulator of Multiple Cellular Pathways in Skin Regeneration
Loren R. Pickart, Use of GHL-Cu as a wound-healing and anti-inflammatory agent, Patent US 4760051 A
FEBS Lett. 1988 Oct 10;238(2):343-6., Stimulation of collagen synthesis in fibroblast cultures by the tripeptide-copper complex glycyl-L-histidyl-L-lysine-Cu2+
Disease Management and Clinical Outcomes 1(4):136-141 · July 1998, Effects of topical creams containing vitamin C, a copper-binding peptide cream and melatonin compared with tretinoin on the ultrastructure of normal skin - A pilot clinical, histologic, and ultrastructural study
Arch Pharm Res. 2007 Jul;30(7):834-9., The effect of tripeptide-copper complex on human hair growth in vitro.
Cosmetics & Medicine (Russia) July 2004, Loren Pickart PhD, Improving Hair Growth with Skin Remodeling Copper Peptides
Products with a known amount of Copper Tripeptide-1
Other products with Copper Tripeptide-1