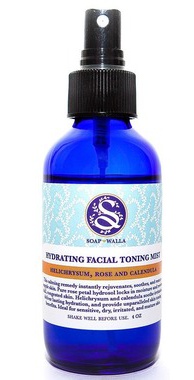 Hydrating Facial Toning Mist
This calming remedy instantly rejuvenates, soothes, and restores supple skin. Pure rose petal hydrosol locks in moisture and revives dull, congested pores. Helichrysum and calendula soothe irritation, deliver lasting hydration,

and provide unparalleled toning benefits. This Hydrating Facial Toning Mist is ideal for sensitive, dry, irritated and mature skin. This calming remedy rejuvenates, soothes, and promotes supple skin.
Uploaded by: decembermagpie on
Highlights
Soapwalla Hydrating Facial Toning Mist

Ingredients explained

Aloe Vera is one of today's magic plants. It does have some very nice properties indeed, though famous dermatologist Leslie Baumann warns us in her book that most of the evidence is anecdotal and the plant might be a bit overhyped.

What research does confirm about Aloe is that it's a great moisturizer and has several anti-inflammatory (among others contains salicylates, polysaccharides, magnesium lactate and C-glucosyl chromone) as well as some antibacterial components. It also helps wound healing and skin regeneration in general. All in all definitely a goodie.

Also-called:

Damask Rose Flower Water, Rose Hydrosol;Rosa Damascena Flower Water

The flower water coming from the flowers of the Damask Rose. In general, flower waters (also called hydrosols) are diluted versions of essential oils coming from the same plant. They contain the same components but in much-reduced concentrations.

Similar to its big sister, rose oil, rose water also has a lovely, relaxing scent. It contains some antioxidant and antimicrobial compounds, as well as some fragrant components.
We don't have description for this ingredient yet.
We don't have description for this ingredient yet.
Witch hazel is a smallish tree (up to 5m) that's native to North-America, has nice yellow flowers and is similar to the hazelnut bush (hence the name).
As for skincare, it's loaded with active components that have a bunch of magic properties, like astringent, anti-inflammatory, antioxidant and anti-bacterial. It's also a well-known vasoconstrictor (it makes the blood vessels narrower) and promotes the healing of broken skin by tightening up the skin proteins and thus creating a protective covering.
A natural moisturizer that's also in our skin
A super common, safe, effective and cheap molecule used for more than 50 years
Not only a simple moisturizer but knows much more: keeps the skin lipids between our skin cells in a healthy (liquid crystal) state, protects against irritation, helps to restore barrier
Effective from as low as 3% with even more benefits at higher concentrations up to 20-40% (around 10% is a good usability-effectiveness sweet spot)
High-glycerin moisturizers are awesome for treating severely dry skin
Read all the geeky details about Glycerin here >>
We are big fans of all kinds of roses as ornamental plants but when it comes to skincare, it is a mixed bag. Before we list out the good and the not so good, here is an interesting thing.
The oil content in rose is very, very low so distilling rose essential oil requires huge amounts of rose flowers. It has such a wonderful scent that there are no comparable synthetic alternatives. You can probably guess that this means rose essential oil is expensive.... very very expensive.
You may also want to take a look at...
The famous aloe vera. A great moisturizer and anti-inflammatory ingredient that also helps wound healing and skin regeneration.
[more]
Rose flower water that has a lovely relaxing scent. Contains some antioxidant and antimicrobial compounds, as well as some fragrant components. 
[more]
With Hazel - loaded with active components (hamamelitannin, catechins, gallic acid) that have astringent, anti-inflammatory, antioxidant or anti-bacterial properties. Also well-known vasoconstrictor and promotes skin healing.
[more]
A real oldie but a goodie. Great natural moisturizer and skin-identical ingredient that plays an important role in skin hydration and general skin health.
[more]
Rose essential oil - a super expensive oil with a lovely scent. Has also antioxidant and antimicrobial properties. Contains fragrant components that might irritate sensitive skin.
[more]