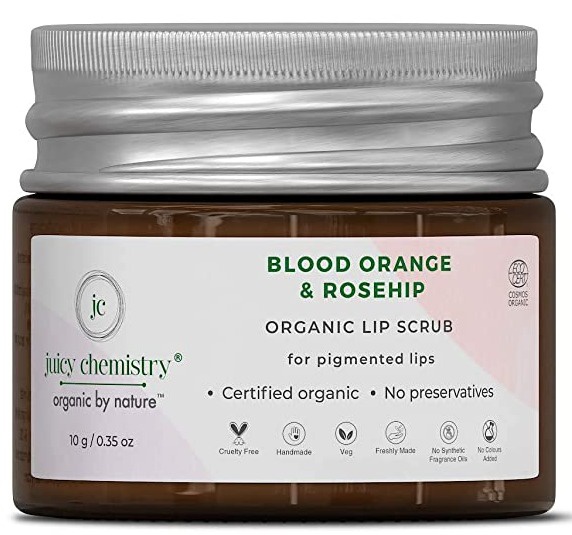 Blood Orange And Rosehip Oil Lipbalm
Uploaded by: tasmiyazainab1 on
juicy chemistry Blood Orange And Rosehip Oil Lipbalm

Ingredients explained

Also-called:

Apricot Kernel Oil;Prunus Armeniaca Kernel Oil

|

What-it-does:

emollient

|

Irritancy:

0

|

Comedogenicity:

1-2

The emollient plant oil coming from the kernel (the seed of the seed) of the delicious apricot fruit. Like other plant oils, it contains antioxidant vitamin E and nourishing fatty acids (mostly oleic acid 54-74%, linoleic acid 12-35%).

It's a nice general purpose emollient, has nourishing and moisturizing properties (as a high oleic oil it's ideal for dry skin types) and is quite easily absorbed into the skin.

Also-called:

Castor Oil;Ricinus Communis Seed Oil

|

What-it-does:

emollient, perfuming

|

Irritancy:

0

|

Comedogenicity:

0-1

Castor oil is sourced from the castor bean plant native to tropical areas in Eastern Africa and the Mediterranean Basin. It is an age-old ingredient (it's over 4,000 years old!) with many uses including as a shoe polish, food additive and motor lubricant. You would be reasonable to think that putting shoe polish on your face wouldn't be the best idea, but it turns out castor oil has some unique properties that make it a stalwart in thick and gloss-giving formulas (think lipsticks and highlighters).

So what is so special about it? The answer is its main fatty acid, called ricinoleic acid (85-95%). Unlike other fatty acids, ricinoleic acid has an extra water-loving part (aka -OH group) on its fatty chain that gives Castor Oil several unique properties. First, it is thicker than other oils, then its solubility is different (e.g. dissolves in alcohol but not in mineral oil), and it allows all kinds of chemical modifications other oils do not, hence the lots of Castor oil-derived ingredients. It is also more glossy than other oils, in fact, it creates the highest gloss of all natural oils when applied to the skin. Other than that, it is a very effective emollient and occlusive that reduces skin moisture loss so it is quite common in smaller amounts in moisturizers.

Also-called:

Carnauba Wax;Copernicia Cerifera Wax

|

What-it-does:

emollient

|

Irritancy:

0

|

Comedogenicity:

1

A vegetable wax coming from the leaves of the Brazilian tropical palm tree, Copernicia cerifera. Similar to other waxes, it is used to stabilize and give body to products, or to keep stick type formulas solid. It is the hardest natural wax with a high melting point (around 85C) and high gloss making it a great wax choice for lip products.

Also-called:

Dog-Rose Seed Oil, Rosehip Seed Oil;Rosa Canina Seed Oil

|

What-it-does:

emollient

The oil coming from the seeds of dog-rose, a wild rose species native to Europe, northwest Africa and western Asia. It's a nice emollient, moisturizing plant oil loaded with skin-nourishing fatty acids (linoleic acid - 51%, linolenic acid - 19% and oleic acid - 20%).

If you start to dig a bit deeper into the rosehip oil topic, you will soon see that there are lots of species of rose, and it's all a bit confusing to know what the differences and similarities between the oils of the different roses are. As far as our research can tell, here is the gist.

Also-called:

Jojoba Oil;Simmondsia Chinensis Seed Oil

|

What-it-does:

emollient

|

Irritancy:

0

|

Comedogenicity:

0-2

Jojoba is a drought resistant evergreen shrub native to South-western North America. It's known and grown for jojoba oil, the golden yellow liquid coming from the seeds (about 50% of the weight of the seeds will be oil).

At first glance, it seems like your average emollient plant oil: it looks like an oil and it's nourishing and moisturizing to the skin but if we dig a bit deeper, it turns out that jojoba oil is really special and unique: technically - or rather chemically - it's not an oil but a wax ester (and calling it an oil is kind of sloppy).

Also-called:

Orange Oil;Citrus Aurantium Dulcis Oil

|

What-it-does:

perfuming

The essential oil coming from the sweet orange. In the case of orange (and citruses in general), the essential oil is mainly in the peel of the fruit, so it's pretty much the same as the orange peel oil (also has the same CAS number - a unique ID assigned to chemicals).

Its main component is limonene (up to 97%), a super common fragrant ingredient that makes everything smell nice (but counts as a frequent skin sensitizer).

Also-called:

Cocoa Seed Butter;Theobroma Cacao Seed Butter

|

What-it-does:

emollient

|

Irritancy:

0

|

Comedogenicity:

4

Theobroma means "food of the gods" in Greek though probably "treat of the people" would be more spot on. The cacao fruits and especially the seeds in it need no introduction as everyone knows them as the magical raw material of the magical sweet treat, chocolate (the flavour is composed of more than 1200(!) substances, and the exact chemical nature of it is not really understood, so it's indeed magic. :)).

As for skincare, cocoa butter counts as a rich emollient that can moisturize and nourish even the driest skin (think chapped hands or lips). It's solid at room temperature and melts nicely when you smear it on. It's loaded with good-for-the-skin things: it contains fatty acids, mainly oleic (35%), stearic (34%), and palmitic (25%) and it also has antioxidant vitamin E and polyphenols.

Also-called:

Raspberry Seed Oil;Rubus Idaeus Seed Oil

|

What-it-does:

emollient
We don't have description for this ingredient yet.
Also-called:
Vitamin E;Tocopherol
|
What-it-does:
antioxidant
|
Irritancy:
0-3
|
Comedogenicity:
0-3
Primary fat-soluble antioxidant in our skin
Significant photoprotection against UVB rays
Vit C + Vit E work in synergy and provide great photoprotection
Has emollient properties
Easy to formulate, stable and relatively inexpensive
Read all the geeky details about Tocopherol here >>
You may also want to take a look at...
what‑it‑does
emollient
irritancy, com.

0

,

1

-

2
Apricot Kernel Oil - a nice general purpose emollient plant oil with vitamin E and fatty acids (mostly oleic acid 54-74%, linoleic acid 12-35%).
[more]
Castor oil is sourced from the castor bean plant native to tropical areas in Eastern Africa and the Mediterranean Basin. It is an age-old ingredient (it's over 4,000 years old!) with many uses including as a shoe polish, food additive and motor lubricant.
[more]
A vegetable wax coming from the leaves of the Brazilian tropical palm tree, Copernicia cerifera. Similar to other waxes, it is used to stabilize and give body to products.
[more]
The oil coming from dog-rose. A nice emollient, moisturizing plant oil loaded with skin-nourishing fatty acids (linoleic acid - 51%, linolenic acid - 19% and oleic acid - 20%).
[more]
what‑it‑does
emollient
irritancy, com.

0

,

0

-

2
Jojoba oil - a wax ester (chemically not a real oil), that's very similar to human sebum. It's uniquely excellent at helping the skin with its protective barrier and helping it to stay moisturized.
[more]
The essential oil coming from the sweet orange. Its main component is limonene (up to 97%), a super common fragrant ingredient that makes everything smell nice.
[more]
Cocoa Butter - a rich emollient that can moisturize and nourish even the driest skin. Contains fatty acids (mainly oleic - 35%, stearic - 34%, and palmitic - 25%), antioxidant vitamin E and polyphenols.
[more]
Pure Vitamin E. Great antioxidant that gives significant photoprotection against UVB rays. Works in synergy with Vitamin C.
[more]