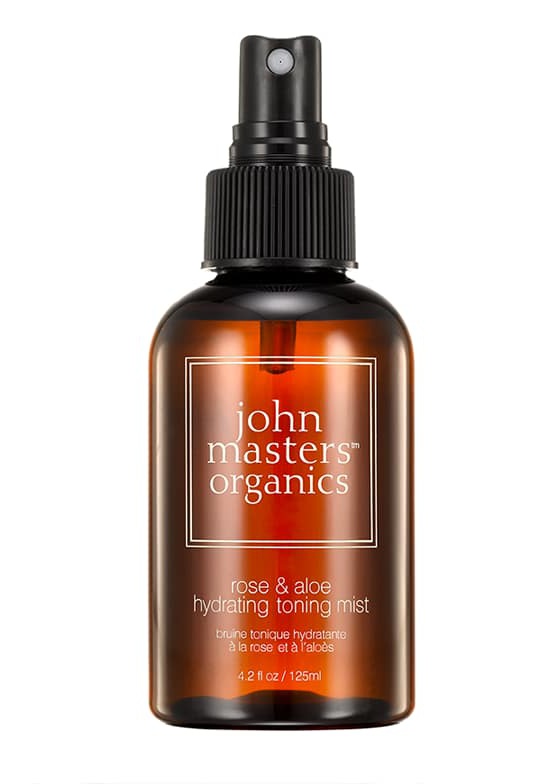 Rose & Aloe Hydrating & Toning Mist
Rich moisturizing face spray for daily use.
Uploaded by: teodora_balan on
Highlights
Fragrance and Essential Oil Free
Key Ingredients
John Masters Organics Rose & Aloe Hydrating & Toning Mist

Ingredients explained

Aloe Vera is one of today's magic plants. It does have some very nice properties indeed, though famous dermatologist Leslie Baumann warns us in her book that most of the evidence is anecdotal and the plant might be a bit overhyped.

What research does confirm about Aloe is that it's a great moisturizer and has several anti-inflammatory (among others contains salicylates, polysaccharides, magnesium lactate and C-glucosyl chromone) as well as some antibacterial components. It also helps wound healing and skin regeneration in general. All in all definitely a goodie.

Also-called:

Damask Rose Flower Water, Rose Hydrosol;Rosa Damascena Flower Water

The flower water coming from the flowers of the Damask Rose. In general, flower waters (also called hydrosols) are diluted versions of essential oils coming from the same plant. They contain the same components but in much-reduced concentrations.

Similar to its big sister, rose oil, rose water also has a lovely, relaxing scent. It contains some antioxidant and antimicrobial compounds, as well as some fragrant components.

If your skin is super sensitive, it is a good idea to choose products without fragrant floral waters.
A natural moisturizer that's also in our skin
A super common, safe, effective and cheap molecule used for more than 50 years
Not only a simple moisturizer but knows much more: keeps the skin lipids between our skin cells in a healthy (liquid crystal) state, protects against irritation, helps to restore barrier
Effective from as low as 3% with even more benefits at higher concentrations up to 20-40% (around 10% is a good usability-effectiveness sweet spot)
High-glycerin moisturizers are awesome for treating severely dry skin
Read all the geeky details about Glycerin here >>
An alternative, natural preservative coming from the Leuconostoc bacteria. Koreans have used this preservation method for ages to preserve one of their traditional foods, kimchi (a type of fermented cabbage). Leuconostoc Ferment Filtrate contains non-viable microorganisms that show antimicrobial properties against a bunch of other microorganisms. The recommended use level is 2-4%.
We don't have description for this ingredient yet.
Green tea is one of the most researched natural ingredients
The active parts are called polyphenols, or more precisely catechins (EGCG being the most abundant and most active catechin)
There can be huge quality differences between green tea extracts. The good ones contain 50-90% catechins (and often make the product brown and give it a distinctive smell)
Green tea is proven to be a great antioxidant, UV protectant, anti-inflammatory, anticarcinogenic and antimicrobial
Because of these awesome properties green tea is a great choice for anti-aging and also for skin diseases including rosacea, acne and atopic dermatitis
Read all the geeky details about Camellia Sinensis Leaf Extract here >>
Centella Asiatica - or gotu kola as normal people call it - has been used in folk medicine for hundreds of years. It's traditionally used to improve small wounds, burns and scratches and it's also a well known anti-inflammatory agent for eczema.
Recently science has taken an interest in Gotu Kola as well and it turns out it really has many active compounds with several benefits. Just for hard-core geeks, the main biologically active compounds are pentacyclic triterpenoid saponins called asiaticoside, madecassoside, asiatic and madecassic acid (also called centellosides).
One of the biological activities of the centellosides is to be able to stimulate GAGs (glycosaminoglycans - polysaccharides that are part of the liquidy stuff between our skin cells), and especially hyaluronic acid synthesis in our skin. This is probably one of the reasons why Centella Asiatica Extract has nice skin moisturizing properties that was confirmed by a 25 people, four weeks study along with Centella's anti-inflammatory effects.
Madecassoside can also help in burn wound healing through increasing antioxidant activity and enhancing collagen synthesis. Asiaticoside was shown to increase antioxidant levels on rats skin when applied at 0.2%.
Centella Asiatica also often shows up in products that try to treat cellulite or striae. Of course, it cannot make a miracle but it might have some effect via regulating microcirculation and normalizing the metabolism in the cells of connective tissues.
Bottom line: Gotu Kola is a great plant ingredient with proven wound healing, anti-inflammatory, and antioxidant properties. Nice to spot on any ingredient list.
You may also want to take a look at...
The famous aloe vera. A great moisturizer and anti-inflammatory ingredient that also helps wound healing and skin regeneration.
[more]
Rose flower water that has a lovely relaxing scent. Contains some antioxidant and antimicrobial compounds, as well as some fragrant components. 
[more]
A real oldie but a goodie. Great natural moisturizer and skin-identical ingredient that plays an important role in skin hydration and general skin health.
[more]
An alternative, natural preservative coming from the Leuconostoc bacteria.
[more]
Green Tea - one of the most researched natural ingredients that contains the superstar actives called catechins. It has proven antioxidant, anti-inflammatory, antimicrobial and anticarcinogenic properties.
[more]
Centella Asiatica - or gotu kola as normal people call it - has been used in folk medicine for hundreds of years. It's traditionally used to improve small wounds, burns and scratches and it's also a well known anti-inflammatory agent for eczema. Recently science has taken an interest in Gotu Kola as well and it turns out it really has many active compounds with several benefits
[more]