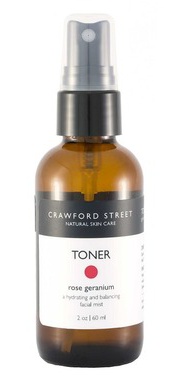 An alcohol-free toner that will balance all skin types. The soothing properties of aloe vera, lavender and rosewater combine with balancing geranium and revitalizing witch hazel, to give your skin a sip of moisture whenever it needs it.
Uploaded by: decembermagpie on
Ingredients overview
Vegan, Cruelty-free, GMO Free,
Crawford Street Rose Geranium Toner

Ingredients explained

Also-called:

Water

|

What-it-does:

solvent

Good old water, aka H2O. The most common skincare ingredient of all. You can usually find it right in the very first spot of the ingredient list, meaning it's the biggest thing out of all the stuff that makes up the product.

It's mainly a solvent for ingredients that do not like to dissolve in oils but rather in water.

Once inside the skin, it hydrates, but not from the outside - putting pure water on the skin (hello long baths!) is drying.

One more thing: the water used in cosmetics is purified and deionized (it means that almost all of the mineral ions inside it is removed). Like this, the products can stay more stable over time.

Also-called:

Damask Rose Flower Water, Rose Hydrosol;Rosa Damascena Flower Water

The flower water coming from the flowers of the Damask Rose. In general, flower waters (also called hydrosols) are diluted versions of essential oils coming from the same plant. They contain the same components but in much-reduced concentrations.

Similar to its big sister, rose oil, rose water also has a lovely, relaxing scent. It contains some antioxidant and antimicrobial compounds, as well as some fragrant components.

If your skin is super sensitive, it is a good idea to choose products without fragrant floral waters.

The distillate created from different parts of the hazelnut-bush-like magic tree, commonly called Witch Hazel. Hamamelis Virginiana Water is a bit of a sloppy ingredient name as the leaves, the twigs and the bark can be used to create extracts or distillates and the different parts contain different amounts of biologically active components. But what you are getting is probably a nice water with astringent, soothing, antioxidant and antibacterial magic properties.

We went into great detail about Witch Hazel in cosmetics here, detailing the main biologically active components and how they are different in different parts of the plant. Click here and read more >>

Aloe Vera is one of today's magic plants. It does have some very nice properties indeed, though famous dermatologist Leslie Baumann warns us in her book that most of the evidence is anecdotal and the plant might be a bit overhyped.

What research does confirm about Aloe is that it's a great moisturizer and has several anti-inflammatory (among others contains salicylates, polysaccharides, magnesium lactate and C-glucosyl chromone) as well as some antibacterial components. It also helps wound healing and skin regeneration in general. All in all definitely a goodie.

We have to start by writing how fascinated we are by the amazing lavender fields of Provance and we do love pretty much everything about lavender: its look, its color, its scent.... but, when it comes to skincare, lavender is a questionable ingredient that you probably do not want in your skincare products.

First, let us start with the pros: it has a lovely scent, so no wonder that it is popular as a fragrance ingredient in natural products wanting to be free from synthetic fragrances but still wanting to smell nice. The scent of lavender is famous for having calming and relaxing properties and some smallish scientific studies do support that. Inhaled volatile compounds seem to have a soothing effect on the central nervous system and studies have shown that lavender aromatherapy can improve patient's anxiety and experience in hospitals.

Another pro is that lavender oil has some nice antimicrobial and antibacterial properties. It also has some local pain relieving and muscle relaxing magical powers. Lavender oil is also often claimed to have anti-inflammatory properties. We have found a study confirming this but it was the essential oil of the leaves and not the much more commonly used flowers and the two differ in their main chemical compounds very much. (The main components of the flower essential oil are linalyl acetate and linalool [around 80% the two together] while it is 1,8-Cineole [around 65%] in the essential oil of the leaves.)

Now, let us look at the cons: similar to a bunch of other essential oils, the main components of lavender oil are potentially irritating fragrant components. The two main components are linalyl acetate (about 50%) and linalool (about 35%) and both autoxidise on exposure to the air forming strong contact allergens. To make things even worse, lavender oil seems to be cytotoxic from concentrations as low as 0.25% (concentration up to 0.125% were ok).

There is also an often cited Japanese study that made patch tests with lavender oil for 9 years and found a huge increase in lavender oil sensitivity in 1997 (from 1.1% in 1990 to 8.7% in 1997 and 13.9% in 1998). This was the year when using dried lavender flowers in pillows, wardrobes, and elsewhere became fashionable in Japan, so it seems that increased exposure to lavender results in increased risk of sensitivity.

Overall, it makes us sad to write bad things about such a lovely plant, but when it comes to skincare, you will be better off without lavender.
We don't have description for this ingredient yet.
You may also want to take a look at...
Normal (well kind of - it's purified and deionized) water. Usually the main solvent in cosmetic products.
[more]
Rose flower water that has a lovely relaxing scent. Contains some antioxidant and antimicrobial compounds, as well as some fragrant components. 
[more]
The distillate created from the hazelnut-bush-like magic tree, commonly called Witch Hazel. It might have astringent, soothing, antioxidant and antibacterial properties.
[more]
The famous aloe vera. A great moisturizer and anti-inflammatory ingredient that also helps wound healing and skin regeneration.
[more]
Lavender - essential oil with a calming scent and antimicrobial properties. Contains fragrant components (linalyl acetate - 50% and linalool - 35%) and might be cytotoxic from 0.25%.
[more]