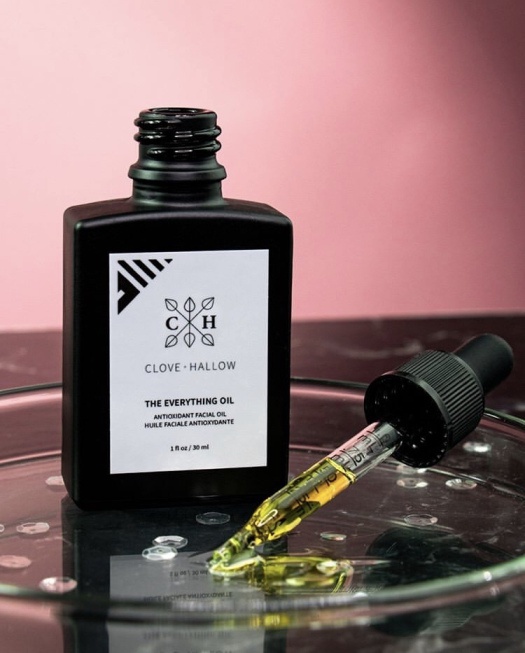 Oil that claims to balance and clear oily/acne prone skin
Uploaded by: tmini on
Highlights
Fragrance and Essential Oil Free
Clove and Hallow The Everything Oil

Ingredients explained

It seems to us that squalane is in fashion and there is a reason for it. Chemically speaking, it is a saturated (no double bonds) hydrocarbon (a molecule consisting only of carbon and hydrogen), meaning that it's a nice and stable oily liquid with a long shelf life.

It occurs naturally in certain fish and plant oils (e.g. olive), and in the sebum (the oily stuff our skin produces) of the human skin. As f.c. puts it in his awesome blog post, squalane's main things are "emolliency, surface occlusion, and TEWL prevention all with extreme cosmetic elegance". In other words, it's a superb moisturizer that makes your skin nice and smooth, without being heavy or greasy.

When it comes to cosmetic oils and hype, argan oil is for sure leading the way. Dubbed as the "liquid gold of Morocco", we have to admit we have some trouble determining why this oil enjoys such a special miracle status. Not that it's not good, it is good, even great but reading the research about argan and a bunch of other plant oils we just do not see the big, unique differentiating factor (though that might be our fault not reading enough, obvs.)

So, argan oil comes from the kernel of the argan fruit that comes from the argan tree that grows only in Morocco. The tree is slow growing and getting the oil is a hard job. The traditional process is that the ripe argan fruits fall from the tree, then goats eat them up and poop out the seeds. The seeds are collected and smashed with a stone to get the kernels inside. This part is the hard one as the seeds have extremely hard shells. Once the kernels are obtained, the oil is pressed out from them (the kernels contain about 50% oil).

The (fixed or non-volatile) oil coming from the black seeds of Nigella Sativa, a smallish (20-30 cm) flowering plant native to Southwest Asia. The seed has a very complex chemical composition (it contains both fixed and volatile oil) and is used traditionally for a bunch of "anti-something" abilities including antitumor, antidiabetic, antihistaminic, anti-inflammatory, and antimicrobial properties. In Islam, black cumin seed was considered "a healing seed for all diseases except death".

As for modern research and chemical composition, the fixed oil from the seeds is rich in skin-nourishing unsaturated fatty acids (mainly linoleic acid at 50 – 60% and oleic acid at 20%, but also contains some rare ones like C20:2 arachidic and eicosadienoic acids), amino acids, vitamins, and minerals. A component called thymoquinone (it's the main component of the volatile oil part, but the fixed oil also contains some) is considered to give the seed its main therapeutic properties including strong antioxidant and anti-inflammatory abilities.

Also-called:

Dog-Rose Seed Oil, Rosehip Seed Oil;Rosa Canina Seed Oil

|

What-it-does:

emollient

The oil coming from the seeds of dog-rose, a wild rose species native to Europe, northwest Africa and western Asia. It's a nice emollient, moisturizing plant oil loaded with skin-nourishing fatty acids (linoleic acid - 51%, linolenic acid - 19% and oleic acid - 20%).

If you start to dig a bit deeper into the rosehip oil topic, you will soon see that there are lots of species of rose, and it's all a bit confusing to know what the differences and similarities between the oils of the different roses are. As far as our research can tell, here is the gist.
You may also want to take a look at...
An emollient and natural moisturizer that can be found also in the sebum (oily stuff our skin produces). It leaves a nice non-greasy, non-heavy feeling on the skin.
[more]
Argan oil - the "liquid gold of Morocco" that contains 80% unsaturated fatty acids (oleic and linoleic mainly), and antioxidant vitamin E and phenols. It's highly nourishing and moisturizing both for skin and hair.
[more]
Black Seed/Balck Cumin Oil - a skin-nourishing oil (50 – 60% linoleic acid, 20% oleic acid) with anti-inflammatory, antioxidant and antimicrobial properties. It's especially great to treat inflammatory skin diseases like psoriasis and eczema.
[more]
The oil coming from dog-rose. A nice emollient, moisturizing plant oil loaded with skin-nourishing fatty acids (linoleic acid - 51%, linolenic acid - 19% and oleic acid - 20%).
[more]