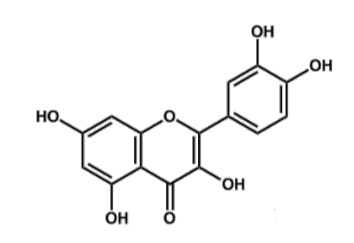 Details
Quercetin is a polyphenol flavonoid found in lots of plants, such as red onions, broccoli, and blueberries. The reason it is in cosmetics is that - similar to other polyphenols - it is a strong antioxidant and has anti-inflammatory properties.
Other than that, a study also showed that adding quercetin to sunscreens helped to stabilize the otherwise not very stable chemical UV filters avobenzone and octinoxate against degradation -- and it did better than traditional stabilizers like octocrylene and vitamin E!
There are also some studies into the use of quercetin as a skin whitening agent, but after some conflicting results, the conclusion is that "quercetin is not effective in cosmetic applications as a whitening ingredient". It also shows minor cytotoxicity when compared to some of its polyphenol derivatives (such as rutin), so quercetin is a good example where more is not better.
Show me some proof
Bonina, Francesco, Maria Lanza, Lucia Montenegro, Claudio Puglisi, Antonio Tomaino, Domenico Trombetta, Francesco Castelli, and Antonella Saija. 1996. "Flavonoids as Potential Protective Agents against Photo-Oxidative Skin Damage." International Journal of Pharmaceutics 145 (1): 87–94.
Boots, Agnes W., Lonneke C. Wilms, Els L. R. Swennen, Jos C. S. Kleinjans, Aalt Bast, and Guido R. M. M. Haenen. 2008. "In Vitro and Ex Vivo Anti-Inflammatory Activity of Quercetin in Healthy Volunteers." Nutrition 24 (7): 703–10.
Choi, Moon-Hee, and Hyun-Jae Shin. 2016. "Anti-Melanogenesis Effect of Quercetin." Cosmetics 3 (2): 18.
Kitagawa, Shuji, Yuko Tanaka, Manami Tanaka, Kanako Endo, and Akiko Yoshii. 2009. "Enhanced Skin Delivery of Quercetin by Microemulsion." Journal of Pharmacy and Pharmacology 61 (7): 855–60.
Scalia, Santo, and Matteo Mezzena. 2010. "Photostabilization Effect of Quercetin on the UV Filter Combination, Butyl Methoxydibenzoylmethane–Octyl Methoxycinnamate." Photochemistry and Photobiology 86 (2): 273–78.
Products with Quercetin