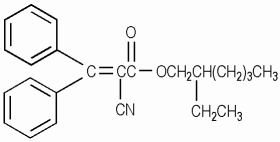 Details
An oil-soluble chemical sunscreen agent that protects skin in the UVB and somewhat in the UVA II range with a peak absorption of 304 nm. Its protection is not strong enough on its own but it is quite photostable (loses 10% of SPF protection in 95 mins) and is often used to stabilize other photo-unstable UV-filters, for example, Avobenzone. It is also often used to improve the water resistance of the products.
Octocrylene's safety profile is generally quite good, though a review study in Contact Dermatitis reports an "increasing number of patients with photo contact allergy to octocrylene." Mainly adults with ketoprofen-sensitivity and children with sensitive skin are affected, so if you have a small kid, it is probably better to use octocrylene-free sunscreens.
Show me some proof
Couteau, C., et al. "Study of the efficacy of 18 sun filters authorized in European Union tested in vitro." Die Pharmazie-An International Journal of Pharmaceutical Sciences 62.6 (2007): 449-452.
Couteau, Céline, et al. "Study of the photostability of 18 sunscreens in creams by measuring the SPF in vitro." Journal of pharmaceutical and biomedical analysis 44.1 (2007): 270-273.
Scalia, Santo, and Matteo Mezzena. "Incorporation in lipid microparticles of the UVA filter, butyl methoxydibenzoylmethane combined with the UVB filter, octocrylene: effect on photostability." AAPS PharmSciTech 10.2 (2009): 384-390.
de Groot, Anton C., and David W. Roberts. "Contact and photocontact allergy to octocrylene: a review." Contact dermatitis 70.4 (2014): 193-204.
Products with a known amount of Octocrylene
Other products with Octocrylene