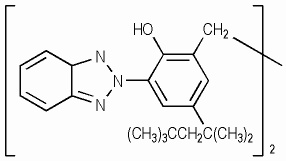 Methylene Bis-Benzotriazolyl Tetramethylbutylphenol
goodie
Also-called-like-this:
Tinosorb M, Bisoctrizole
Details
The long name covers a nice sunscreen agent and quite a special one at that: It's a "hybrid" sunscreen meaning it's half-way between physical (the ones that, at least partly, reflect the sun) and chemical agents (that absorb the rays, which most sunscreens do). It is a new generation UV filter and, just like its sister, Trinosorb S, it is not available in the US.
It gives nice broad-spectrum coverage (280-400 nm, meaning UVB as well as UVA protecion) with peak protection at 305 nm and 360 nm and it is highly photostable. It can also help to stabilize other less stable sunscreens, like Octinoxate and is generally happy to work together with other UV-filters.
Its hybrid nature means that it is organic like the chemical agents, but it is neither water nor oil soluble and works as a suspension of micro fine particles. If the small particles scare you, we have good news: the safety profile of Tinosorb M is great. It is not absorbed into the skin and unlike some other chemical sunscreens, it does not show estrogenic activity.
The downside of its hybrid nature is that - similar to the inorganic sunscreens zinc and titanium dioxide - Tinosorb M also leaves a white cast on the skin that can be bothersome on darker skin tones.
Show me some proof
Skin Pharmacol Appl Skin Physiol 2007;20:10–20, In vitro Percutaneous Absorption and in vivo Stratum Corneum Distribution of an Organic and a Mineral Sunscreen
Regulatory Toxicology and Pharmacology 34, 287–291 (2001), Lack of Binding to Isolated Estrogen or Androgen Receptors, and Inactivity in the Immature Rat Uterotrophic Assay, of the Ultraviolet Sunscreen Filters Tinosorb M-Active and Tinosorb S
Products with a known amount of Methylene Bis-Benzotriazolyl Tetramethylbutylphenol
Other products with Methylene Bis-Benzotriazolyl Tetramethylbutylphenol