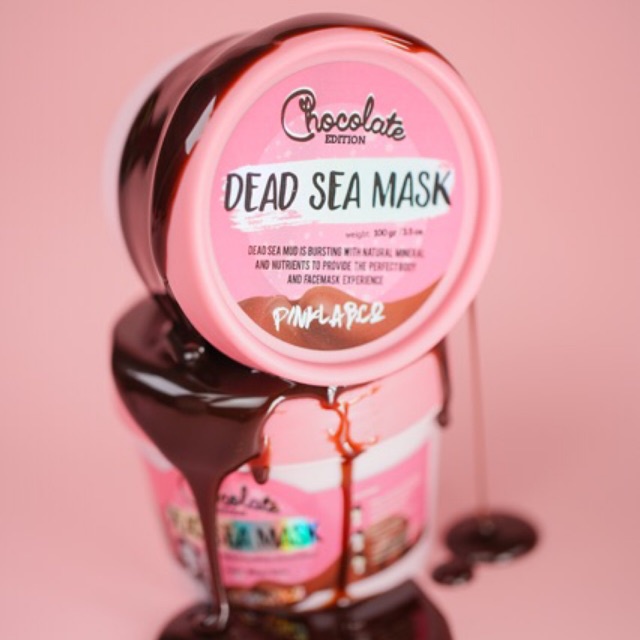 The benefits of dead sea mask chocolate contain antioxidants that improve skin texture that is already dull and skin that is irritated by excessive sunlight. Antioxidant is also a protector

of skin cells from external effects such as dust, sunlight, uv damage and also has a high anti-aging effect.
Uploaded by: annisaryst on
pinklab.co Dead Sea Mask Chocolate

Ingredients explained
We don't have description for this ingredient yet.
Unless you live under a rock you must have heard about shea butter. It's probably the most hyped up natural butter in skincare today. It comes from the seeds of African Shea or Karite Trees and used as a magic moisturizer and emollient.
But it's not only a simple emollient, it regenerates and soothes the skin, protects it from external factors (such as UV rays or wind) and is also rich in antioxidants (among others vitamin A, E, F, quercetin and epigallocatechin gallate). If you are looking for rich emollient benefits + more, shea is hard to beat.
Also-called:
Sunflower Oil;Helianthus Annuus Seed Oil
|
What-it-does:
emollient
|
Irritancy:
0
|
Comedogenicity:
0
Sunflower does not need a big intro as you probably use it in the kitchen as cooking oil, or you munch on the seeds as a healthy snack or you adore its big, beautiful yellow flower during the summer - or you do all of these and probably even more. And by even more we mean putting it all over your face as sunflower oil is one of the most commonly used plant oils in skincare.
It's a real oldie: expressed directly from the seeds, the oil is used not for hundreds but thousands of years. According to The National Sunflower Association, there is evidence that both the plant and its oil were used by American Indians in the area of Arizona and New Mexico about 3000 BC. Do the math: it's more than 5000 years – definitely an oldie.
Our intro did get pretty big after all (sorry for that), so let's get to the point finally: sunflower oil - similar to other plant oils - is a great emollient that makes the skin smooth and nice and helps to keep it hydrated. It also protects the surface of the skin and enhances the damaged or irritated skin barrier. Leslie Bauman notes in Cosmetic Dermatology that one application of sunflower oil significantly speeds up the recovery of the skin barrier within an hour and sustains the results 5 hours after using it.
It's also loaded with fatty acids (mostly linoleic (50-74%) and oleic (14-35%)). The unrefined version (be sure to use that on your skin!) is especially high in linoleic acid that is great even for acne-prone skin. Its comedogen index is 0, meaning that it's pretty much an all skin-type oil.
Truth be told, there are many great plant oils and sunflower oil is definitely one of them.
Aloe Vera is one of today's magic plants. It does have some very nice properties indeed, though famous dermatologist Leslie Baumann warns us in her book that most of the evidence is anecdotal and the plant might be a bit overhyped.
What research does confirm about Aloe is that it's a great moisturizer and has several anti-inflammatory (among others contains salicylates, polysaccharides, magnesium lactate and C-glucosyl chromone) as well as some antibacterial components. It also helps wound healing and skin regeneration in general. All in all definitely a goodie.
A natural moisturizer that's also in our skin
A super common, safe, effective and cheap molecule used for more than 50 years
Not only a simple moisturizer but knows much more: keeps the skin lipids between our skin cells in a healthy (liquid crystal) state, protects against irritation, helps to restore barrier
Effective from as low as 3% with even more benefits at higher concentrations up to 20-40% (around 10% is a good usability-effectiveness sweet spot)
High-glycerin moisturizers are awesome for treating severely dry skin
Read all the geeky details about Glycerin here >>
Also-called:
Jojoba Oil;Simmondsia Chinensis Seed Oil
|
What-it-does:
emollient
|
Irritancy:
0
|
Comedogenicity:
0-2
Jojoba is a drought resistant evergreen shrub native to South-western North America. It's known and grown for jojoba oil, the golden yellow liquid coming from the seeds (about 50% of the weight of the seeds will be oil).
At first glance, it seems like your average emollient plant oil: it looks like an oil and it's nourishing and moisturizing to the skin but if we dig a bit deeper, it turns out that jojoba oil is really special and unique: technically - or rather chemically - it's not an oil but a wax ester (and calling it an oil is kind of sloppy).
So what the heck is a wax ester and why is that important anyway? Well, to understand what a wax ester is, you first have to know that oils are chemically triglycerides: one glycerin + three fatty acids attached to it. The fatty acids attached to the glycerin vary and thus we have many kinds of oils, but they are all triglycerides. Mother Nature created triglycerides to be easily hydrolyzed (be broken down to a glycerin + 3 fatty acid molecules) and oxidized (the fatty acid is broken down into small parts) - this happens basically when we eat fats or oils and our body generates energy from it.
Mother Nature also created wax esters but for a totally different purpose. Chemically, a wax ester is a fatty acid + a fatty alcohol, one long molecule. Wax esters are on the outer surface of several plant leaves to give them environmental protection. 25-30% of human sebum is also wax esters to give us people environmental protection.
So being a wax ester results in a couple of unique properties: First, jojoba oil is extremely stable. Like crazy stable. Even if you heat it to 370 C (698 F) for 96 hours, it does not budge. (Many plant oils tend to go off pretty quickly). If you have some pure jojoba oil at home, you should be fine using it for years.
Second, jojoba oil is the most similar to human sebum (both being wax esters), and the two are completely miscible. Acne.org has this not fully proven theory that thanks to this, jojoba might be able to "trick" the skin into thinking it has already produced enough sebum, so it might have "skin balancing" properties for oily skin.
Third, jojoba oil moisturizes the skin through a unique dual action: on the one hand, it mixes with sebum and forms a thin, non-greasy, semi-occlusive layer; on the other hand, it absorbs into the skin through pores and hair follicles then diffuses into the intercellular spaces of the outer layer of the skin to make it soft and supple.
On balance, the point is this: in contrast to real plant oils, wax esters were designed by Mother Nature to stay on the surface and form a protective, moisturizing barrier and jojoba oil being a wax ester is uniquely excellent at doing that.
We don't have description for this ingredient yet.
Also-called:
Calendula Oil;Calendula Officinalis Flower Oil
|
What-it-does:
perfuming
We don't have description for this ingredient yet.
The essential oil created by steam distilling the leaves of the Eucalyptus tree. It's a colorless, pale yellow oil with a camphoraceous aroma used traditionally in vapor rubs to treat coughs. Its name-giving main component is eucalyptol (also called 1,8-cineole, 80-91%) that has significant antibacterial and expectorant properties.
Among essential oils, Eucalyptus Globulus counts as rather non-sensitising with an EU sensitizer total of 5% (due to limonene). However, if your skin is super-sensitive or you are allergic to fragrances, it is still better to avoid it.
Also-called:
Aqua;Water
|
What-it-does:
solvent
Good old water, aka H2O. The most common skincare ingredient of all. You can usually find it right in the very first spot of the ingredient list, meaning it's the biggest thing out of all the stuff that makes up the product.
It's mainly a solvent for ingredients that do not like to dissolve in oils but rather in water.
Once inside the skin, it hydrates, but not from the outside - putting pure water on the skin (hello long baths!) is drying.
One more thing: the water used in cosmetics is purified and deionized (it means that almost all of the mineral ions inside it is removed). Like this, the products can stay more stable over time.
It's one of the most commonly used thickeners and emulsion stabilizers. If the product is too runny, a little xanthan gum will make it more gel-like. Used alone, it can make the formula sticky and it is a good team player so it is usually combined with other thickeners and so-called rheology modifiers (helper ingredients that adjust the flow and thus the feel of the formula). The typical use level of Xantha Gum is below 1%, it is usually in the 0.1-0.5% range.
Btw, Xanthan gum is all natural, a chain of sugar molecules (polysaccharide) produced from individual sugar molecules (glucose and sucrose) via fermentation. It's approved by Ecocert and also used in the food industry (E415).
You may also want to take a look at...
Shea butter that's considered to be a magic moisturizer and emollient. It is also soothing and rich in antioxidants.
[more]
Sunflower Oil - it's a great emollient that protects & enhances the skin barrier.
[more]
The famous aloe vera. A great moisturizer and anti-inflammatory ingredient that also helps wound healing and skin regeneration.
[more]
A real oldie but a goodie. Great natural moisturizer and skin-identical ingredient that plays an important role in skin hydration and general skin health.
[more]
what‑it‑does
emollient
irritancy, com.

0

,

0

-

2
Jojoba oil - a wax ester (chemically not a real oil), that's very similar to human sebum. It's uniquely excellent at helping the skin with its protective barrier and helping it to stay moisturized.
[more]
The essential oil created by steam distilling the leaves of the Eucalyptus tree. It's a colorless, pale yellow oil with a camphoraceous aroma used traditionally in vapor rubs to treat coughs.
[more]
Normal (well kind of - it's purified and deionized) water. Usually the main solvent in cosmetic products.
[more]
A super commonly used thickener and emulsion stabilizer.
[more]