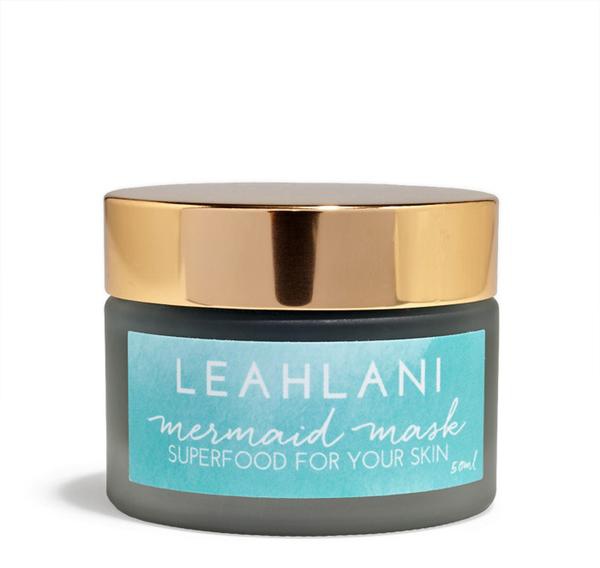 Dive into this pot of emerald green goodness and discover mermaid magic. Think of her as a super-food green smoothie for your skin. Made from the soil and nectar of

Hawaii, this verdant beauty will help to nourish, purify, soften and renew your complexion. She is full to the brim with nutrient dense Hawaiian spirulina and raw honey, premium chlorella and circulation-boosting essential oils that will feed each cell on your precious face, resulting in the ultimate glow.
Uploaded by: btbitbt on
Ingredients overview
Raw Honey,
Spirulina Maxima Powder (Spirulina),
Chlorella Vulgaris Powder (Chlorella),
French Green Clay,
Pure Sea Clay,
Luminess Algae,
Sea Buckthorn Co2 (Hippophae Rhamnoides),
Vanilla Co2 (Vanilla Planifolia),
Orange (Citrus Aurantium Dulcis) Oil,
Moroccan Chamomile (Tanacetum Annuum ) Oil,
Roman Chamomile (Matricaria Chamomilla) Oil,
Bee Balm (Monarda Fistulosa),
Geranium (Pelargonium Graveolens) Oil,
Palmarosa (Cymbopogon Martini) Oil,
Lavender (Lavandula Angustifolia) Oil,
Ylang Ylang (Canaga Odorata) Oil,
Rose (Rose Damascena) Oil,
White Lotus Flower Absolute (Nelumbo Nucifera) Oil,
Beeswax Absolute (Apies Millifera) Oil,
Coriander Seed (Coriandrum Sativum) Oil
Highlights
Leahlani Mermaid Mask

Ingredients explained
You may also want to take a look at...
The sweet, gooey, sugar-laden stuff with skin moisturizing, soothing, antibacterial and some antioxidant properties.
[more]
Read more about types of clay used in cosmetics here >>
[more]
Read more about types of clay used in cosmetics here >>
[more]
The trade name of the algae extract coming from the green micro-algae called Dunaliella salina. It's claimed to have " outstanding skin energizing properties"
[more]
Sea buckthorn berry oil - contains rare omega-7 fatty acid, antioxidants, and skin-soothing plant sterols. A nice moisturising and skin protecting oil.
[more]
The essential oil coming from the sweet orange. Its main component is limonene (up to 97%), a super common fragrant ingredient that makes everything smell nice.
[more]
The essential oil coming from the second most common type of chamomile, the Roman Chamomile. It also contains the biologically active anti-inflammatory components, bisabolol, and chamazulene, but less than the more commonly used German Chamomile.
[more]
The fragrant essential oil coming from the whole plant of Rose Geranium. It has a lovely scent with a mix of rose and citrus. Like most essential oils, it contains antioxidant and antimicrobial components, but the main ones are fragrant constituents (like geraniol and citronellol).
[more]
Lavender - essential oil with a calming scent and antimicrobial properties. Contains fragrant components (linalyl acetate - 50% and linalool - 35%) and might be cytotoxic from 0.25%.
[more]
Sweet, exotic and floral, it' no surprise that Ylang Ylang is a popular essential oil. It is coming from the yellow, fragrant flowers of the Cananga tree native to tropical Asia and, similar to other essential oils, it is a chemically complex mixture with several pros and cons. Unfortunately, these are a bit tricky to pin down as the composition varies largely depending on where it is so
[more]
Rose essential oil - a super expensive oil with a lovely scent. Has also antioxidant and antimicrobial properties. Contains fragrant components that might irritate sensitive skin.
[more]