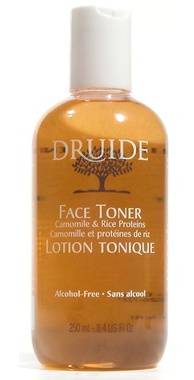 Face Toner With Chamomile & Rice Proteins
Organic and alcohol-free toning lotion, ideal for balancing the pH of the epidermis and for firming pores. Instantly refreshes and soothes the skin. Can be used to soothe the irritation associated with shaving. Provides skin with comfort, suppleness and hydration. Ideal for all skin types.
Uploaded by: decembermagpie on
Ingredients overview
Aqua,
Aloe Barbadensis Leaf Juice*,
Matricaria Recutita (Chamomille) Extract*,
Glycerin,
Aspalathus Linearis (Rooibos) Extract*,
Hamamelis Virginiana (Witch Hazel) Extract*,
Hydrolyzed Rice Protein,
Galactoarabinan,
Levulinic Acid,
Sodium Carboxymethyl Cellulose,
Potassium Sorbate,
Sodium Hydroxide,
Sodium Benzoate
Organic Certified, 100% Natural, Premium Quality, Cruelty Free, Ethically Sourced
Highlights
Fragrance and Essential Oil Free
Key Ingredients
Druide Face Toner With Chamomile & Rice Proteins

Ingredients explained

Also-called:

Water

|

What-it-does:

solvent

Good old water, aka H2O. The most common skincare ingredient of all. You can usually find it right in the very first spot of the ingredient list, meaning it's the biggest thing out of all the stuff that makes up the product.

It's mainly a solvent for ingredients that do not like to dissolve in oils but rather in water.

Once inside the skin, it hydrates, but not from the outside - putting pure water on the skin (hello long baths!) is drying.

One more thing: the water used in cosmetics is purified and deionized (it means that almost all of the mineral ions inside it is removed). Like this, the products can stay more stable over time.

Aloe Vera is one of today's magic plants. It does have some very nice properties indeed, though famous dermatologist Leslie Baumann warns us in her book that most of the evidence is anecdotal and the plant might be a bit overhyped.

What research does confirm about Aloe is that it's a great moisturizer and has several anti-inflammatory (among others contains salicylates, polysaccharides, magnesium lactate and C-glucosyl chromone) as well as some antibacterial components. It also helps wound healing and skin regeneration in general. All in all definitely a goodie.
We don't have description for this ingredient yet.
A natural moisturizer that's also in our skin
A super common, safe, effective and cheap molecule used for more than 50 years
Not only a simple moisturizer but knows much more: keeps the skin lipids between our skin cells in a healthy (liquid crystal) state, protects against irritation, helps to restore barrier
Effective from as low as 3% with even more benefits at higher concentrations up to 20-40% (around 10% is a good usability-effectiveness sweet spot)
High-glycerin moisturizers are awesome for treating severely dry skin
Read all the geeky details about Glycerin here >>
We don't have description for this ingredient yet.
Witch hazel is a smallish tree (up to 5m) that's native to North-America, has nice yellow flowers and is similar to the hazelnut bush (hence the name).
As for skincare, it's loaded with active components that have a bunch of magic properties, like astringent, anti-inflammatory, antioxidant and anti-bacterial. It's also a well-known vasoconstrictor (it makes the blood vessels narrower) and promotes the healing of broken skin by tightening up the skin proteins and thus creating a protective covering.
The complication, however, is that different extracts and distillates can be made from different parts of the plant (bark, twigs, and leaves are typically used) and different extraction methods from different parts produce different results. So if you see only Witch Hazel Extract or Witch Hazel Water on the ingredient list, it's a bit hard to know what you're actually getting but we will try to summarize the possibilities to give an idea.
The main biologically active components in Witch Hazel are hamamelitannin (a potent astringent and antioxidant), catechins (anti-inflammatory and antioxidant) and gallic acid (antibacterial). The bark extract contains by far the most hamamelitannin and it has the most gallic acid and catechins. The twigs contain fewer catechins, less gallic acid, and much less hamamelitannin (4.77% vs 0.18%). The leaves contain hardly any tannins (0.04%) or catechins and contain a medium amount of gallic acid (compared to the bark and twigs).
Witch Hazel also contains tiny amounts of the essential oil and fragrance component eugenol, but the amount is so small that it's probably not significant for the skin.
Apart from the differences in active components in different parts of the Witch Hazel bush, the extraction methods also vary. Witch Hazel Distillate contains 14% added alcohol according to the USP specifications and alcohol is, at best drying, and at worst skin-damaging. Luckily, there are also alcohol-free distillates, so if you prefer no alcohol check the ingredient list carefully. Witch Hazel Extracts can also be made in different ways: browsing Ulprospector, we could find hydroglycolic, hydroalcoholic and glicerine/water based extracts.
Well-known skin care expert, Paula Begoun rates witch hazel as poor and says, "depending on the form of witch hazel, you're exposing your skin either to a sensitizing amount of alcohol or to tannins, or both." This might be the case if you are dealing with an alcoholic witch hazel bark water or extract, but looking at CosIng (the official INCI name listing of the EU), witch hazel bark water or witch hazel bark extract are not listed ingredients. Bark and leaf or bark and twig or all three are used together to create extracts, so the chance that there is too much hamamelitannin in the final cosmetic ingredient seems small. Also alcohol-free extracts and distillates exist; actually, the majority seem to be alcohol-free nowadays. So all in all, we think "Hamamelis Virginiana Extract" on the ingredient list is nothing to worry about.
We even found a German study that compared the efficacy of Hamamelis ointment to panthenol ointment for soothing the skin in children (from 27 days to 11 years old). They observed 309 children and concluded that both ointments were similarly effective but the one with Hamamelis was even better tolerated (98.2% vs. 92.3% tolerated well the ointments in the two groups).
All in all, Witch Hazel Extract is a sloppy INCI name (btw, not in the CosIng listing), and you do not really know what you're getting. Most probably though, you are getting a goody with nice astringent, soothing, antibacterial, and even antioxidant properties.
We don't have description for this ingredient yet.
Galactoarabinan is a natural polysaccharide (a big carbohydrate molecule) that comes from the Larch trees.
According to the manufacturer it can do all kinds of good in a formula: it can reduce trans-epidermal-water-loss (a fancy way of saying that it's moisturizing), improve the appearance of skin's superficial fine lines, improve the uniformity and spreadability of a formulation and provides SPF enhancement. What's more it can also help to boost the efficacy of AHA exfoliants (while not boosting the irritation side effect).
We don't have description for this ingredient yet.
We don't have description for this ingredient yet.
It's one of those things that help your cosmetics not to go wrong too soon, aka a preservative. It's not a strong one and doesn't really work against bacteria, but more against mold and yeast. To do that it has to break down to its active form, sorbic acid. For that to happen, there has to be water in the product and the right pH value (pH 3-4).
But even if everything is right, it's not enough on its own. If you see potassium sorbate you should see some other preservative next to it too.
BTW, it's also a food preservative and even has an E number, E202.
The unfancy name for it is lye. It's a solid white stuff that's very alkaline and used in small amounts to adjust the pH of the product and make it just right.
For example, in case of AHA or BHA exfoliants, the right pH is super-duper important, and pH adjusters like sodium hydroxide are needed.
BTW, lye is not something new. It was already used by ancient Egyptians to help oil and fat magically turn into something else. Can you guess what? Yes, it's soap. It still often shows up in the ingredient list of soaps and other cleansers.
Sodium hydroxide in itself is a potent skin irritant, but once it's reacted (as it is usually in skin care products, like exfoliants) it is totally harmless.
A helper ingredient that helps to make the products stay nice longer, aka preservative. It works mainly against fungi.
It's pH dependent and works best at acidic pH levels (3-5). It's not strong enough to be used in itself so it's always combined with something else, often with potassium sorbate.
You may also want to take a look at...
Normal (well kind of - it's purified and deionized) water. Usually the main solvent in cosmetic products.
[more]
The famous aloe vera. A great moisturizer and anti-inflammatory ingredient that also helps wound healing and skin regeneration.
[more]
A real oldie but a goodie. Great natural moisturizer and skin-identical ingredient that plays an important role in skin hydration and general skin health.
[more]
With Hazel - loaded with active components (hamamelitannin, catechins, gallic acid) that have astringent, anti-inflammatory, antioxidant or anti-bacterial properties. Also well-known vasoconstrictor and promotes skin healing.
[more]
Galactoarabinan is a natural polysaccharide (a big carbohydrate molecule) that comes from the Larch trees.According to the manufacturer it can do all kinds of good in a formula:
[more]
A not so strong preservative that doesn't really work against bacteria, but more against mold and yeast.
[more]
Lye - A solid white stuff that's very alkaline and used in small amount to adjust the pH of the product. 
[more]
A preservative that works mainly against fungi. Has to be combined with other preservatives.
[more]