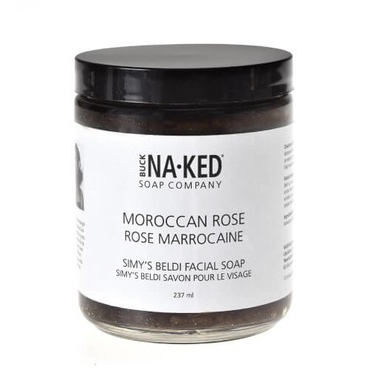 Made with black olives and olive oil, the Buck Naked Beldi black soap family recipe, is naturally rich in vitamin E and antioxidants. Scented with Moroccan rose and vanilla you'll be transported to the Valley of Roses in Moroccos Atlas Mountains.
Uploaded by: oceanblushemily on
Buck Naked Soap Company Simys Beldi Facial Soap

Ingredients explained

You probably know olive oil from the kitchen as a great and healthy option for salad dressing but it's also a great and healthy option to moisturize and nourish the skin, especially if it's on the dry side.

Similar to other emollient plant oils, it's loaded with nourishing fatty acids: oleic is the main component (55-83%), and also contains linoleic (3.5-20%) and palmitic acids (7-20%). It also contains antioxidant polyphenols, tocopherols (types of vitamin E) and carotenoids and it's one of the best plant sources of skin-identical emollient, Squalene.
A natural moisturizer that's also in our skin
A super common, safe, effective and cheap molecule used for more than 50 years
Not only a simple moisturizer but knows much more: keeps the skin lipids between our skin cells in a healthy (liquid crystal) state, protects against irritation, helps to restore barrier
Effective from as low as 3% with even more benefits at higher concentrations up to 20-40% (around 10% is a good usability-effectiveness sweet spot)
High-glycerin moisturizers are awesome for treating severely dry skin
Read all the geeky details about Glycerin here >>
We are big fans of all kinds of roses as ornamental plants but when it comes to skincare, it is a mixed bag. Before we list out the good and the not so good, here is an interesting thing.
The oil content in rose is very, very low so distilling rose essential oil requires huge amounts of rose flowers. It has such a wonderful scent that there are no comparable synthetic alternatives. You can probably guess that this means rose essential oil is expensive.... very very expensive.
We don't have description for this ingredient yet.
You may also want to take a look at...
Olive oil - an oleic acid-rich (55-83%) emollient plant oil that can moisturize dry skin. Also, it contains antioxidant polyphenols and vitamin E.
[more]
A real oldie but a goodie. Great natural moisturizer and skin-identical ingredient that plays an important role in skin hydration and general skin health.
[more]
Rose essential oil - a super expensive oil with a lovely scent. Has also antioxidant and antimicrobial properties. Contains fragrant components that might irritate sensitive skin.
[more]