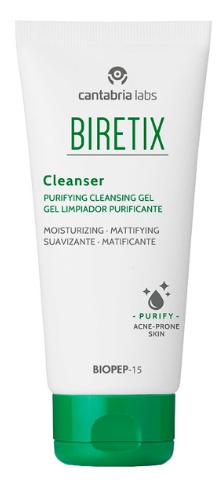 Purifying Active Cleansing Gel
Daily cleanser that regulates excess oil and reduces the proliferation of microorganisms.
Uploaded by: mariana-figueiredo on
Highlights
Fragrance and Essential Oil Free
Key Ingredients
BiRetix Purifying Active Cleansing Gel

Ingredients explained
We don't have description for this ingredient yet.
We don't have description for this ingredient yet.
Aloe Vera is one of today's magic plants. It does have some very nice properties indeed, though famous dermatologist Leslie Baumann warns us in her book that most of the evidence is anecdotal and the plant might be a bit overhyped.
What research does confirm about Aloe is that it's a great moisturizer and has several anti-inflammatory (among others contains salicylates, polysaccharides, magnesium lactate and C-glucosyl chromone) as well as some antibacterial components. It also helps wound healing and skin regeneration in general. All in all definitely a goodie.
Witch hazel is a smallish tree (up to 5m) that's native to North-America, has nice yellow flowers and is similar to the hazelnut bush (hence the name).
As for skincare, it's loaded with active components that have a bunch of magic properties, like astringent, anti-inflammatory, antioxidant and anti-bacterial. It's also a well-known vasoconstrictor (it makes the blood vessels narrower) and promotes the healing of broken skin by tightening up the skin proteins and thus creating a protective covering.
We don't have description for this ingredient yet.
We have to admit that Algae Extract is not our favorite ingredient name. It does comply with the INCI standard (the official list about how ingredients on the product labels have to be called, the thing we help you to decode here :)), but there are about 20 000 different kinds of algae and an extract from them can be made in another 10 000 ways.
So, Algae Extract can be anything from La Mer's "Miracle Broth" to a simple brown algae extract that helps to smooth the hair. The official description in the Europiean Cosmetic Ingredient listing is this: "an extract of various species of Algae; Extract of the Seaweed, Fucus vesiculosus, Furaceae". Its official functions include being a humectant (helps skin to attract water), emollient (makes skin feel smooth and nice) and skin conditioner (a catchall phrase for saying it does something good for the skin).
You may also want to take a look at...
The famous aloe vera. A great moisturizer and anti-inflammatory ingredient that also helps wound healing and skin regeneration.
[more]
With Hazel - loaded with active components (hamamelitannin, catechins, gallic acid) that have astringent, anti-inflammatory, antioxidant or anti-bacterial properties. Also well-known vasoconstrictor and promotes skin healing.
[more]
An extract that comes from one or more of the 20 000 kinds of algae out there. In general algae extracts serve as moisturizing, emollient and thickening agents, and many of them also have additional anti-aging properties.
[more]