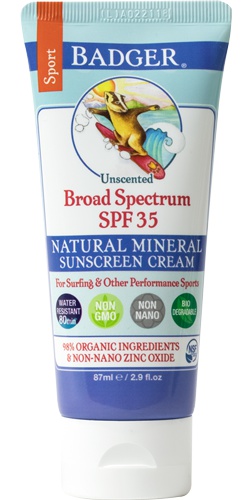 Sport Sunscreen Cream Spf 35
One of our simplest sunscreens, just 5 ingredients! No added fragrance—safe for sensitive skin. Safely blocks the sun's harmful rays with non-nano mineral Zinc Oxide. Water and sweat resistant for 80 minutes. Made with

organic and skin-soothing Sunflower oil, Beeswax, and vitamin E. Reef friendly, biodegradable, and certified cruelty-free. Non-GMO certified by NSF to NSF Non-GMO True North. If you spend a lot of time swimming, surfing, skiing, and doing other performance sports, you'll love the protection you get from this highly water-resistant sunscreen. SPF 35 Sport Sunscreen protects against the sun's harmful rays while hydrating and nourishing your skin. No added fragrance so it's good for sensitive skin, too. And it stays where you put it – so you can focus on doing your best.
Uploaded by: charlottephoon on
Highlights
Fragrance and Essential Oil Free
Key Ingredients
Badger Sport Sunscreen Cream Spf 35

Ingredients explained

What-it-does:

sunscreen

|

Irritancy:

0

|

Comedogenicity:

1

When it comes to sunscreen agents, Zinc Oxide is pretty much in a league of its own. It's a physical (or inorganic) sunscreen that has a lot in common with fellow inorganic sunscreen Titanium Dioxide (TiO2) but a couple of things make it superior even to TiO2.

If physical sunscreens don't tell you anything, go ahead and read about the basics here. Most of what we wrote about Titanium Dioxide is also true for Zinc Oxide so we will focus here on the differences.

The first main difference is that while TiO2 gives a nice broad spectrum protection, Zinc Oxide has an even nicer and even broader spectrum protection. It protects against UVB, UVA II, and UVA I almost uniformly, and is considered to be the broadest range sunscreen available today.

It's also highly stable and non-irritating. So much so that Zinc Oxide also counts as a skin protectant and anti-irritant. It's also often used to treat skin irritations such as diaper rash.

As for the disadvantages, Zinc Oxide is also not cosmetically elegant. It leaves a disturbing whitish tint on the skin, although, according to a 2000 research paper by Dr. Pinnell, it's slightly less white than TiO2. Still, it's white and disturbing enough to use Zinc Oxide nanoparticles more and more often.

We wrote more about nanoparticles and the concerns around them here, but the gist is that if nanoparticles were absorbed into the skin that would be a reason for legitimate health concerns. But luckily, so far research shows that sunscreen nanoparticles are not absorbed but remain on the surface of the skin or in the uppermost (dead) layer of the skin. This seems to be true even if the skin is damaged, for example, sunburnt.

All in all, if you've found a Zinc Oxide sunscreen that you are happy to use every single day, that's fantastic and we suggest you stick with it. It's definitely one of the best, or probably even the best option out there for sun protection available worldwide.

Also-called:

Sunflower Oil;Helianthus Annuus Seed Oil

|

What-it-does:

emollient

|

Irritancy:

0

|

Comedogenicity:

0

Sunflower does not need a big intro as you probably use it in the kitchen as cooking oil, or you munch on the seeds as a healthy snack or you adore its big, beautiful yellow flower during the summer - or you do all of these and probably even more. And by even more we mean putting it all over your face as sunflower oil is one of the most commonly used plant oils in skincare.

It's a real oldie: expressed directly from the seeds, the oil is used not for hundreds but thousands of years. According to The National Sunflower Association, there is evidence that both the plant and its oil were used by American Indians in the area of Arizona and New Mexico about 3000 BC. Do the math: it's more than 5000 years – definitely an oldie.

Our intro did get pretty big after all (sorry for that), so let's get to the point finally: sunflower oil - similar to other plant oils - is a great emollient that makes the skin smooth and nice and helps to keep it hydrated. It also protects the surface of the skin and enhances the damaged or irritated skin barrier. Leslie Bauman notes in Cosmetic Dermatology that one application of sunflower oil significantly speeds up the recovery of the skin barrier within an hour and sustains the results 5 hours after using it.

It's also loaded with fatty acids (mostly linoleic (50-74%) and oleic (14-35%)). The unrefined version (be sure to use that on your skin!) is especially high in linoleic acid that is great even for acne-prone skin. Its comedogen index is 0, meaning that it's pretty much an all skin-type oil.

Truth be told, there are many great plant oils and sunflower oil is definitely one of them.

It's the yellow, solid stuff that you probably know from beeswax candles. It's a natural material produced by honey bees to build their honeycomb.

As for skincare, it's used as an emollient and thickening agent. It's super common in lip balms and lipsticks.

Also-called:

Jojoba Oil;Simmondsia Chinensis Seed Oil

|

What-it-does:

emollient

|

Irritancy:

0

|

Comedogenicity:

0-2

Jojoba is a drought resistant evergreen shrub native to South-western North America. It's known and grown for jojoba oil, the golden yellow liquid coming from the seeds (about 50% of the weight of the seeds will be oil).

At first glance, it seems like your average emollient plant oil: it looks like an oil and it's nourishing and moisturizing to the skin but if we dig a bit deeper, it turns out that jojoba oil is really special and unique: technically - or rather chemically - it's not an oil but a wax ester (and calling it an oil is kind of sloppy).

So what the heck is a wax ester and why is that important anyway? Well, to understand what a wax ester is, you first have to know that oils are chemically triglycerides: one glycerin + three fatty acids attached to it. The fatty acids attached to the glycerin vary and thus we have many kinds of oils, but they are all triglycerides. Mother Nature created triglycerides to be easily hydrolyzed (be broken down to a glycerin + 3 fatty acid molecules) and oxidized (the fatty acid is broken down into small parts) - this happens basically when we eat fats or oils and our body generates energy from it.

Mother Nature also created wax esters but for a totally different purpose. Chemically, a wax ester is a fatty acid + a fatty alcohol, one long molecule. Wax esters are on the outer surface of several plant leaves to give them environmental protection. 25-30% of human sebum is also wax esters to give us people environmental protection.

So being a wax ester results in a couple of unique properties: First, jojoba oil is extremely stable. Like crazy stable. Even if you heat it to 370 C (698 F) for 96 hours, it does not budge. (Many plant oils tend to go off pretty quickly). If you have some pure jojoba oil at home, you should be fine using it for years.

Second, jojoba oil is the most similar to human sebum (both being wax esters), and the two are completely miscible. Acne.org has this not fully proven theory that thanks to this, jojoba might be able to "trick" the skin into thinking it has already produced enough sebum, so it might have "skin balancing" properties for oily skin.

Third, jojoba oil moisturizes the skin through a unique dual action: on the one hand, it mixes with sebum and forms a thin, non-greasy, semi-occlusive layer; on the other hand, it absorbs into the skin through pores and hair follicles then diffuses into the intercellular spaces of the outer layer of the skin to make it soft and supple.

On balance, the point is this: in contrast to real plant oils, wax esters were designed by Mother Nature to stay on the surface and form a protective, moisturizing barrier and jojoba oil being a wax ester is uniquely excellent at doing that.

Also-called:

Vitamin E

|

What-it-does:

antioxidant

|

Irritancy:

0-3

|

Comedogenicity:

0-3
Primary fat-soluble antioxidant in our skin
Significant photoprotection against UVB rays
Vit C + Vit E work in synergy and provide great photoprotection
Has emollient properties
Easy to formulate, stable and relatively inexpensive
Read all the geeky details about Tocopherol here >>
You may also want to take a look at...
A physical/inorganic sunscreen with the broadest spectrum (UVB and UVA II, less good at UVA I) protection available today. It also has good stability and also works as a skin protectant, anti-irritant. Might leave some whitish tint on the skin, though.
[more]
Sunflower Oil - it's a great emollient that protects & enhances the skin barrier.
[more]
The yellow solid stuff produced by honey bees to build their honeycomb. As for skincare, it's used as an emollient and thickening agent.
[more]
what‑it‑does
emollient
irritancy, com.

0

,

0

-

2
Jojoba oil - a wax ester (chemically not a real oil), that's very similar to human sebum. It's uniquely excellent at helping the skin with its protective barrier and helping it to stay moisturized.
[more]
Pure Vitamin E. Great antioxidant that gives significant photoprotection against UVB rays. Works in synergy with Vitamin C.
[more]