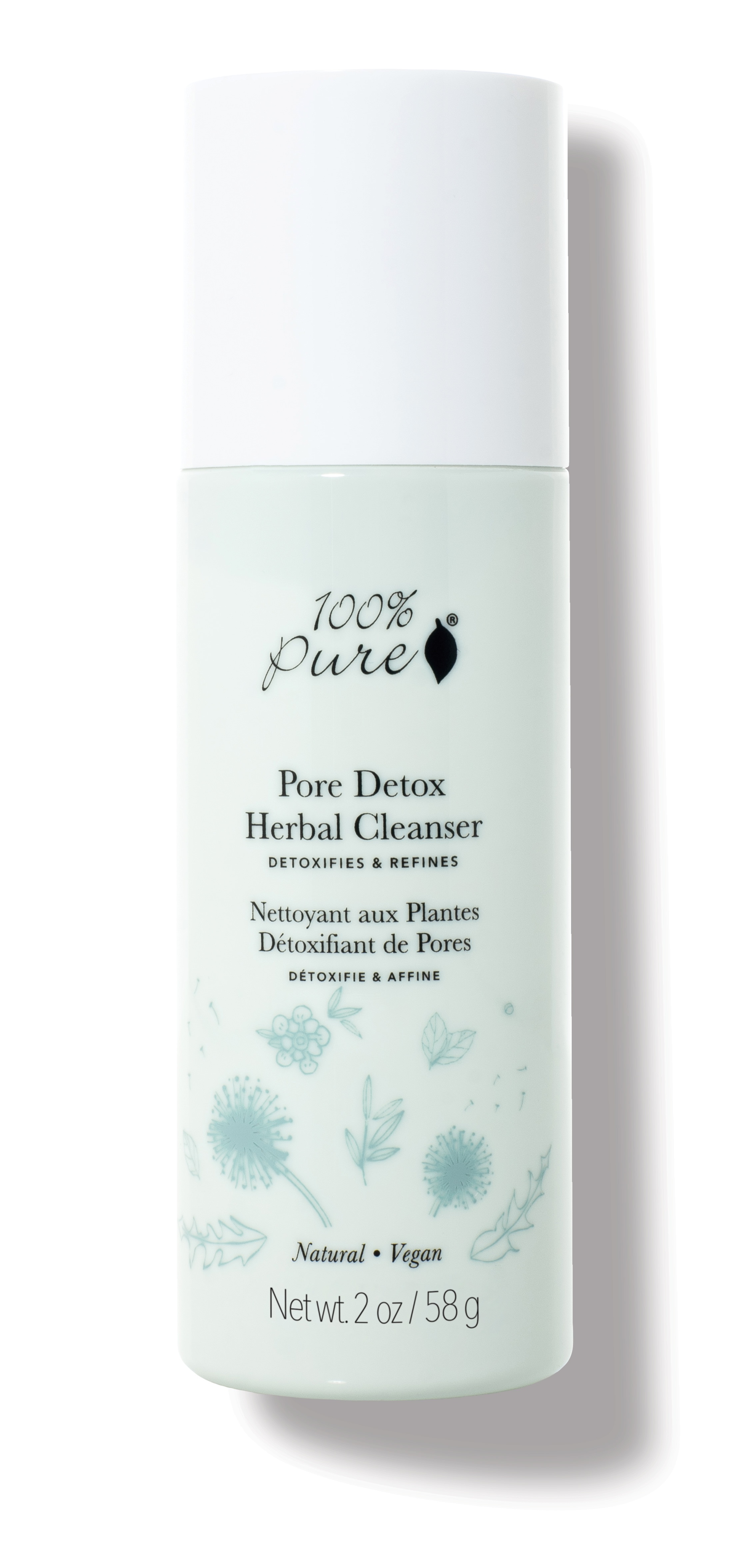 Pore Detox Herbal Cleanser
Gently exfoliating powder cleanser detoxifies with dandelion and neem, unclogs and minimizes the appearance of pores, and reduces excess oil with green clay.
Uploaded by: cyberbunnies on
Ingredients overview
Italian Montmorillonite (Green Clay),
Avena Sativa (Colloidal Oatmeal),
Sodium Cocoyl Isethionate,
Sodium Bicarbonate (Baking Soda),
Mentha Piperita (Peppermint) Leaf Extract,
Lavandula Angustifolia (Lavender) Flower*,
Melaleuca Alternifolia (Tea Tree) Extract,
Mentha Spicata (Spearmint) Oil,
Triticum Aestivum Leaf (Wheatgrass) Extract*,
Taraxacum Officinale (Dandelion) Root Extract*,
Echinacea Purpurea (Coneflower) Flower*,
Eucalyptus Globulus (Eucalyptus) Leaf *,
Azadirachta Indica (Neem) Leaf*,
Olea Europaea (Olive) Leaf*,
Ceanothus Americanus (Red Root) Extract,
Ocimum Basilicum (Basil) Leaf,
Origanum Onites (Oregano) Leaf*,
Arctium Lappa (Burdock) Root*,
Rosmarinus Officinalis (Rosemary) Extract*,
Curcuma Longa (Turmeric) Root*,
Plantago Lanceolata Leaf Extract,
Rosmarinus Officinalis (Rosemary) Essential Oil*
100% Pure Pore Detox Herbal Cleanser

Ingredients explained
You may also want to take a look at...
A type of clay with magic absorbent properties. It's excellent at instantly sucking up sebum and gunk from the skin but can also be drying.
[more]
A cleansing agent that's claimed to be so gentle on the skin that it hardly impacts the skin barrier. It also gives a rich, creamy foam, it's based on vegetable fatty acids and is readily biodegradable.
[more]
When it comes to Tea Tree, the essential oil is the one that steals the show with its well-documented antimicrobial and anti-acne effects. The extract is not very well defined, and it probably contains the active components of the oil in much-reduced concentrations. Manufacturers still mention soothing, antimicrobial, purifying and antiseptic
[more]
The essential oil coming from steam distillation of freshly harvested, flowering peppermint sprigs. Its major component is menthol that gives the oil its well-known refreshing and cooling properties.
[more]
Burdock root - anti-inflammatory and antioxidant plant extract. Also has some anti-fungal and seborrhea regulation properties.
[more]
Plantain Leaf Extract that has's used traditionally to speed up abscess, and the healing of pimples and incisions. Modern studies confirm that the plant has potent anti-inflammatory and soothing properties.
[more]
The essential oil coming from the leafs of rosemary. It has a nice smell, is a potent antioxidant and it's also an antimicrobial agent. Contains several fragrant components, including potential skin irritant, camphor (around 15%).