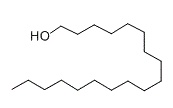 Details
A handy multi-tasker, white to light yellowish oil-loving wax that works very well in oil-in-water emulsions. It makes your skin feel nice and smooth (emollient), stabilizes oil-water mixes and gives body to them.
Oh, and one more thing: it's a so-called fatty alcohol - the good, emollient type of alcohol that is non-drying and non-irritating. It is often mixed with fellow fatty alcohol, Cetyl Alcohol, and the mixture is called Cetearyl Alcohol in the ingredient list.
Something incorrect or missing?

Let us know!
Products with Stearyl Alcohol