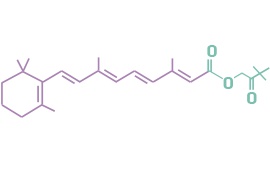 Hydroxypinacolone Retinoate
goodie
Also-called-like-this:
Granactive Retinoid, HPR, Form of Retinoids
Details
Hydroxypinacolone Retinoate (HPR) is the newest member of the "royal family of skincare" (see who is who on this cool retinoids family tree), the retinoid family. The queen of the family is the FDA-approved anti-aging superstar, retinoic acid, aka tretinoin and HPR seems to be a gentle but influential sister princess to the queen.
Good to know: the trade name of HPR is Granactive Retinoid. The manufacturer produces it as 10% active and 90% solvent called dimethyl isosorbide. When a product claims 2% Granactive Retinoid, it means 0.2% Hydroxypinacolone Retinoate (and 1.8% dimethyl isosorbide) on the ingredient list.
It's a so-called retinoic acid ester, meaning that it's directly related to retinoic acid. If you've already read our description about retinol or retinyl palmitate, you know that the active ingredient our skin cells can interpret is retinoic acid. Other forms of retinoids have to be converted by our metabolic machinery to do something. That's not the case with HPR. It binds directly to the retinoid receptors of the skin cells to work its skincare magic.
The big promise of HPR is that it's similarly active as retinoic acid (no conversion needed, remember) but without the irritation. According to the manufacturer's tests, 24 hours of an occlusive patch with 0.5% HPR resulted in significantly lower irritation than 0.5% retinol. Also, there was a "dramatic reduction of lines and wrinkles" after applying 0.2% HPR around the eyes twice a day for 14 days.
These results sound sooo promising that we don't blame you if you wanna run out right now and get an HPR formula to slather on your face. But, before you do, you have to know that the info we have about HPR at the moment is mainly from the manufacturer, whose tests may or may not be accurate or properly designed (such as controlled, double-blind and conducted on an appropriate number of people).
As HPR is pretty new there isn't that much independent research we could find yet. We found two Italian studies both examining the efficacy of HPR combined with other things (retinol in both cases, and papain in one of them) for the treatment of acne. Both studies found the formulas effective but they contained other things too, so it's hard to judge how well HPR did.
Regarding anti-aging, there is a pretty recent, Estee Lauder sponsored study that compared the in-vitro (not on real human beings but on skin models) collagen-boosting effectiveness of Hydroxypinacolone Retinoate, tretinoin, good old retinol and retinyl palmitate (RP). The results are pretty encouraging showing that "HPR had greater levels of gene transcription than retinol and RP (RP) at the same concentrations ... however, HPR did not achieve gene transcription levels of ATRA (tretinoin)." But, a much higher dose might be tolerated from HPR and the highest dose of HPR out-performed tretinoin. Pretty encouraging, though we are very much waiting for a study to confirm all this on real human beings.
Bottom line: We are really happy to see some innovation happening with retinoids, and we think Hydroxypinacolone Retinoate is a super promising rising star, but it's not fully proven yet. If you are someone who likes to experiment and try out the newest things, grab your running shoes and try some HPR containing serum now (see product list below :)). If you like the tried and true, however, stick to retinol and tretinoin for now and re-examine the question in a couple of years when (hopefully) more research will be available.
Are you into Retinoids? Read our shiny description about other members of the retinoid family:
Show me some proof
Ruth, N., and T. Mammone. "1310 Anti-aging effects of retinoid hydroxypinacolone retinoate on skin models." Journal of Investigative Dermatology 138.5 (2018): S223.
Giornale italiano di dermatologia e venereologia, 2015 Apr;150(2):143-7., Treatment of mild to moderate acne with a fixed combination of hydroxypinacolone retinoate, retinol glycospheres and papain glycospheres.
Giornale Italiano di Dermatologia e Venereologia, 2016/03, Efficacy and safety of a 12-month treatment with a combination of hydroxypinacolone retinoate and retinol glycospheres as maintenance therapy in acne patients after oral isotretinoin.
Products with a known amount of Hydroxypinacolone Retinoate
Other products with Hydroxypinacolone Retinoate