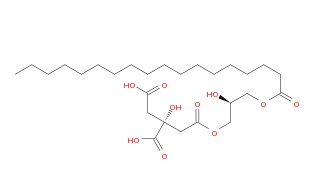 Glyceryl Stearate Citrate
Details
Glyceryl stearate citrate is similar to the super common skincare ingredient glyceryl stearate, and is similarly used to help combine waters and oils (emulsifier) and to make your skin feel nice and soft (emollient).
The main difference between glyceryl stearate citrate and its cousin glyceryl stearate is that this one has a citric acid molecule also attached to its glycerin. This makes it what chemists call a diacylglycerol, which is a fancy word for two acids (in this case, citric acid and stearic acid) attached together with a glycerin bridge. But when it comes to cosmetics, all you need to know is that both glyceryl stearate citrate and glyceryl stearate are safe, tried and true emulsifiers. Expect to see them in formulas with both water-based and oil-based ingredients (think moisturizers and lotions).
Show me some proof
"Amended Final Report on the Safety Assessment of Glyceryl Dilaurate, Glyceryl Diarachidate, Glyceryl Dibehenate, Glyceryl Dierucate, Glyceryl Dihydroxystearate, Glyceryl Diisopalmitate, Glyceryl Diisostearate, Glyceryl Dilinoleate, Glyceryl Dimyristate, Glyceryl Dioleate, Glyceryl Diricinoleate, Glyceryl Dipalmitate, Glyceryl Dipalmitoleate, Glyceryl Distearate, Glyceryl Palmitate Lactate, Glyceryl Stearate Citrate, Glyceryl Stearate Lactate, and Glyceryl Stearate Succinate." International Journal of Toxicology, vol. 26 Suppl 3, 2007, pp. 1–30.
Products with Glyceryl Stearate Citrate