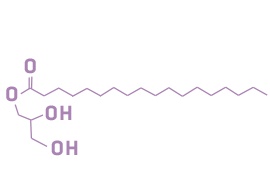 Details
A super common, waxy, white, solid stuff that helps water and oil to mix together, gives body to creams and leaves the skin feeling soft and smooth.
Chemically speaking, it is the attachment of a glycerin molecule to the fatty acid called stearic acid. It can be produced from most vegetable oils (in oils three fatty acid molecules are attached to glycerin instead of just one like here) in a pretty simple, "green" process that is similar to soap making. It's readily biodegradable.
It also occurs naturally in our body and is used as a food additive. As cosmetic chemist Colins writes it, "its safety really is beyond any doubt".
Products with Glyceryl Stearate